Stay safe this season with these tips for avoiding slips and falls.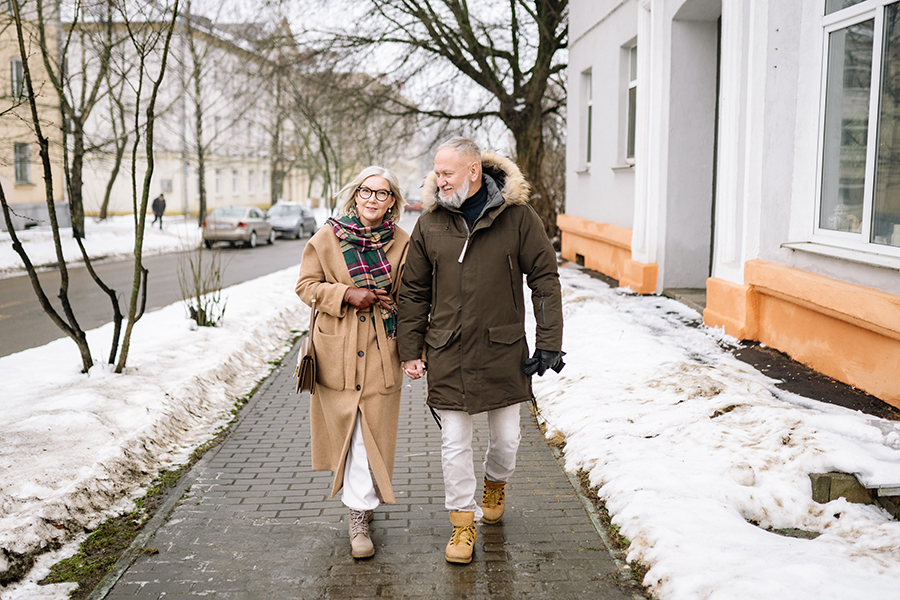 Cold weather can bring with it a variety of hazards. When surfaces become wet or slippery due to rain, sleet, snow, or ice, you need to have some good fall prevention tips in your arsenal to help you stay on your feet!
Here are six fall prevention tips for cold weather to keep you safe this winter:
Be cautious even if you can't see ice
Wear shoes with good traction
Hire someone to clear your walkways
Regularly practice balance exercises
Buy well-fitting winter clothing
Don't take unnecessary risks
Let's explore these winter fall prevention tips in more detail!
Be cautious even if you can't see ice
One of the most common slip hazards during the winter is black ice. Often, you don't even see it until you're sliding! When you're outdoors during the winter, especially after wet weather, it's a smart idea to treat every surface as if it's icy. Place your feet carefully to test surfaces before you take a complete step. Walk slowly, with a wide gait for extra stability. Slow and steady wins the race, after all!
Wear shoes with good traction
Your choice of footwear may be the single most important method of fall prevention. You want to look for well-fitted, non-slip shoes with excellent traction and stability, so you don't slide around or lose your balance. Here's a great guide to selecting fall prevention shoes for seniors that goes over factors like the size and weight, what to look for in the soles and heels, which materials are best, and more.
Hire someone to clear your walkways
This one's a win-win: you get clear, safe walkways after snowstorms, and a young person, neighbor or professional gets to work and earn some money! In addition to having your walkways cleared, think about installing motion-detecting or timer-controlled lights, so you can see where you're stepping even when arriving home after dark.
Regularly practice balance exercises
Becoming more stable and confident in your physical capabilities is another of the absolute best fall prevention tips you can implement. Work these balance exercises into your daily or weekly routine throughout the year, so you'll be flexible and sturdy on your feet by the time cold weather rolls around. If you aren't currently practicing balancing exercises, be sure to check with your doctor before you begin.
Buy well-fitting winter clothing
Wintertime can make you want to bundle up in comfy, loose sweaters and pants, but closely fitted clothing can be a safer choice. You don't want it to be too tight, which could cut off circulation, but you also don't want a bunch of excess fabric hanging off, which could catch on furniture or make you trip over the bottom hem. Well-tailored clothes also keep warmth closer to your body, while clothes that are too loose will let more heat escape.
Don't take unnecessary risks
One of the best fall prevention tips of all, of course, is to avoid areas and situations that increase your risk of taking a tumble. For example, instead of taking your regular walk around the block during the winter, try out some indoor exercises instead.
During winter, the cold can be dangerous too. Learn more cold weather safety tips here to avoid hypothermia, keep your ears safe and healthy, and more!