Unwind this National Relaxation Day – and every day – with these calming activities.
Taking time to relax is wonderful for your mental and physical health. Relaxation techniques for seniors and all ages have been shown to help a variety of conditions from chronic headaches and nausea to arthritis and more. And since August 15 is National Relaxation Day, what better reason to take time to unwind?
Try one—or all—of these seven relaxation techniques for seniors, not just on the 15th but all year round!
Add yoga to your routine
Enjoy a conversation with a friend
Spend time in the garden
Try meditation and deep breathing
Catch a movie
Book a massage or spa day
Listen to soothing music or audiobook
Below, find more on these relaxation techniques for seniors and the health benefits for each.
Add yoga to your routine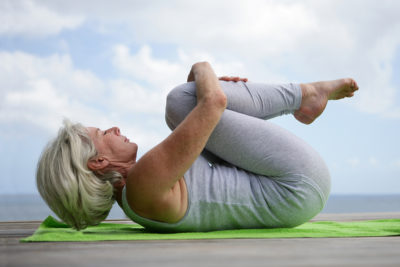 Many relaxing, beginner-friendly yoga poses can help calm your body and mind. Consider a gentle routine that may include downward-facing dog, triangle pose, seated spinal twist, happy baby, and of course, corpse pose or Savasana. To ensure a relaxing practice, choose the poses that feel comfortable, take it slow, and focus on the sensations when you stretch your muscles and clear your mind. In addition to the natural soothing effects, there are also many health benefits of yoga for seniors.  There is even some evidence that certain poses can help improve hearing loss or tinnitus – learn more in our Gentle Yoga Exercises to Promote Better Hearing infographic. When done regularly, you may enjoy improved flexibility, less stress, lower blood pressure, and better sleep from this relaxation technique for seniors.
As always, be sure to talk to your doctor before starting any new exercise routine, including yoga. If it's safe for you, consider practicing at home on your own or watch free online yoga for seniors videos. You can also check out local yoga studios near you to see if they offer relaxing, gentle classes.
Enjoy a conversation with a friend
Connecting with the important people in your life is not only a mood booster, but it has also been shown to promote overall happiness and well-being. There doesn't need to be a reason to reach out – you can just reach out to say hello and catch up on the latest happenings. Everyone enjoys being thought of, and what better way to show them you care than to call someone special for a relaxing chat? To make personal calls more enjoyable, use a CapTel captioned telephone to catch every word of the conversation, especially if you find it difficult to hear over the phone.
Spend time in the garden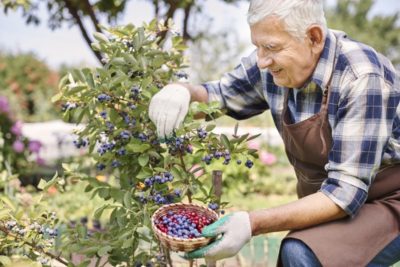 You get to relax and enjoy the tastes and sights of herbs, vegetables, or flowers with this relaxation technique for seniors. In addition to being calming, spending some time with your hands in the soil can also help improve heart health, relieve stress, strengthen your immune system, and keep your brain sharp. In addition to the health benefits of gardening, there is the potential for social benefits to gardening too! If your neighborhood offers a community garden, consider getting involved to help build relationships with others. As a rule of thumb, try to garden in the morning or evening when the sun is less intense, and take precautions against UV rays (and bugs) when you are out. Lastly, if kneeling or bending down is not right for your body, raised gardens can give you the same benefits with less strain.
Try meditation and deep breathing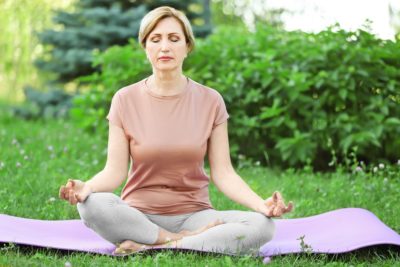 An effective relaxation technique for seniors and others can be as simple as sitting in silence and breathing. As your mind and body unwind, meditation can also do wonders for your overall health.  From reducing anxiety to strengthening your immune system and nurturing your mental health, this option is easy to do anywhere, any time. Some experts say that just 10 minutes a day can decrease stress and help manage various health concerns.
If you're new to meditation, check out this guide to mindfulness and meditation or try this free beginner's meditation by Headspace.
Catch a movie
Did you know that movie-watching can be good for you? Whether you want to plan a movie date with a spouse, friend, or grandchild, or catch a film solo on a "me day," catching a flick is another relaxation technique for seniors to enjoy. There's nothing like losing yourself in a good story, laughing or crying along with the characters, and learning from new perspectives. These outstanding critically-acclaimed movies and TV shows that features characters with hearing loss are especially moving options to watch. Or, if you're in the mood to giggle, opt for a comedy for some relaxing laugh therapy!
If you experience hearing loss, check with your local theater to see what accessibility options they have available. Check out more on this and other public places with closed captions here.
Book a massage or spa day
Massage therapy can relax your muscle tissue, improve blood flow, and leave you feeling refreshed and rejuvenated. It's a relaxation technique for seniors and people of all ages that can fast-track your body into tranquility. If your doctor says it's okay for you, consider booking a massage at a local spa or studio. You may also want to check out massage schools where students will practice their techniques on you for a reduced rate. If massage isn't your thing, other pampering treatments like a facial or a manicure and pedicure can deliver similar effects.
Listen to soothing music or audiobook
Classical instrumental music is a particularly appealing music choice for relaxation. Research shows it can help decrease chronic pain, improve memory, and calm your body. If you like the soothing sounds of a different genre, you can add your favorites to a playlist for your home or car. Audiobooks are another relaxation technique for seniors that can help reduce stress, manage anxiety, and boost your mood. Here are a few audiobooks and activities designed just for Relaxation Day!
These relaxation techniques for seniors are just a few ways to unwind – there are many others too. Whether you prefer hiking, painting, or a long phone call with a friend or family member, do what you love to make today (and every day) fun and relaxing.
If you can't hear over the phone, learn how a CapTel captioned telephone can help you catch every word here.