Use these techniques to keep your hearing aids at peak performance.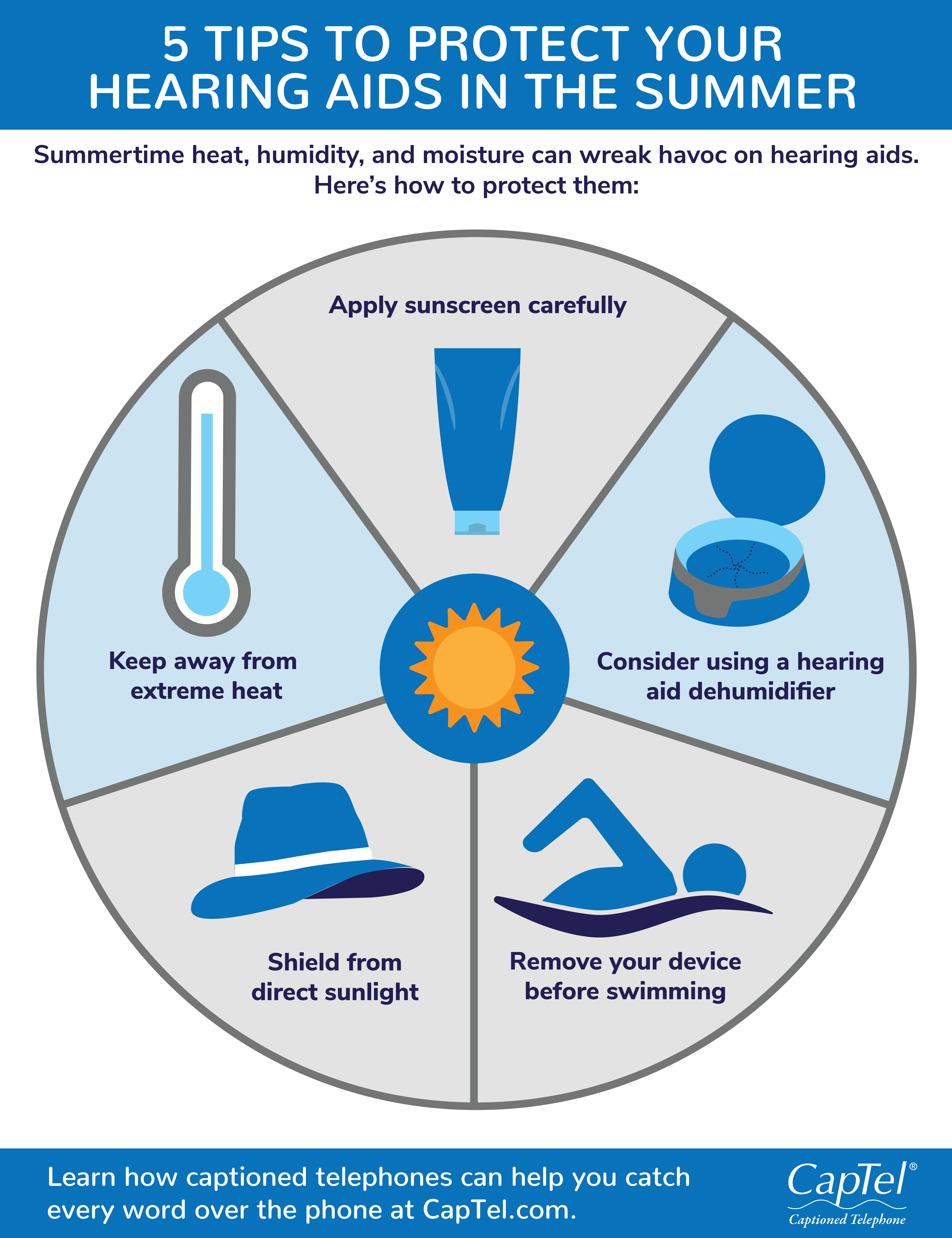 While it may be a welcome reprieve from the cold in many parts of the country, the summertime heat, humidity, and moisture can wreak havoc on hearing loss technology. As you enjoy the long, warm weather days ahead, consider following these tips to protect your hearing aids all season long:
Apply sunscreen carefully
Consider purchasing a hearing aid dehumidifier
Remove your device before you shower or swim
Shield from direct sunlight
Keep away from extreme heat
Learn more about each of these tips to protect your hearing aids below.
Apply sunscreen carefully
Personal care products like sunscreen, hairspray, and lotion can clog your microphone and create a filmy residue on your hearing aids. To keep them coating-free, remove your hearing aids before applying sunscreen and other products that may settle onto your device. Make especially sure that the sunscreen on your ears has time to dry and wash your hands before reinserting your devices.
Consider using a hearing aid dehumidifier
These specially designed dehumidifiers help keep your hearing aids free of moisture, earwax, and odor, and can be particularly handy in muggy summer conditions. A dehumidifier for hearing aids is also a safe place to store your device when they are not in use, like while you are sleeping or swimming. Using these machines in the summer can help protect your hearing aids and keep them operating for as long as possible.
Remove your device before swimming
Even if your hearing aids have water resistant properties, they may not be suited for submerging in a pool or use during a shower. Excess water exposure can cause serious damage to the inner components of your device, so be sure to remove them before heading to the pool, lake, or shower. Keeping your hearing aids away from too much water can help ensure proper functioning once you return to dry land.
Do you love to swim? Check out the health benefits of swimming here for even more reasons to paddle your way through the summer months.
Shield from direct sunlight
Another tip to protect your hearing aids is to keep them away from direct sunlight. One way to do this is to be mindful of where you choose to sit at the beach or outdoor picnic. Opt for covered areas when possible and take frequent shade breaks if you're anticipating prolonged sunlight exposure. Not only will shade help to protect your hearing aids, but your skin as well.
Keep away from extreme heat
Extreme summer heat can cause permanent damage to your hearing aids. Leaving them on a sunny window ledge or wearing them lying out on the beach are examples of extended exposure to the extreme heat that can wear down the batteries in your device. Keeping them cool and dry is your best bet for protecting your hearing aids.
Follow these tips to protect your hearing aids to keep them functioning their best all summer long. For more helpful hearing loss articles, check out our blog.
Are you planning a road trip this summer? Check out this helpful infographic on summer road trip tips with hearing loss or find even more enriching summer activities for seniors here.
If you or someone you love experiences hearing loss, find out how a CapTel captioned telephone can help you catch every word.