Learn the basics of this type of hearing loss telephone.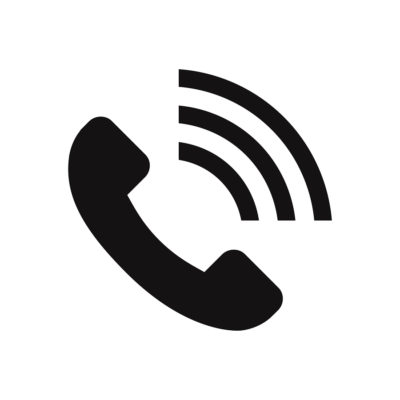 If you frequently ask callers to repeat themselves or avoid phone calls because it's difficult to hear, then you may benefit from amplifier phones. These phones for people with hearing loss are designed specifically to help make phone conversations easier. They can be used with or without hearing aids and are available in models with a variety of features that you can customize to your needs. In this post, we'll cover more information about amplifier phones, including:
How amplifier phones work
Features to look for
Captioned telephones with amplification
How to select an amplifier phone
Keep reading to learn more about amplifier phones below.
How amplifier phones work
While they may look just like a traditional phone, amplifier phones have a primary distinction in the way they operate. By allowing you to turn up the volume to amplify incoming sounds louder than a typical phone, they can make it easier to hear callers on the other end. The level of amplification ranges from 50-90dB, depending on the model you choose. Amplified phones also come in a variety of types including corded, cordless, wireless, and Bluetooth® compatible models that sync with your cell phone.
Features to look for
In addition to amplifying sound, you may also find some of these additional features on amplifier phones, depending on the model you choose:
Tone equalization
Louder ringer volumes
Ringer indicator lights
Large key sizes
Caller ID
Speakerphone
Telecoil for hearing aid wearers
Headset jacks and neck loops
Captioning
Next, we'll explain more about the benefit of an amplifier phone with the added benefit of written captions.
Captioned telephones with amplification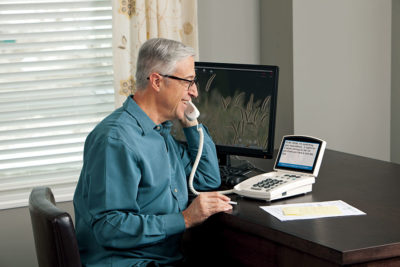 CapTel captioned telephones are designed for people with hearing loss who want even more confidence during phone conversations. In addition to amplification capabilities, CapTel captioned phones also display every word the caller says in large, easy-to-read captions on the phone's display screen. This beneficial feature helps give users peace of mind when making or receiving an important phone call, knowing they caught every word. Captioned telephones allow you to listen to your caller's voice, but also have captions available on the screen if you want to confirm parts of the conversation you may have missed.
CapTel captioned telephones phones work with a captioning service as part of a federally funded program that supports telephone accessibility for people with hearing loss. No costs for the captioning service are passed on to consumers, which means there are no monthly fees and no service agreements. CapTel customers also have free in-home or over the phone installation support available of their captioned phones and have an array of customer support options.
Beyond amplification, CapTel captioned telephones can also help you distinguish voices over the phone. By adjusting the tone and frequency levels, you can customize the phone's settings to match your individual hearing needs. For instance, if low frequency sounds like a man's deep voice are easier to hear, you can use the "low" setting. Alternatively, you can set the tone to "high" if higher frequency sounds like a child's high-pitched voice is better for you. There's also a "medium" setting for those who prefer mid-range frequency tones.
Types CapTel captioned telephones
CapTel captioned telephones offer a variety of different captioned phone options so that you can find the one that best fits your needs and preferences. These include:
CapTel 840i – Designed for people who are comfortable with a traditional-style telephone, the CapTel 840i features a large easy-to-read display with a built-in answering machine.
CapTel 2400i – For people who prefer touch-screen technology, the CapTel 2400i has a large colorful display, dial-by-picture capability, Bluetooth ® connectivity, speakerphone, and a built-in answering machine.
CapTel 880i – Ideal for people with low vision who have difficulty viewing standard-sized captions, the CapTel 880i has extra-large font sizes & display options for easy reading.
CapTel 840 – Designed for people without high-speed internet access, the CapTel 840 works with a standard analog telephone line. Both the captions and the voice parts of the conversation are carried over the telephone line.
Check out this blog article to learn even more about these models and determine which might be best for you.
How to select an amplifier telephone
When deciding on an amplifier phone, consider your personal needs and preferences. Is voice amplification enough to make phone calls easier to hear? Or could you also benefit from written captions with amplification for even more assurance? If you're still not sure, use our quick Q&A to help you discover whether you could benefit from a captioned telephone for hearing loss.
For more on CapTel captioned phones, visit our website or call 800.233.9130 today.