Use these tips to learn about saving opportunities on activities and items you already purchase.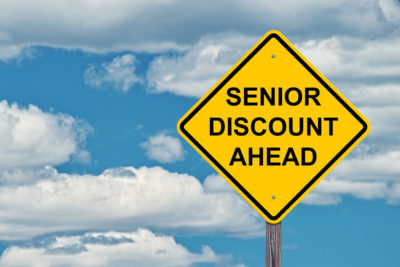 Everyone loves a great deal! And sometimes, all you have to do to get one is celebrate your birthday at a particular spot. At some places, senior discounts can start as early as age 50, depending on where you go. However, many venues don't actively advertise their senior discounts, so you may have to do a little detective work to track them down. We have you covered with these five strategies for finding senior discounts.
Ask your favorite local spots
Join membership programs
Do a quick search online
Compare notes with friends
Call to save on your monthly expenses
Keep reading for more info on finding senior discounts on activities and items you may already be purchasing.
Ask your favorite local spots
You know the phrase: it can't hurt to ask! Senior discounts are most commonly associated with restaurants, but you'll be pleased to know that many other retailers offer them too. Some stores will have a senior discount day each week, while others might give you a VIP savings card. Next time you're at your favorite restaurant, retail outlet, neighborhood grocery store, or gym, have a friendly chat with the server or cashier and ask if they have a senior discount program.
Join membership programs
Certain senior discounts are only available to members of special programs. For instance, nature lovers can get a lifetime National Park Senior Pass for a significant discount so you can start checking off everything on your list from the Grand Canyon to Yellowstone. For broader opportunities to save, join the Senior Discounts Club for free, and receive deals on everything from food to electronics. If you're an AARP member, a full range of discounts apply to things like travel, restaurants, and entertainment. There are many other membership programs you may want to research for yourself based on your interests and needs. When you're signing up to join one, be sure to request information about discounts for seniors. Keep in mind that it's best to do your own research before becoming a member to ensure the program is right for you.
Do a quick search online
Finding senior discounts can be as easy as a Google search for "[store name] senior discount." That way, you can find out whether a restaurant or shop has a senior discount and if you need to do anything special to qualify, like have a card. We searched "senior discounts by state," and found this resource that lists different savings opportunities in all 50 states. If you want to see a movie, you can also go online to find out which theater will be the least expensive. And if you're planning a trip, your online search results can help you can decide which hotel chain to book when planning your stay. Before you take off, see our travel tips for seniors here.
Compare notes with friends and family
Crowd-sourcing local knowledge is a great way to find lesser-known senior deals at mom 'n' pop-type shops or quaint restaurants around your town. For instance, if the take-out restaurant down the street has a little-known 10%-off policy for seniors, your friend might be able to give you the inside scoop on it. Trading your discount knowledge among friends and family can help you take advantage of deals at places you already patron – or those you've wanted to try.
If hearing loss makes trading ideas like these difficult over the phone, learn how a captioned telephone can help you catch every word.
Call to save on your monthly expenses
Senior discounts can even help you save money on bills like your cell phone and internet. Major providers offering senior-friendly plans include AT&T, Comcast, Sprint, T-Mobile, and Verizon. If you're interested in cellular phone savings, consider calling your provider to inquire about ways to reduce your bill. You can do the same thing for utility bills like electricity and water. Senior discount programs will vary by state, but it can be worth checking with your service provider to find out.
Whether you love to dine out, shop, travel, or simply make prudent spending choices, senior discounts can help you do it on a budget. Read more senior living tips and ideas on our blog!