Find the best fitness apps for your lifestyle, preferences, and health goals.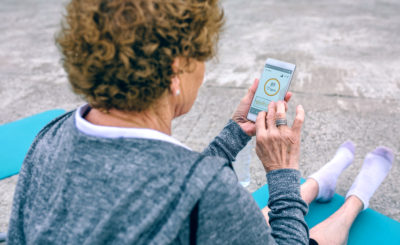 Workout apps for seniors make it easy, convenient, and fun to get into exercise mode – all you need is your smartphone or tablet to access them! Whether you're looking for motivation, tracking capabilities, or even personalized classes, here is a list to help you find the best fitness apps for your needs:
7-Minute Workout
MapMyFitness
Charity Miles
Mindbody
Workout Trainer
PEAR Personal Fitness Coach
Argus
Pedometer
Daily Yoga
Learn more about these workout apps for seniors below. All are free to use, although some have the option to upgrade to a paid plan for extra features.
7-Minute Workout (Android, iOS)
If you're frequently on-the-go, short workouts can be easier to fit movement into your day – and you can't get much shorter than seven minutes! The exercises on this workout app are all things you can do at home without any equipment. It supports different intensity levels that can increase over time as you become ready for new challenges.
MapMyFitness (Android, iOS)
With MapMyFitness, you can track workouts as well as everyday physical activities, like mowing the lawn or playing hide-and-seek or tag with your grandkids. This senior-friendly fitness app lets you set personal goals and measure your performance over time. It also has a feature to interact with other users so you can have accountability buddies and cheer each other on.
Charity Miles (Android, iOS)
If you enjoy paying it forward, Charity Miles might be the best fitness app for you. You can track your walking, running, or biking miles and do good at the same time. When using this app, each mile is matched with a donation amount from sponsors. Donations go to nonprofits including Leukemia & Lymphoma Society, Save the Children, the Wounded Warrior Project and more.
Find out seven more ways to be charitable here.
Mindbody (Android, iOS)
If you prefer group workouts in a live setting but aren't sure where to start, Mindbody lets you search for nearby fitness and wellness classes. The app makes it easy to find and book sessions at a gym or studio right from your phone or tablet. Find Pilates, yoga, nutritionists, and other health and fitness services close to home or wherever you travel.
Workout Trainer (Android, iOS)
This workout app for seniors – and everyone – is designed to give you access to expert personal trainers right from your pocket. You'll find thousands of free workouts and timed step-by-step walkthroughs, customizable by level. Everything is pre-recorded in the free version, but if you want extra customization and accountability, the app allows you to hire a live personal trainer for 1-on-1 guidance.
PEAR Personal Fitness Coach (Android, iOS)
If you have a wearable device that can track your heart rate, PEAR connects with it to offer responsive coaching in real-time. Choose a workout from the collection in the app's library, which lets you filter by activity, duration, or coach for a personalized experience.
Argus (Android, iOS)
Argus has several different features wrapped up in one—it's a step counter, activity and calorie tracker, meal planner, and even sleep monitor. In addition to tracking fitness, you'll have access to video workouts and challenges with this workout app for seniors.
Pacer Pedometer & Step Tracker (Android, iOS)
Walking is one of the easiest and most accessible exercises for many seniors, and it comes with loads of health benefits. This pedometer app goes beyond simple step-tracking to suggest fun challenges, new routes, and even has guided workouts beyond walking for those rainy days when you can't do your favorite routine.
Daily Yoga (Android, iOS)
The final fitness app for seniors on our list is for beginner to advanced yogis. Daily Yoga lets you can enjoy guided step-by-step yoga sessions from the comfort of home. Having a new set of exercises every day keeps you from getting into a rut with your workout so you'll be motivated to stick with it. There are also meditation features to help get you into a calm and positive headspace.
Check out an infographic on gentle yoga exercises that can promote better hearing.
Do you think that any of these workout apps for seniors could be the best fitness apps for your personal journey? Give them a try! And while you're on the app store, check out these apps for people with hearing loss next.
As always, you'll want to check with your doctor before beginning any new exercise routine. Of course, we don't endorse any of the companies mentioned here and encourage you to research the best app options for your situation.