Discover the features available to help make communicating over the phone easier.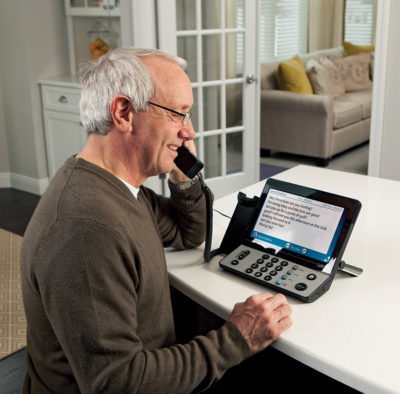 When looking for hearing loss telephones, there are many different models and features to consider. Ensuring you choose the best phone for your needs can help make communicating over the phone easier and more enjoyable. In this post, we're highlighting a few features you may want to look out for when deciding on a hearing loss telephone, including:
Written captions
Hearing aid compatibility
Amplifier
Tone control
Built-in phonebook
Caller ID
Bluetooth® connectivity
Learn more about these features you may want to consider in your search for hearing loss telephones.
Written captions
Captioned telephones for hearing loss work just like any phone, but they have the added benefit of displaying every word your callers say on the display screen. This way, you can hear the conversation while also having the peace of mind that you won't miss a word. And CapTel's captioning service is available at no cost to the user, thanks to a federally funded program that supports telephone accessibility for people with hearing loss. Having a high-speed internet connection is optional with these phones because both internet- and analog-compatible phones are available. Check out all the different CapTel hearing loss telephones with captions here.
To get the best use out of the captions, look for a large display that is easy to read with customizable font sizes and colors. Other features you may want to consider if you're interested in captioned telephones include easily adjustable tone and volume control, dial-by-picture capability, and a built-in answering machine.
Hearing aid compatibility (HAC)
One more important feature you may want to have in your hearing loss telephone is hearing aid compatibility (HAC). The HAC designation means it has an induction loop that can sync up with your hearing aid. When you set your hearing aid to its telecoil (T-coil) setting, sounds from the phone will funnel directly into your hearing aid without picking up background noise.
All CapTel captioned telephones are HAC and include powerful amplification and tone control. Learn more about hearing aid compatible telephones here.
Amplifier
Built-in amplification is another feature to consider when shopping for hearing loss telephones. Amplifier phones allow you to adjust the volume louder than a traditional telephone. Some models also come with tone control capabilities to help make high-pitched noises easier to hear. Many captioned telephones include these features. Pairing amplification with captioning can help provide maximum assurance that you've caught every word of the conversation. The amplified sound makes it easier to listen to your caller's voice. At the same time, the captions display the conversation so that you can read along or double-check that you heard everything correctly.
Tone control
Combined with amplification, a tone control feature allows you to adjust the settings to match your personal sound preferences. Depending on the frequency level that's easiest to hear, you can choose the low (man's deep voice), high (child's high-pitched voice), or mid-range (moderate level speakers) setting on all CapTel captioned telephones. The CapTel 2400i model also allows you to test the tone setting by playing a recorded version of different tones so you can customize the best levels for you. It also allows you to set the tone to match your personal audiogram.
Built-in phonebook
A built-in phonebook can be a useful feature to look for when searching for hearing loss telephones. The phonebooks available on CapTel captioned phones allow you to store up to 95 names and numbers on your telephone. With just a few clicks, you can easily access the people and companies you call the most. With this feature, there's no need to keep your address book on hand. Simply go through the phonebook on your display screen to find the number you need.
Caller ID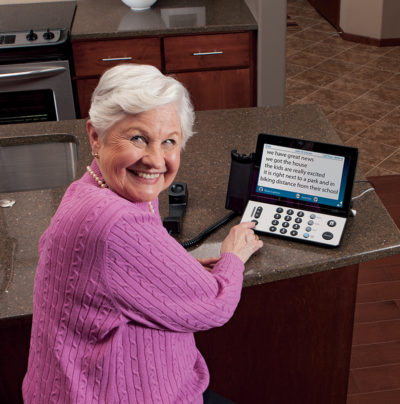 Caller ID helps you know who is calling before you pick up the phone. If you already enjoy having this feature on your traditional phone, consider looking for a hearing loss telephone that also has this capability.
Bluetooth connectivity
A Bluetooth connectivity feature on hearing loss telephones gives you flexibility to connect to headsets, neckloops, and other assistive listening devices so you are not tied to the phone. If you enjoy the flexibility of hands-free connectivity via Bluetooth, discover more about how the CapTel 2400i model works here.
These are just some of the helpful features you may want to consider in your search for a hearing loss telephone. Depending on the model you choose, CapTel captioned phones offer many other benefits you may find useful. These include Wi-Fi compatibility, tilting display screen, one-touch customer service access button, and speed-dialing. If you or someone you know could benefit from a CapTel captioned telephone, contact us online or call (800) 233-9130 for assistance.