Simple ways to promote a healthy mouth as you age.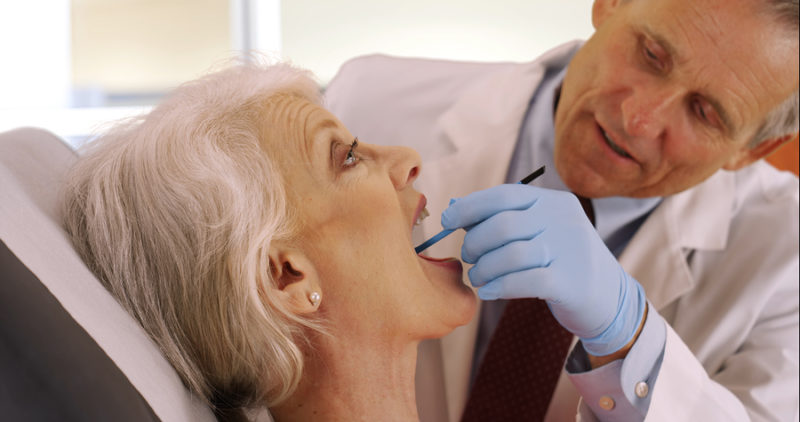 While good oral hygiene is critical for overall health at any age, experts have specific recommendations especially for older adults. To keep your pearly whites healthy as you age, follow these easy oral care tips for seniors:
Brush with an electric toothbrush
Avoid tobacco and limit alcohol
Use dental floss
Rinse with an antiseptic mouthwash
Combat dry mouth
Visit the dentist for regular check-ups
Find more on these ways that you can make your mouth smile below.
1. Brush with an electric toothbrush
Available in both battery-powered or rechargeable models, electric toothbrushes are specifically designed to easily remove tartar-causing plaque. For best results, opt for one with a small head that will help you reach every area of your mouth and be sure to brush twice each day with a toothpaste containing fluoride.
Shopping hint: Check manufacturer's websites for coupons or talk to your dentist about how you can save on your electric toothbrush purchase.
2. Avoid tobacco and limit alcohol
Avoiding tobacco in any form and limiting the use of alcohol can go a long way in ensuring a healthier – and happier – mouth. To curb your cravings, check out these stop smoking tips and mix up a healthy and refreshing alcohol-free "mocktail" at your next social gathering. Your teeth will thank you!
3. Clean between your teeth
Cleaning between your teeth every day can help you remove any excess plaque that your toothbrush may have missed. From dental picks and string floss to tiny brushes and water flossers, there are many tools designed to keep those hard-to-clean areas free from build-up. At your next dental visit, talk to your dentist about the best option for you.
Watch this video on how to floss your teeth.
4. Rinse with mouthwash
An easy way to care for your dental health is to swish mouthwash after you brush – not only for fresh breath but also to reduce bacteria. Look for a product that has earned the American Dental Association (ADA) Seal of Acceptance to ensure it is safe and effective.
View all ADA-accepted mouthwashes here.
5. Combat dry mouth
Xerostomia, also known as dry mouth, can occur naturally with age or as a common side effect of prescription medications. If you are experiencing dry mouth, talk to your dentist about saliva-producing prescriptions and over-the-counter mouth rinses.
6. Visit the dentist for regular check-ups
Whether you have natural teeth or dentures, the top oral care tip for seniors – and everyone – is to visit the dentist regularly. Professional dental cleanings help keep you healthy and are essential to early detection of many oral health issues.
Looking for a new dentist? Use the ADA Find-A-Dentist database here.
These easy oral care tips for seniors can help you and your loved ones maintain a healthy smile at any age. For more articles on senior health and more, visit our senior living blog today.