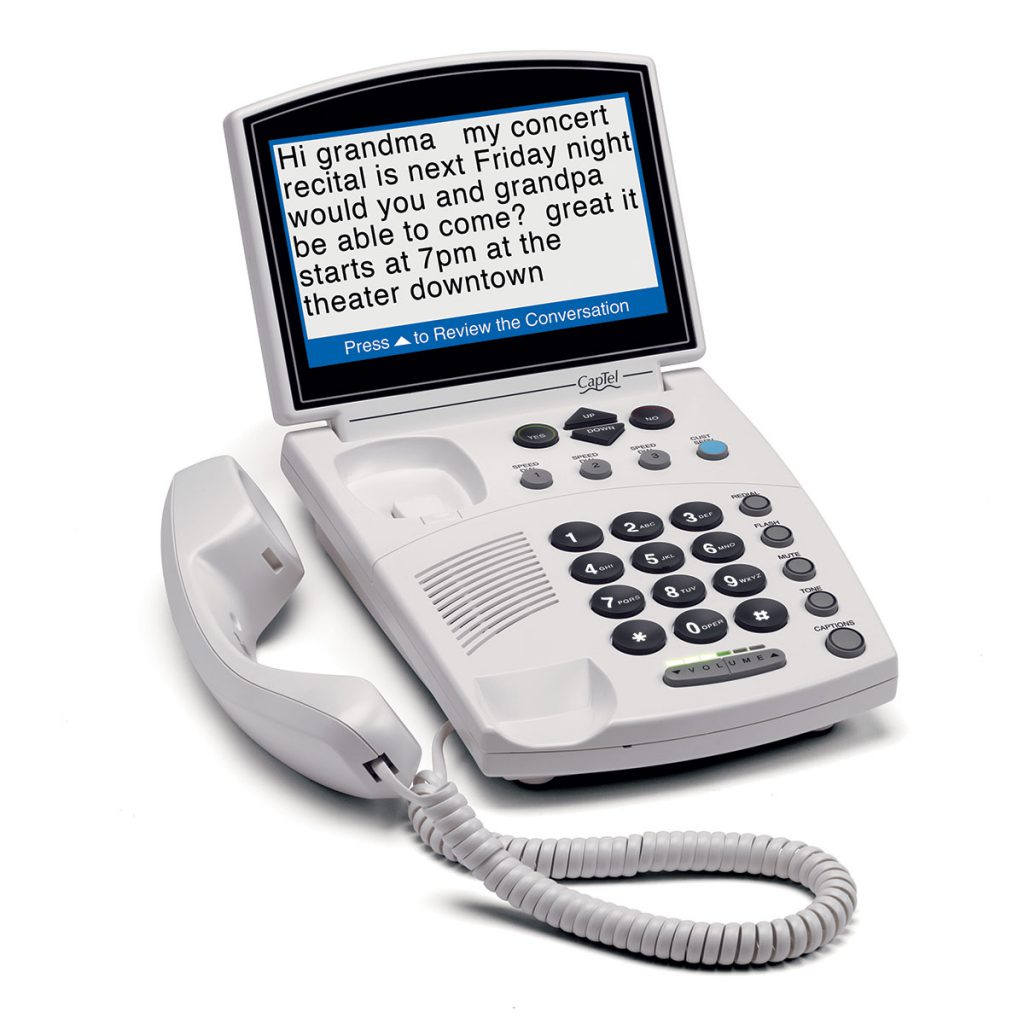 CapTel 840i
Traditional-style telephone that features a large easy-to-read display with built-in answering machine.
Overview
The CapTel 840i captioned telephone shows captions of everything your caller says on an extremely large display screen to help make sure you catch every word. It connects to both your telephone service and to your Internet service to give you the best of both worlds: voice and captions. The captions are provided by a free service that uses the Internet connection to automatically display captions for every call, quickly and accurately.
Features
Captions can be turned on/off as needed
Callers dial your number directly
Built-in Answering Machine
Phone book to store frequently called numbers (95+ names)
WiFi compatible
Warranty 5-year Replacement Program
Includes 90-day money back guarantee
Specifications
Captions appear automatically on all calls – incoming and outgoing. No need for callers to dial through the Captioning Service.
WiFi compatible to position anywhere within your wireless network range
Captions can be turned on or off at any time in a call.
Built-in Answering Machine takes voice messages with captions
Large, easy-to-read captions window with adjustable font sizes and colors.
Display screen tilts for comfortable reading or lies flat to mount the phone on a wall.
Adjustable volume control (up to 40dB gain) for captioned calls. Volume button is easy to see and adjust during a call.
One-touch access to CapTel Customer Service (speed dial button automatically connects you to CapTel Help Line).
Easy-to-follow menu system with Yes/No questions.
Phone Book allows you to easily store and dial more than 95 names/phone numbers.
Speed dial keys for one-touch dialing of frequently called numbers.
Caller-ID capable – shows you who is calling directly on display screen.
Captions available on calls within the United States only.
Requirements
Telephone Service
High-Speed Internet (WiFi or via Ethernet cable)
Router may be required, depending on your set-up
Standard electrical power
* This model works only in the United States
People who do not have high-speed Internet access should use the CapTel 840.