Get ready for the college semester with this checklist!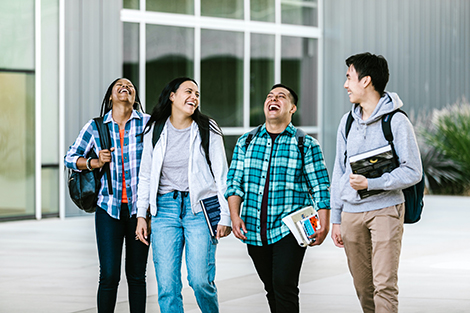 College can be an exciting time full of learning new things and discovering your independence. For students with hearing loss, preparing for college includes a few extra considerations, such as the various hearing loss accommodations that may help them thrive throughout the academic year. That's why we've put together a back-to-school checklist for students with hearing loss — so you can check "make a list" off your list!
Here's our back-to-school checklist for students with hearing loss:
Visit the audiologist
Meet with the accommodations office
Check in with professors
Research student organizations
Download helpful apps
Plan for emergency situations
Look into captioning services/features
Familiarize yourself with classroom technology
Form small study groups
Develop self-advocacy skills
Let's dig into these tips and college hearing loss accommodations below.
Visit the audiologist
Before heading off to school, students with hearing loss should schedule a visit to their audiologist. It's essential to discuss any changes in your hearing since the last school year and make any necessary adjustments to hearing aids or other devices so you're ready to tackle the new semester with confidence.
Meet with the accommodations office
This may be the most crucial step, since it's a chance for you to ask questions and get specific guidance from your school. Colleges and universities often have dedicated accommodations offices or coordinators to assist students with disabilities, including those with hearing loss. Students should schedule a meeting to discuss their specific needs and inquire about what hearing loss accommodations are available at the school. This may include note-taking services, captioning for videos and multimedia content, and other assistive technologies.
Check in with professors
It's also a good idea for students with hearing loss to reach out to their professors shortly before the semester begins or during an early class. This might feel intimidating, but communication is key, and they'll appreciate knowing how to help their students learn. Students can talk to their professors about their specific communication preferences, such as sitting at the front of the classroom to better hear lectures or requesting that professors use microphones or other amplification devices during class.
Research student organizations
Many colleges have a wide variety of student groups on campus. Review the list to see if there's an organization available for students with hearing loss at your school. Joining a group like this can provide a sense of community and a valuable support network. If there isn't one on campus, look into joining an online group or your local HLAA chapter.
Download helpful apps
Thanks to modern advancements in technology, there are plenty of apps and tools that can enhance a student's learning experience. Some useful hearing loss apps include live captioning and transcription apps, sound alerts, and even apps to help filter out background noise (whether you wear hearing aids or just earbuds/headphones). These can help you stay included during class discussions or social situations.
Plan for emergency situations
While emergency situations may be uncommon, it's important to have a game plan ahead of time that takes your needs into account. It's a good idea to discuss emergency evacuation procedures with the accommodations office and see if you can have a visual or tactile alert system installed in your dorm if you're living on campus. If you have roommates, let them know about the best way to communicate with you during emergencies so you can handle them as a team.
Look into captioning services/features
In addition to classroom lectures, students may be assigned online content, videos, and multimedia presentations that are not fully accessible to individuals with hearing loss. Fortunately, many modern applications come with captioning features. For instance, if there's a lecture being held over Zoom, you can ask the professor to turn on automated captions or use a CapTel phone to join the call. If you do encounter inaccessible content, you can ask the accommodations office how to proceed.
Familiarize yourself with classroom technology
Classroom technology is another topic you can talk to a disability coordinator about. Tech that can help students with hearing loss may include hearing loop systems, FM systems, speech-to-text devices, augmentative communication tools, and more. Ask about these options and whether you can experiment with them to get comfortable before classes start.
Form small study groups
Creating study groups with classmates who are supportive and understanding of your hearing needs can be a game-changer for any student's learning experience. Within small groups, it's easier to understand one another, share communication preferences, divide note-taking duties, etc. Plus, it's a great way to make friends!
Develop self-advocacy skills
College is the perfect time to learn how to express yourself, which includes having the confidence to share what you may need from others. By standing up for yourself and your hearing loss accommodation needs, you also help pave the way toward a more inclusive learning environment for others!
With this back-to-school checklist for students with hearing loss, you'll be all set to crush the upcoming school year! The right support and a proactive attitude can help you make your college experience a fun, meaningful, and transformative time.
For more hearing loss tips and lifestyle content, keep reading the CapTel blog!