Try out one of these fresh and easy recipes this season!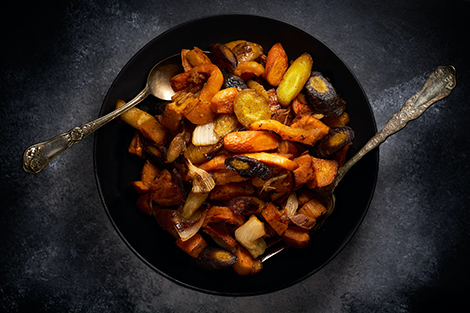 One of the most enjoyable things about the spring season is the delicious, fresh flavors that come with it. Veggies and herbs are starting to sprout up from the garden, and it's the perfect time to feature them in your cooking.
Here are eight fresh and easy spring side dishes that are sure to be a hit at your next dinner party, picnic, or spring holiday celebration:
Asparagus and leek tart
Roasted red potatoes with thyme
Focaccia bread
Chopped spring salad
Baked artichoke hearts
Balsamic-glazed asparagus
Roasted carrots
Leek, pea & watercress soup
Asparagus and leek tart
This beautiful galette-style tart makes a perfect seasonal side. You'll fill and bake a gorgeous golden-brown crust with an open center revealing colorful tomatoes, asparagus, leeks, herbs, and other ingredients. It's one of those spring side dishes that are sure to impress a crowd!
Roasted red potatoes with thyme
If you're looking for a simple but hearty side dish, this certainly fits the bill. Roasted red potatoes with thyme is the perfect dish for spring. All you need to do is to cube some red potatoes, toss them in olive oil, season with salt and pepper, top with thyme, and bake in the oven until golden brown.
Focaccia bread
If you love baking bread (and eating it, of course), a fresh pan of focaccia will always be a welcome addition to a spring meal. Focaccia bread is light and fluffy, with a crispy crust that makes it hard to stop eating. Add pesto for a rich, herbaceous flavor — or put your artistic skills to the test and decorate your bread with colorful spring veggies.
Chopped spring salad
A seasonal chopped salad is a great way to get in some fresh and colorful veggies. Simply chop some romaine lettuce and fresh spring herbs, such as mint, basil, parsley, and chives, and toss them together with a simple olive oil and lemon dressing. Add other veggies or toppings to taste!
Baked artichoke hearts
Artichokes are one of those veggies that just make everything feel a little fancier. And thanks to this recipe that uses canned artichokes, it's also quite easy to whip up a delicious dish with them! Lemon juice, garlic, and white wine join seasoned breadcrumbs for a lovely and healthy springtime appetizer.
Balsamic-glazed asparagus
Asparagus is another veggie that really shines during the spring months. All you need to do for this recipe is season some asparagus with olive oil, salt, and pepper, and then roast (or grill) it until tender. To finish, drizzle the asparagus with a balsamic glaze for a touch of sweetness.
Roasted carrots
We can't get enough of the veggies this season — roasted carrots are a delicious and vibrant side dish perfect for spring. The roasting brings out the natural sweetness of the carrots, and you can enhance the flavor more by adding fresh herbs and spices like parsley, rosemary, dill, etc. Another option is to pair the roasted carrots with a citrus or balsamic glaze to give them an extra zing. Chop the carrots into bite-sized pieces, toss with olive oil and your seasonings of choice, and roast until tender.
Leek, pea & watercress soup
Watercress is one of those ingredients that many of us have heard of, but few have actually used! It's a green leafy plant that grows in shallow water and is known for its peppery flavor. This bright green soup pairs watercress with green peas, garlic, and leek for fresh spring flavors. Serve this soup with a drizzle of olive oil for a light and tasty appetizer.
There you have it — eight fresh and easy spring side dishes ready for you to enjoy all season long. Not only are these recipes delicious, but they're also easy to make and full of health benefits. Serve them alongside an entree from our list of seasonal spring recipes here!