Save some time with these easy and delicious meals!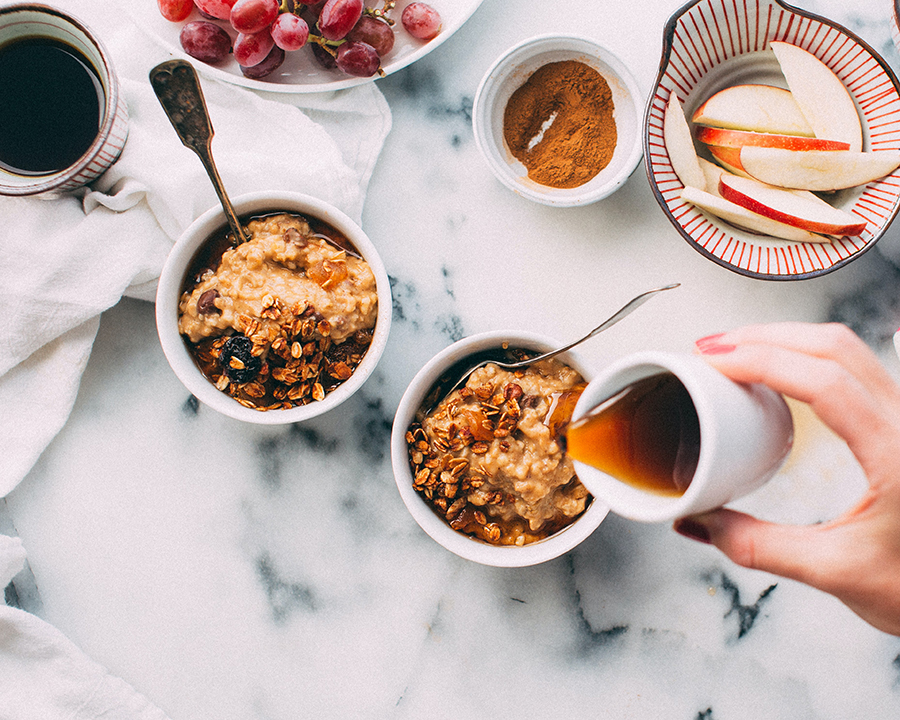 We all get busy from time to time, especially over the holidays when we are planning and hosting gatherings, shopping, traveling, and seeing friends and family. But you should also take some time to relax!
When you have a busy week or overnight guests, make-ahead breakfast recipes can make your mornings much easier.
Here are some make-ahead breakfast recipes to fit everyone's tastes and dietary preferences:
Veggies & Eggs
1. Roasted vegetable quiche
2. Veggie-loaded breakfast casserole
3. Make-ahead scrambled eggs
Pancakes, Waffles, and French Toast
4. Overnight cinnamon roll French toast bake
5. Pumpkin pancakes
6. Overnight buckwheat-oat gluten-free waffles
More Delicious Breakfasts
7. Blueberry-almond overnight oats
8. Overnight oats with chocolate and strawberry
9. Apple cinnamon muffins
Veggies & Eggs
Get protein and veggies in at breakfast with these make-ahead casseroles, bakes, and scrambles. These recipes can be customized to your preferences and make the perfect crowd-pleasers.
The Classic Roasted Vegetable Quiche is a fun dish that can be prepped the night before, then put together and baked in the morning. A quiche is a perfect way to add extra vegetables to your day and to use up any extra veggies and herbs you have sitting in your fridge.
Another veggie-filled option is a Veggie-Loaded Breakfast Casserole. You can also customize this dish to include your preferences and what you might have on hand. The casserole can be prepared the night before, then covered and left in the fridge overnight to bake in the morning.
Another easy egg-based recipe to prepare the night before and bake in the morning is Make-Ahead Scrambled Eggs. Making these ahead of time can allow you time to cook up other dishes in the morning as well! These only take 20-30 minutes in the oven after being prepared ahead of time.
Pancakes, Waffles, and French Toast
Try these fun, make-ahead breakfast recipe twists on some classic breakfast favorites.
Anything cinnamon is perfect for fall and winter. This fun and easy Overnight Cinnamon Roll French Toast Bake is perfect to make for friends and family. This dish needs to sit for at least 6-8 hours after being prepped, so overnight is a great time to leave it to rise and soak in the custardy, cinnamon-y goodness!
Another fall favorite to add to your mornings are these Pumpkin Pancakes. Pancakes are an easy meal to make ahead of time and freeze as many as you need. They are also easy to double a batch if you are cooking for a large crowd.
For a gluten-free friendly option, opt for these Overnight Buckwheat Oat Gluten Free Waffles. These are meant to be prepped the night before to soften the steel-cut oats and buckwheat. In the morning, just add a few more ingredients, cook them up, and you're ready to eat!
More Delicious Breakfasts
Overnight oats and muffins are more fun breakfasts that can be made the night before. Overnight oats are easy to modify as needed, and muffins are a classic on-the-go breakfast favorite.
Blueberry-Almond Overnight Oats are a perfect fruity and nutty combination for a healthy morning start. Overnight oats are very easy and fast to prepare. Just mix the oats mixture, leave to sit overnight in the fridge, then top with the recipe suggestions or your modifications.
Another fun overnight oats recipe is this Chocolate and Strawberry Overnight Oats for a sweet morning treat. This recipe is just as quick and simple as the Blueberry-Almond Oats, and the topping options are truly endless!
Muffins are another fun, on-the-go breakfast that can be made fresh or easily frozen and microwaved when needed. Try these Apple Cinnamon Muffins for a delicious fall treat that can be enjoyed for breakfast, a snack, or with lunch.
With these make-ahead breakfast ideas, you'll be able to save time, entertain guests, and get an easy and nutritious breakfast on the table all holiday season long!
For more holiday recipes and entertaining ideas, stay tuned to the CapTel blog!