Bring these fresh ideas to your kitchen.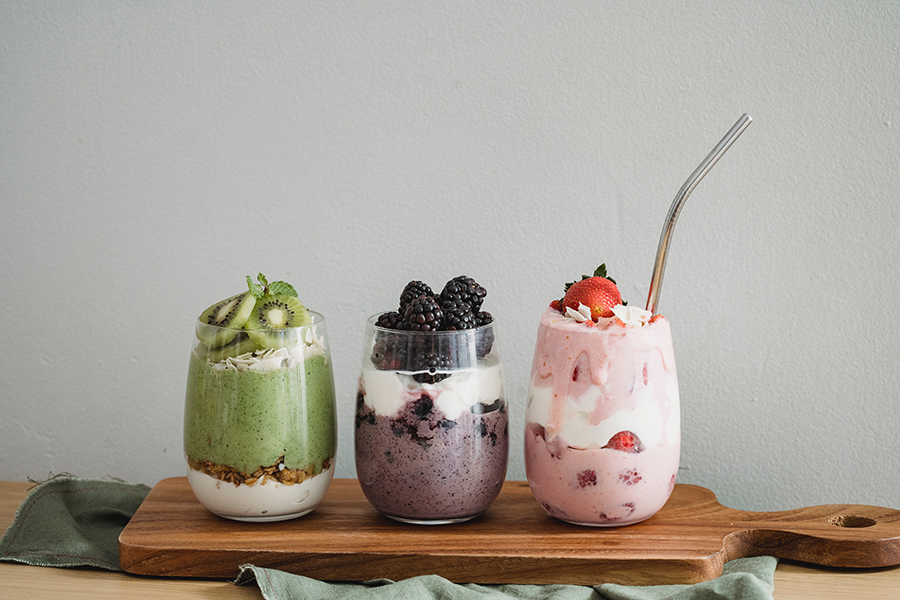 Fresh fruit is one of the most nutritious and delicious snacks out there, especially in the summer and fall when so many ripe and juicy fruits are in season.
If you're looking for creative fresh fruit recipes to boost how much fruit you and your family eat during the day, here are some great ideas!
Fruit salad
Salad with fruit (it's different!)
Grilled fruit skewers
Yogurt parfaits
Fresh fruit popsicles
Fruity salsa
Summer slushies
Let's bite into some more information about these fresh fruit recipes below!
Fruit salad
Something about chopping up different fruits and covering them in a flavorful drizzle totally transforms them. You can make a batch for a summer picnic or barbecue or keep a container in the fridge for a snack that satisfies your sweet tooth. Fruit salad is wonderful because it's so customizable to your favorite flavors! Here's a roundup of 40 fruit salad recipes, including pina colada fruit salad, minty fruit salad, avocado fruit salad, and more.
Salad with fruit (it's different!)
Fruit salad typically doesn't involve any lettuce or greens. But salad with fruit? That's a different story. In these fresh fruit recipes, fruit is more of a sweet sidekick to the main event rather than the star. Think about a pear and walnut balsamic salad, a strawberry pecan salad, or a mandarin orange salad.
Grilled fruit skewers
Tender, juicy, lightly blackened fruit fresh off the grill just tastes like summer! Try this recipe, which uses pineapple, cantaloupe, and strawberries brushed in a little maple syrup. If you're a lover of spice, kick it up a notch with a little hot pepper in there too!
Yogurt parfaits
Looking for fresh fruit recipes you can use for breakfast? Parfaits are essentially a cup of layered yogurt, granola, and your fruits of choice. You don't really need a recipe since these are so customizable! Use your yogurt of choice (be it traditional, Greek yogurt, non-dairy, etc.), choose a theme for your fruit (e.g., berry or tropical), and sprinkle your favorite granola in there. Nuts and seeds also work well for an extra nutritious crunch!
Fresh fruit popsicles
Want to cool kids (or yourself) down with some frozen popsicles, without all the added sugar that sometimes comes in the ones you find at the store? With the help of some popsicle molds, you can easily make your own! You can choose a recipe that keeps the fruits intact for a visual "wow" factor or a blended recipe where you puree the ingredients first for a smoother popsicle.
Fruity salsa
Chips and salsa is another classic summer snack, and the addition of fruit turns it into an ideal sweet-savory-spicy combination. Fresh mango salsa is a favorite in the fruit salsa realm — or you might be team strawberry salsa instead!
Summer slushies
When it comes to cooling and hydrating summer drinks, the slushie reigns supreme. Chopped fresh fruit, ice, sparkling water, and a good blender are all you need to make a fresh fruit slushie. Get creative by using herbs and other ingredients for flavor, like strawberry basil, mango vanilla, watermelon mint, and more.
With all these awesome fresh fruit recipes, you'll have no trouble hitting your daily recommended servings of fruit! Make sure to check out our article on how to fit more fruits and veggies into your diet for more delicious and fun ideas.