Keep your water intake up with these hydrating summer drink recipes.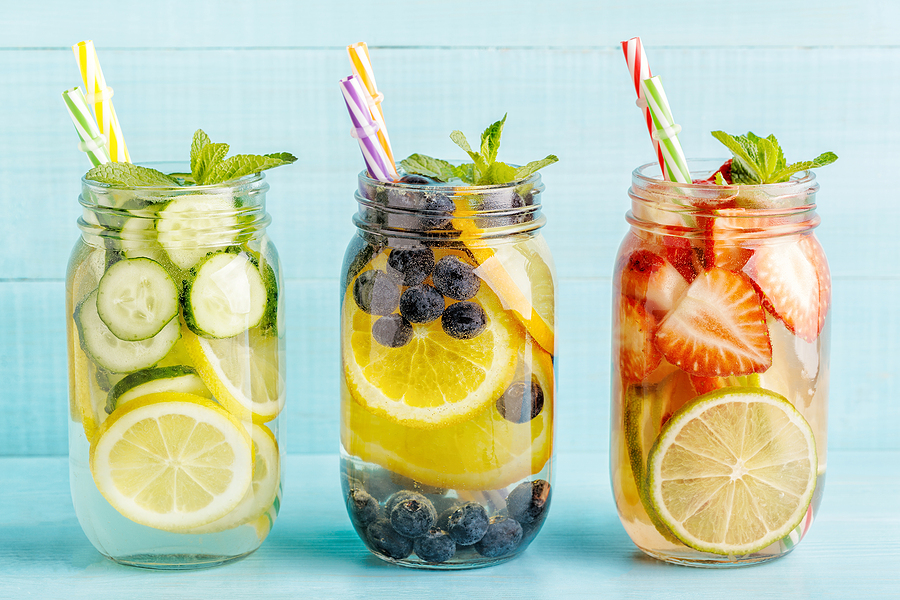 Looking forward to sipping some fun, fresh summer drinks — without heavy sweeteners or alcohol? There are plenty of hydrating summer drink recipes that will cool you off without overloading you with sugar. And since they're non-alcoholic, these hydrating summer drink recipes are fun for the whole family!
Fruit- and herb-infused waters
Lavender lemonade
Hibiscus mocktail
Green smoothies
Mojito mocktails
Electrolyte drinks
Kiwi agua fresca
Iced matcha tea
Honeydew cucumber slushy
Find links to these hydrating summer drinks recipes and health benefits below!
Fruit- and herb-infused waters
A refreshing glass of ice-cold water is often just the thing to hit the spot on a warm sunny day, but if you want to jazz it up a little, try simple infusions! It's as easy as choosing a combination of fruits and herbs and leaving the pitcher in the fridge. Ideas include:
Strawberry + lemon + mint
Grapefruit + lime
Cucumber + lemon
Watermelon + strawberry
Orange + basil
Your imagination is the only limit!
Lavender lemonade
As long as you don't go heavy on the sugar, lemonade can be a healthy, hydrating summer drink. And lavender is the perfect way to add an interesting flavor profile and classy-feeling twist! The possible health benefits of lavender include better skin, a calmer mood, and better sleep.
Hibiscus mocktail
Herbal teas can be a fantastic foundation for cold summer drinks, and hibiscus is one of the most robust and most unique flavors in the bunch. This mocktail combines chilled hibiscus tea with limes, club soda, and optionally a simple syrup sweetener. Hibiscus is packed with antioxidants and may even have antibacterial and cancer-preventing properties!
Green smoothies
Instead of reaching for a sugary pint of ice cream, enjoy a creamy frozen treat in the form of a green smoothie or smoothie bowl! Much like infused water, you can customize these however you like. Here are some example steps for putting them together:
Choose a green (e.g., kale, spinach, avocado)
Choose a fruit or two (tropical fruits, berries, kiwis)
Add a liquid (plant milk, coconut water, low-sugar juice)
Add any extras (hemp seeds, flax seeds, protein powder, mushroom powder, granola)
Enjoy!
Green smoothies are a great, delicious way to add more fruits and veggies to your diet!
Mojito mocktails
You don't need rum for these mojitos. The core ingredients to any mojito are fresh lime juice, mint leaves, and soda water, but there are ways to mix it up beyond that too! Pomegranate juice, cherries, blueberries, or blackberries all fit together well with these flavors. Mint is a healthy herb that's good for your digestive system, brain, and immunity.
Lemon-pomegranate electrolyte drink
Why grab a Gatorade when you can whip up your own hydrating summer drink recipe full of electrolytes? Coconut water, a few fruit juices, salt, and calcium-magnesium powder are the main ingredients you'll use for this ultra-hydrating summer drink recipe. It's perfect for sipping after a sweaty summer hike or tennis match!
Kiwi agua fresca
Agua frescas are similar to smoothies, but they're made with fresh fruit instead of frozen and tend to have more liquid, so they're not as thick. Kiwi is the perfect fruit to try your first one! These tangy little fruits boast health benefits like improved lung function, lower blood pressure, and protection from vision loss.
Iced matcha latte
Matcha is a form of powdered green tea that almost tastes like the fresh scent of mowing the lawn (in a good way!). It's a complex flavor with a bit of bitterness, tempered by creamy plant milk (optionally sweetened) in this iced matcha latte. If you want more sweetness and flavor, sugar-free vanilla syrup is a healthier option! The health benefits of matcha include better memory and attention, liver health, cancer and heart disease protection, and more.
Honeydew cucumber slushy
Doesn't this sound like the most refreshing slushy drink ever? (Who needs convenience-store Slurpees?) Natural sweetness from the honeydew mixes with coconut water, mint, lime, and cucumber for a glass full of fresh flavors. The benefits of honeydew include improved digestion, immune system boosts, vision health, and more.
Excited to impress your guests with these hydrating summer drink recipes? Here are some more fun activities to plan for the summer!