Keep your kitchen cool and your guests happy with these delicious, healthy recipes.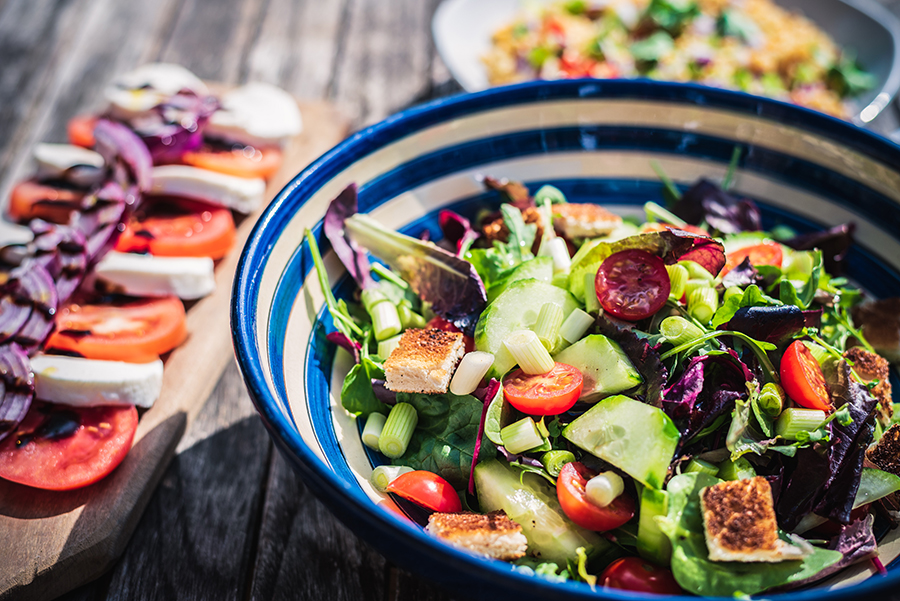 During the summer, many of us aren't in the mood to stand over a hot stove cooking a warm meal. That makes it the perfect season for no-cook summer salads! If you're looking for a variety of new recipes to put in your rotation, check out these recipes for no-cook summer salads:
Antipasto salad
Cucumber tomato salad
Southwest black bean salad
Avocado citrus salad
Healthy taco salad
Asian sesame ginger salad
Lemony kale salad
Thai salad with peanut dressing
Let's grab a forkful of these eight no-cook summer salads — click the links in the description for the full recipes!
Antipasto salad
Making pasta salad involves cooking, but not so with antipasto! Instead, you'll simply toss together pantry ingredients like artichoke hearts, olives, roasted red peppers, and a can of white beans (and/or tuna) with fresh veggies and herbs. Then, whisk together a simple Italian dressing and presto, antipasto!
Cucumber tomato salad
Cucumber tomato salad is one of the most refreshing summer combinations you can find — and is also one of the simplest no-cook summer salads you can make! You'll slice up juicy tomatoes, crisp cucumbers, and red onions, then drizzle everything with a mix of oil, vinegar, salt, pepper, and herbs.
Southwest black bean salad
Want a salad you can eat by the bowl or pair with chips and serve at a party? This Southwest recipe is the perfect contender. Black beans, corn, cilantro, avocado, lime juice, jalapeno if you want a little kick, and other fresh ingredients combine into a delicious Mexican-inspired salad, chip dip, or even taco filling!
Avocado citrus salad
Citrus fruits are renowned for their high vitamin C content, so when you're looking for a little immune-boosting summer salad, check this one out! Pick all your favorite citrus fruits, like grapefruits, tangerines, and a variety of different kinds of oranges. Pair with avocado, shallots (which have a milder taste than onions), olive oil, and seasonings, and serve them up on a bed of arugula!
Healthy taco salad
This healthy adaptation of a taco salad involves primarily vegetables. Use canned kidney beans, tomatoes, olives, peppers, and green onions, then dress it up with whatever fun toppings you want, like guacamole, corn chips, sour cream or cheese, and more!
Sesame ginger salad
If you're in the mood for Asian flavors but don't want to splurge on takeout, whip up this fresh, crunchy salad instead! Grated carrots form the base, joined by fresh cucumbers, red peppers, peanuts, cilantro, and a homemade sesame ginger dressing.
Lemony kale salad
Anyone who thinks they don't like kale hasn't had it prepared like this! The trick is to combine it with a delicious vinaigrette and massage the leaves so they get tender (since raw kale can be a little tough). Then, add all the other ingredients (except avocado, which you can add right before serving) and let the salad sit overnight to absorb the delicious lemony-garlicky flavors.
Thai salad with peanut dressing
Finally, take your culinary travels to another part of the world with this Thai salad! This one has lettuce and cabbage in the mix and uses a sweet-and-savory peanut dressing. Try adding fresh mango for a juicy, tropical bite!
Are you making one of these no-cook summer salads as a side dish for a BBQ day? If so, you can't miss these healthy grilled recipes!