Cook up these healthy grilled recipes this spring and summer.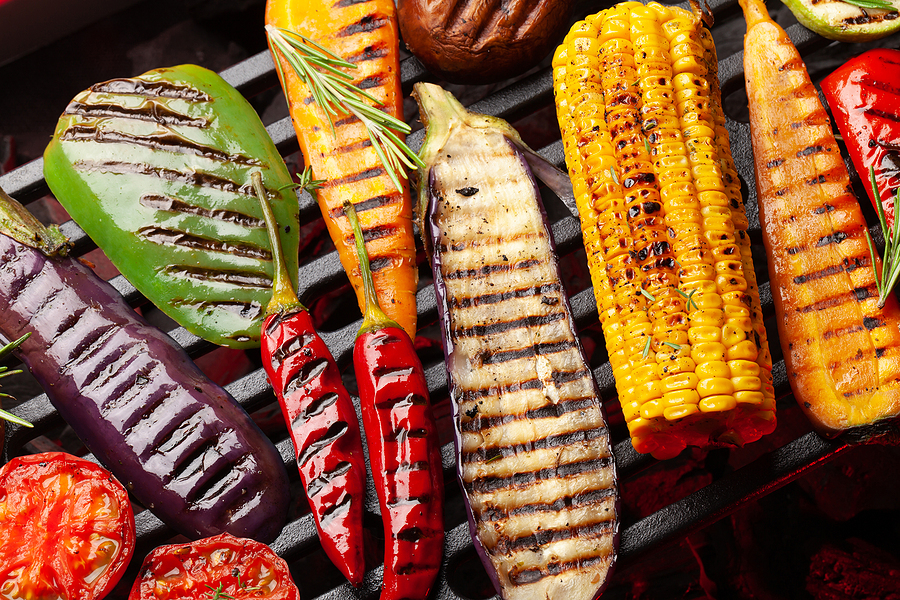 There's nothing quite like a barbecue to celebrate warmer weather. But if you're looking to eat healthier or cut down on the amount of meat in your diet, cookouts don't always have a variety of options. Luckily, there are plenty of unique, healthy grilled recipes you can try out this summer!
Here are some of the best healthy grilled recipes to try:
Kabob skewers
Carrot dogs
Bean burgers
Grilled seafood
Portobello caps
Grilled asparagus
Cauliflower steaks
Grilled fruit desserts
Keep reading for descriptions and recipe links for these healthy grilled options!
Kabob skewers
The beauty of kabob skewers is that you can customize them in so many different ways! For healthy grilled recipes, it's best to avoid red meat as much as possible, but there's still plenty of versatility available. Try making veggie-forward skewers with fresh summer vegetables like zucchini, cherry tomatoes, onions, peppers, potatoes, and eggplant, bathed in a marinade of choice (BBQ, balsamic, garlic-herb, you name it). Chunks of extra-firm tofu or chicken make a good protein-packed addition too.
Carrot dogs
Hot dogs are never going to win any healthy grilled recipe award, and while you may be skeptical that a carrot can take its place, give it a try for curiosity's sake! Check out these recipes for carrot dogs four ways. You'll lightly boil the carrots, then soak them in a smoky, flavorful marinade for at least 30 minutes before you take them to the grill. You can also do your prep work the day before your BBQ and let the carrots marinate in the fridge overnight. You've probably never experienced tender, juicy carrots like this!
Bean burgers
You can find just about anything in burger form nowadays, but bean burgers are a great hearty and nutritious option. Beans are rich in plant protein and fiber and have many health benefits, including improving heart health, lowering cancer risk, and stabilizing blood glucose. Pick up a frozen pack of bean burgers from your grocery store, or make your own patties from scratch!
Grilled seafood
Seafood is considered part of a heart-healthy Mediterranean diet, so it can be a better alternative to other meats. You could try a grilled seafood foil pack with clams, scallops, and shrimp, or marinated grilled salmon.
Portobello caps
Savory marinated mushrooms are a perfect healthy grilled entree for anyone trying to cut back on the meat — they offer a satisfying texture and can even be used as a stand-in for a burger patty. Portobellos are a low-calorie option rich in vitamins, minerals, and fiber. Check out this recipe with marinating and grilling instructions!
Grilled asparagus
Asparagus is a classic summer veggie for grilling, and the recipe is so simple! All you need is olive oil, salt, and pepper to turn them into excellent, tender spears of flavor.
Cauliflower steaks
No, these aren't meant to taste anything like steak, but if you enjoy smoky, lemony, caramelized flavors, this might turn into your favorite way to eat cauliflower. Find the recipe here!
Grilled fruit desserts
Yum — time for dessert! For a sweet but healthy grilled recipe, focus on fruits. You could make grilled fruit kabobs, French grilled watermelon, or simple grilled peach, plum, or pear halves (sprinkle on some brown sugar and cinnamon to level up the dessert factor). The natural sugars will create wonderful, caramelized flavors on the grill.
Are you getting as excited for summer as we are? Check out our articles on summer activities for seniors and picnic suggestions!