Save yourself some dishes with these cozy, delicious recipes.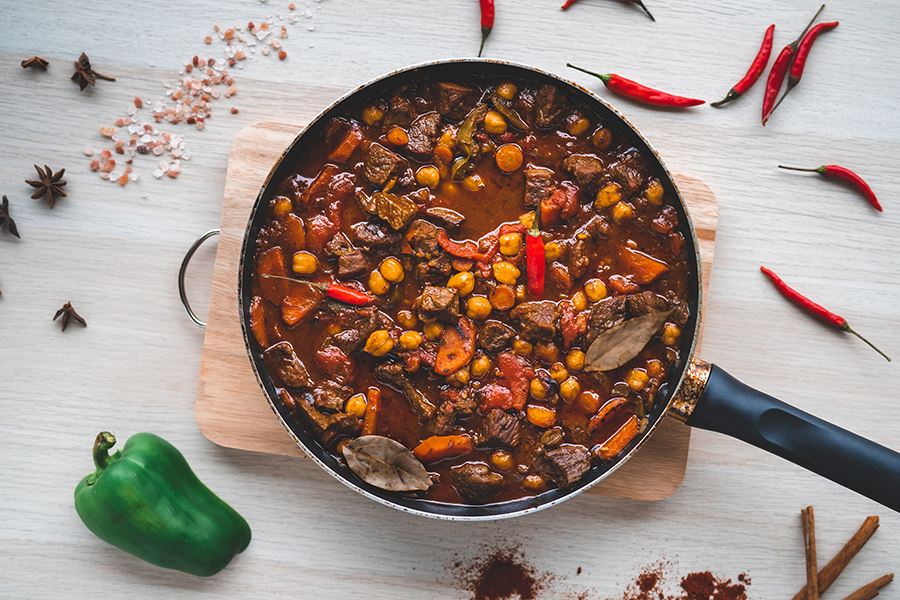 Winter is the perfect time to whip up some hot, hearty dinners for your household. The only downside is having to do the dishes after — it's the least fun part of cooking!
Save yourself some energy by creating these one-pot recipes that will leave you with a single dish in the sink (okay, and maybe a cutting board and utensils).
Add these one-pot recipes to your winter rotation:
Chili
Thai coconut curry
Lentil dal
One-pot pasta
Chicken and dumplings
Mushroom stroganoff
Jambalaya
Mediterranean stew
Let's check out these one-pot recipes and start preheating! You can use a pot on the stovetop, or a crockpot, or even an Instant Pot for a lot of them too.
Chili
When it comes to hearty, warming one-pot winter recipes, it's hard to think of something better than chili! This four-bean chili recipe uses black beans, kidney beans, garbanzo beans, and pinto beans, but feel free to swap for other favorites too! Beans are a great ingredient to add to your regular diet: they're full of protein, fiber, and antioxidants, improve heart and gut health, and more.
Thai coconut curry
If you've only ever had coconut curry at a Thai restaurant, it's time to track down some curry paste and give it a try on your own! Fill your creamy curry broth with whatever you'd like: popular options include broccoli, cauliflower, chickpeas, tofu, carrots, onions, and potatoes.
Lentil dal
Bring warming Indian spices into the kitchen in the form of a delicious lentil dal! Cumin, ginger, curry, garlic, paprika, and other flavors combine in a perfect winter recipe you can serve alongside rice or naan. Lentils are a nutritional powerhouse — they're high in fiber, protein, B vitamins, and more. Red lentils are an excellent option for dal if you can find them, as they cook down quickly.
One-pot pasta
There are so many one-pot pasta recipes out there that we're linking a whole list! Choose from basil-tomato spaghetti, macaroni and cheese, pasta primavera, a lasagna skillet, and more.
Chicken and dumplings
This Southern staple is a good idea when you're in the mood for chicken soup but want something even heartier, thanks to the dumplings. You cook the dumpling batter right in the broth, so it's a one-pot recipe, but you will need a mixing bowl!
Mushroom stroganoff
Cremini, shiitake, portobello, oh my! You can opt for any combination of mushrooms you choose for this savory winter one-pot recipe. Flavorful garlic and herbs meld with the mushrooms and pasta in a perfectly creamy sauce. Mushrooms are a fantastic source of vitamins and boast benefits for our heart and immune system.
Jambalaya
Let's go back down south to New Orleans and cook up some one-pot Cajun flavors! This jambalaya recipe packs in a ton of veggies like onions, garlic, peppers, and tomatoes, along with plenty of spices and rice. You can leave the recipe as it is or add in even more hearty ingredients like kidney beans, mushrooms, tofu, or seafood.
Mediterranean stew
Lastly, let's hop across the ocean to one of the healthiest regions in the world! The Mediterranean diet is renowned for its health benefits, thanks to its inclusion of many vegetables, legumes, olive oil, herbs, and other healthy ingredients. This stew combines some of the best: chickpeas, tomatoes, carrots, garlic, kale, and more!
To find even more healthy winter recipes, check out our article here and continue browsing the CapTel blog!