Whip up these delicious winter comfort foods you're sure to enjoy.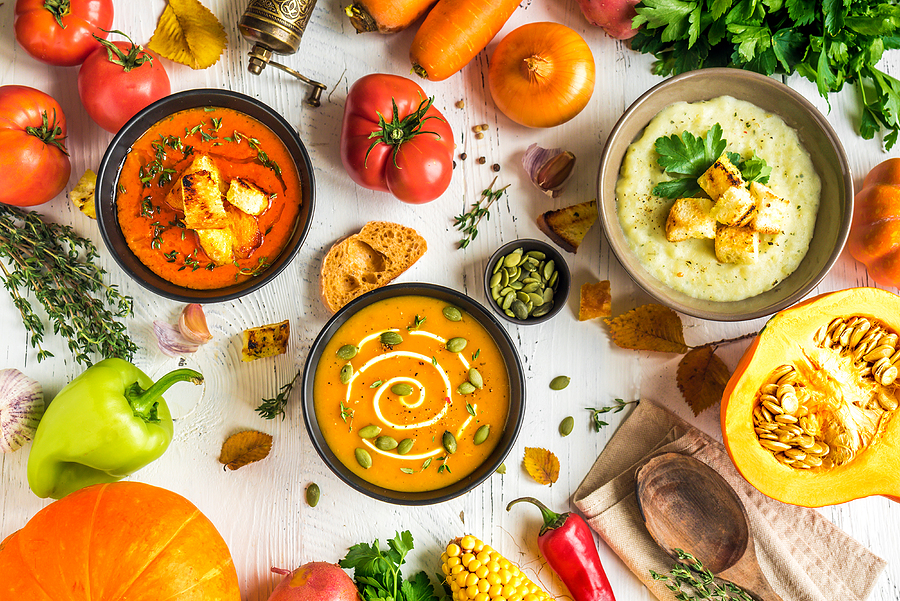 Winter is a wonderful time to enjoy healthy foods that warm you up, from soups and stews to casseroles and desserts. We're excited to feature some of our favorite healthy winter recipes that are also a cinch to make, thanks to the magic of stovetop pots, slow cookers, and Instant Pots!
Try these healthy winter recipes to keep yourself nourished and cozy all season long:
Slow cooker chili
Lentil soup
International curry
Ratatouille
Lasagna soup
Mushroom risotto
Walnut-stuffed apples
Find health benefits and links to these healthy winter recipes below!
Chili is the perfect healthy winter meal because of how flexible it is. You can make it as mild or spicy as you want, add meat or go crazy with different types of beans for protein and fiber, decide on a thick or brothy stew, etc. Don't be afraid to customize!
Lentils are one of the humblest superfoods: they're affordable yet extremely nutritious and flexible! Lentils are a great source of iron, protein, fiber, and health-boosting polyphenols. Try the above lemony lentil soup recipe for a multidimensional flavor experience—fresh, warm, comforting, with a little zesty kick to it. You can cook the soup in an Instant Pot, slow cooker, or on the stove.
International curry
Winter is a great time to experiment with delicious international flavors, and there's no better way than with a curry! You could simmer a Thai red curry made with coconut milk, curry paste, and vegetables. Or, visit your local Asian grocery to stock up on spices like garam masala to create an Indian red lentil dal or chickpea chana masala. Branch out even further to try a Japanese curry with unique ingredients like grated apple for a touch of sweetness. Each of these curries is perfect for adding a wide variety of healthy vegetables to your diet!
When many of us think "ratatouille," our image might be of a beautifully arranged circular pan full of alternating colors (or a scene from the Pixar film). You can make it this way or choose the more straightforward method of cutting up all the vegetables, roasting some, and tossing them in a pot to simmer together for a cozy winter ratatouille.
Lasagna is well-known for being a rather labor-intensive meal involving lots of cooking time and assembly. Not so for lasagna soup! Your herbs and veggies can be sauteed and simmered in one pot for an easy meal, along with bean-like lentils or white beans for a tasty protein and fiber boost. You'll add your pasta 10-15 minutes before you're ready to serve the soup; choose a whole-wheat noodle to make this an even healthier winter recipe.
If you want a recipe that feels fancy without being too tricky to make, it's hard to find something more fitting than risotto! An Instant Pot makes it fast and easy to whip up a rustic-gourmet meal seasoned with garlic, herbs, and umami mushroom flavor. Many types of mushrooms have historically been used as medicine and immunity boosters, so they're an excellent nutrition source to add to your diet.
Did someone say dessert? There are healthy winter recipes for sweet treats after dinner too! Juicy apples blend with walnuts, brown sugar, and cinnamon for a delicious flavor explosion (you can reduce the amount of sugar to make it healthier). Plus, this recipe comes with double health benefits. Apples are full of plant compounds that protect your heart, support good gut bacteria, and reduce cancer risk. Walnuts are a rich plant source of omega-3s, help your brain, and support healthy aging.
Browse more of our health and wellness posts on the CapTel blog to discover more recipes and health tips!