Discover the benefits of starting a book club with friends.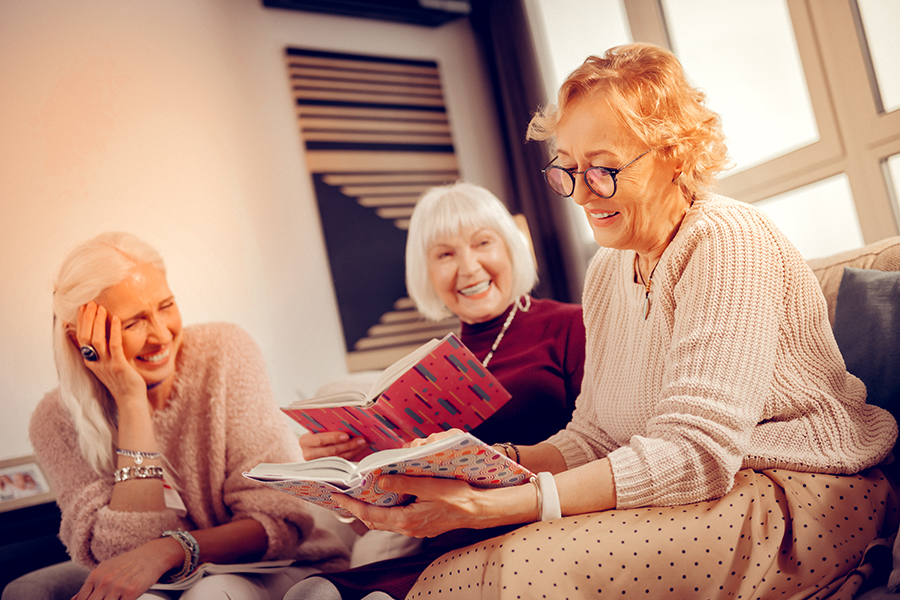 Reading and socializing are two activities that are wonderful for your brain health and mood — and a book club offers the best of both worlds! If you're wondering how to start a book club, use the tips below as a jumping-off point.
Find members
Choose a book club theme
Have a system for choosing books
Consider location & schedule
Decide who will moderate
Talk about logistics and expectations
Let's learn more about how to start a book club successfully!
Find members
Of course, you can't have a book club without the "club!" There are a few ways to go about finding the founding members for your burgeoning book club:
Personally ask your friends or coworkers who love to read
Post on social media (to your own friends or in local groups)
Post bulletins in a library or bookstore
The people who join the book club can help set the tone for your gatherings. If you form the book club out of an existing friend group, it might be a part-book, part-social catchup group. On the other hand, if you welcome anyone to the group, it can be an excellent opportunity to meet new people while enjoying great reads.
Choose a book club theme
Your theme can be as broad or as narrow as everyone likes. For example, you can focus on fiction or nonfiction, classic or modern novels, one specific genre, books from authors around the world, or a club where you read a different genre every month. The possibilities are truly endless!
Have a system for choosing books
Not every book will appeal to every member, so it's a good idea to introduce a democratic process to help choose the reading selection for each meeting. For example, consider offering three options each month and have everyone vote for their preference, selecting the book with the most votes. Or, rotate between members, letting everyone have a month to choose a book (or choose the options to be voted on). If you're having difficulty coming up with ideas, look at lists of best book club books to get inspired.
Consider location & schedule
The first decision you'll need to make is whether to meet in person or virtually. Virtual meetings can be more convenient and are more conducive to social distancing, but you might decide you prefer the atmosphere of having everyone together in a room. Consult with fellow founding members to decide!
If you meet in person, you'll need to find a space. For example, the club could rotate between members' homes or meet in a public space like a library, cafe, rec center, or even a park when the weather is nice.
Then, decide frequency: every month, every other month? As long as there's enough time to read and mull over each book, you can meet as frequently or infrequently as you like. You can even meet weekly to discuss individual chapters of longer reads.
Decide who will moderate
Having a moderator is essential to guide discussions and keep them on track. The moderator can be the same person at each meeting, or you can rotate between members. The role of a book club moderator is mainly to come up with a list of questions to spark discussions and shape how the group engages with the book. Then, if things get too off-topic, they can gently guide the conversation back to the subject at hand or move on to the next question.
If your group prefers not to have one single moderator, ask everyone to come prepared with several questions or topics about the book they'd like to discuss. This way, you can all share the preparation work.
Talk about logistics and expectations
If you're meeting in person, don't forget to iron out some of the other relevant details. For example, some people might expect the book club to be a social gathering where you can spend time sharing a meal and chatting, while others might prefer to get right into the discussion. Set expectations around how things will work! For instance, you could agree to have a pre-meeting or post-meeting time (say, 15 minutes to an hour) for anyone who wants to come early or stay later to socialize. If you're not already hosting the club at a cafe, it can be nice to have people sign up to bring snacks or drinks to share.
As you develop your book club, remember the benefits of reading for seniors include lower stress, better cognitive function, and even improved sleep quality. While figuring out how to start a book club may be intimidating at first, once you get into the groove, you'll find yourself looking forward to each meeting!
For another way to share quality time and keep in touch with friends and family, check out our selection of CapTel captioned telephones for hearing loss.