Celebrate National Ice Cream Day in a tasty, homemade way.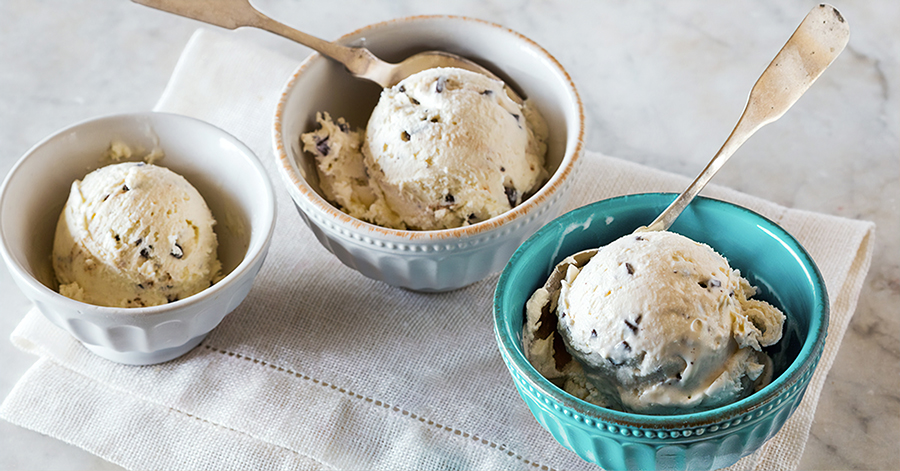 With the heat of summer setting in, it's the perfect time to start looking forward to National Ice Cream Day on July 18! Picking up a pint from the store might be your go-to, but trying homemade ice cream recipes is a fun way to flex your culinary skills and get your family involved in making something new.
Here are some great homemade ice cream recipes with something for everyone — classic, healthy, low-sugar, dairy-free, no-churn, and more!
Classic no-churn ice cream
Banana "nice cream"
Coconut milk ice cream
Coffee can ice cream
Date-sweetened ice cream
Oat milk ice cream
Avocado ice cream
Learn about these homemade ice cream recipes and find the links below!
Classic no-churn ice cream
You don't need an ice cream maker to turn out smooth, creamy results with this recipe for no-churn ice cream! This three-ingredient chocolate chip ice cream or this cinnamon ice cream are simple places to start. Hand-mixing and freezing ice cream in a loaf pan works great!
Banana "nice cream"
Bananas are naturally creamy, making them perfect as a healthy base for homemade ice cream recipes. Some people like to use the cute nickname "nice cream" for these banana-based frozen treats! Check out this link for plenty of ideas for how to customize your nice cream, like adding peppermint extract and chocolate chips for a mint chocolate chip flavor, blending in some crushed Oreos for cookies and cream, or scooping in peanut butter (a classic combo with banana!).
Coconut ice cream
If you like pina coladas… you'll probably like coconut ice cream too! Coconut milk or coconut cream is another excellent base for dairy-free ice cream goodness. Start with this base recipe and add whatever variations are speaking your name. Coffee-coconut ice cream? Salted caramel coconut? Pineapple-coconut? Yum!
Coffee can ice cream
If you have kids or grandkids, making ice cream in a coffee can is a fun summer experience to try together! You'll use two coffee cans to rig up your own DIY version of an ice cream maker. First, you'll make the ice cream inside a small, one-pound coffee can, then put it inside a larger three-pound coffee can filled with ice and salt. Then the kids roll around or kick the can for around 10-15 minutes, and voila! Churning complete!
Date-sweetened ice cream
For those watching their added sugar intake, Medjool dates can offer a healthy solution. With their naturally sweet, lightly caramelly flavor, you won't miss the sugar! This recipe has you soak the dates in hot water first, so they're soft enough to blend. Use a strainer if you don't care to have little chunks of dates in your ice cream.
Oat milk ice cream
When it comes to plant milks, oat is the popular new kid on the block lately, and it makes excellent homemade ice cream. This recipe is for vanilla-maple oat milk ice cream, which is a perfect classy combo for entertaining guests. (And there's an option to add an adults-only twist that includes alcohol!) You'll also find homemade ice cream recipes for butter pecan oat ice cream, lemon oat ice cream, and others on the same website.
Avocado ice cream
You might not think of avocado as a dessert sort of fruit — your mind might go to guacamole or salad. But avocado has such a mild flavor, creamy texture, and a good amount of healthy fats that make it perfect for nutritious ice cream recipes! Mint leaves, lemon juice, bananas, coconut milk, and maple syrup combine in this recipe for an ultra-refreshing summer treat.
Summer is long, so hopefully, you'll have the chance to try multiple homemade ice cream recipes and pick your favorite! Next, check out these 10 enriching summer activities for seniors.