W-I-N National Scrabble Week with these classic word games.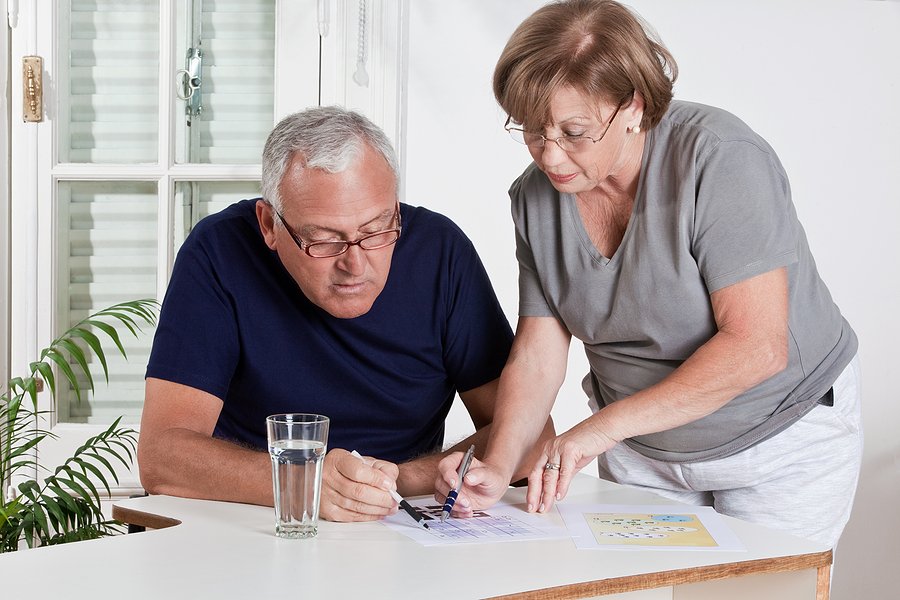 If you've been itching for a chance to battle your spouse, friends, or children in a game of wits, you'll be glad to know that the first week of August is National Scrabble Week! Challenge your game buddy to a virtual tournament of Scrabble and other fun word games for seniors. If you'd prefer to go solo instead of challenging a fellow wordsmith to go head-to-head, go for printable word games for seniors or play online.
Here are our favorite traditional, online, and printable word games for seniors:
Scrabble or Words With Friends
Word Connect
Crossword puzzles
Upwords
Word searches
Boggle
Learn more about these word games for seniors and where to play them below.
Scrabble or Words With Friends
Since we're celebrating National Scrabble Week, Scrabble has earned the first spot on this list of word games for seniors! To play, you take turns using a set of seven randomly chosen letters to create words and hit tile bonuses. Scrabble helps hone your brain's visual perception and memory while you brainstorm words you might not use regularly in daily conversations. For an app version of Scrabble that you can play against strangers or a bot, download Words With Friends on a smartphone or tablet.
Word Connect
Word Connect is a word game puzzle app for mobile devices. You're presented with a circle of letters and draw lines between the letters on your screen to create as many unique words on your screen as possible. For instance, if your letters are C T R A, you can swipe to make words like CAT, CART, RAT, and more. It's a great solo word game for seniors that might get you hooked!
Crossword puzzles 
While most often found in newspapers, you can also find printable crosswords for seniors online or  buy a book of them if you're a true die-hard crossword buff. Crosswords are a fun word game to do in tandem with someone else since you can combine your brainpower on the clues.
Upwords
Upwords is another word game for seniors that's available in board game form and as an app, so take your pick. It's like Scrabble, with a few key differences. Once a word is played, it's not locked in on the board forever like Scrabble words are. Instead, change words by stacking new letter cards on top. It's also more fast-paced and tends to have shorter words – unlike the challenge of coming up with encyclopedia-style words like "equinox" with difficult Scrabble letters!
Word searches
Do you have an eye for spotting those sneaky backward diagonal words in a grid of letters? Word searches are perfect printable word games for seniors. All puzzles on The Word Search website can be downloaded and printed for free. They're available in fun categories like types of gemstones, pets, and pizza toppings. Choose the one that best suits your mood!
Boggle
For the word-search lovers who want to get competitive, Boggle is the perfect word game for seniors. In the physical version of the game, letter cubes are randomly placed in a tray. All players look at the same tray while privately writing down words they find in the grid. An app version, Boggle With Friends, is available from the same creators as Words With Friends so that you can play virtually with others.
Are you loving these word games for seniors? Get more senior living ideas and recommendations on the CapTel blog.