Find resources and support for using your new captioned hearing loss telephone.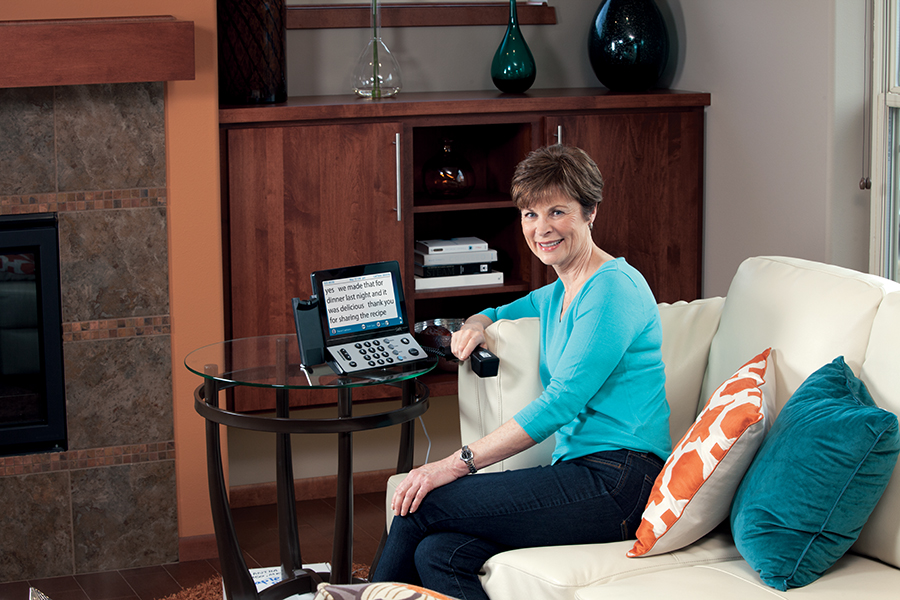 If you've recently received a CapTel 2400i captioned phone for hearing loss – or are interested in learning how to use it – this article will cover the basics of available features and how to get started.
You can find a comprehensive user guide, instructional videos, and more in the CapTel 2400i Help Center. For easy reference, we'll provide some links and page numbers here to direct you to the resources where you can learn more.
Setting up CapTel 2400i phone for hearing loss
Like all of our Internet-based captioned phones for hearing loss, CapTel 2400i requires a high-speed Internet connection and a standard phone line connection. It can work with either a wired Internet connection or with Wi-Fi.
In the box, you'll receive:
CapTel 2400i captioned phone
A power adapter for a wall outlet
A telephone cord
An ethernet cable for wired internet
The setup guide and user manual
CapTel 2400i phone for hearing loss has a touch screen display for easy navigation, in addition to buttons and a dialing keypad. In the user manual starting on page 6, you'll find a diagram of all the buttons and screen elements and their functions.
To set up your phone, you'll need to plug in a few things:
The power adapter into the phone's power jack and into an electrical wall outlet
The telephone cord into the 2400i telephone jack and into your telephone service's phone jack
If you have wired Internet, connect the Ethernet cable to the phone and your Internet jack
If you have wireless Internet, just set the phone up near your Wi-Fi router
The screen will prompt you with initial setup instructions such as select a language, set the date and time, and finalize your Internet connection. Touch the display screen icons or use the dial pad keys to enter your sections. Click here to watch a short video on how to set up your CapTel 2400i.
Making and receiving calls with captions:
Once the setup logistics are done, you'll be ready to try your first call with captions! Making and receiving calls with CapTel 2400i captioned phone for hearing loss is just as easy as using any other phone.
Making calls: To make a captioned phone call, check that the blue light around the Captions button is on. First, pick up the handset and dial the phone number of the person you wish to call. As you dial, the captioning service will automatically connect. You can then proceed with your call as normal when the person picks up. Captions will start appearing on your display screen of what the person on the other end of the line is saying.
Receiving calls: You don't need to do anything special to receive a captioned call, beyond checking that the blue Captions button light is on again. The screen will light up when the phone rings to provide a visual signal that there's an incoming call. Pick up the handset to answer the call. Or, you can press the SPEAKER button to answer the call hands-free.
Turning captions on or off: During a call, you can turn captions on or off at any time by pressing the Captions button.
Personalizing your CapTel 2400i phone for hearing loss
The CapTel 2400i captioned phone has powerful customization features that allow you to tweak the sound to suit your individual hearing preferences.
Volume control: This phone for hearing loss has an amplification capacity up to 40dB gain, which you can adjust by simply pressing the up and down arrows on the volume button. The default setting is a mid-range volume that the phone returns to every time you hang up. Once you have a volume leve you prefer, you can save that setting to be used for every call. Simply go to Settings > General Settings > Save Volume.
Tone control: Many people with hearing loss find that certain tones or frequencies are more audible than others. For example, some people have difficulty hearing high frequency sounds such as a child's voice or a woman speaking. With the CapTel 2400i, you can customize the phone's tonal range to match your own personal audiogram, or use preset high, medium, or low-frequency settings. You can hear an example conversation at each setting, helping you to find the best setting for your unique hearing level. Follow the instructions for "Adjusting Tone Control" in the user guide to adjust the phone's frequency settings and test each one.
Display settings: In order to easily read captions, you can change their font size, color, style, and scrolling display, as well as adjust the screen's brightness to a comfortable level for you. Go to Settings > Display and and visit the "Viewing Captions" section of the user manual to customize these elements.
Other CapTel 2400i features
The CapTel 2400i phone for hearing loss has some great tech-related features to make using your phone even more convenient.
Bluetooth® Wireless Technology: If you'd like, you can take calls using a Bluetooth-compatible wireless device instead of listening through the phone handset. Throughout the user guide, you'll find tips on using the Bluetooth feature.
Answering machine: When you have messages waiting, the display will let you know. Play any message with captions.
Saved conversations: If you'd like to review captions after a call is over, you can turn on the Saved Captions setting from Settings > General Settings. Review saved conversation captions from the Call History section.
Contacts and speed dial: Save names, numbers, and even pictures in your contacts list and assign speed-dial numbers to the people you call frequently. You can add four contacts to your speed dial and 10 to your "favorites" list for easier dialing.
To explore these and other features of the CapTel 2400i phone for hearing loss, watch the collection of helpful how-to videos at the bottom of the CapTel 2400i Help Center page. They'll show you the setup process and various features in action.
To learn more about our captioned phones for hearing loss, visit our website or call (800) 233-9130 today.