Learn to grow beautiful blooms in honor of Plant a Flower Day.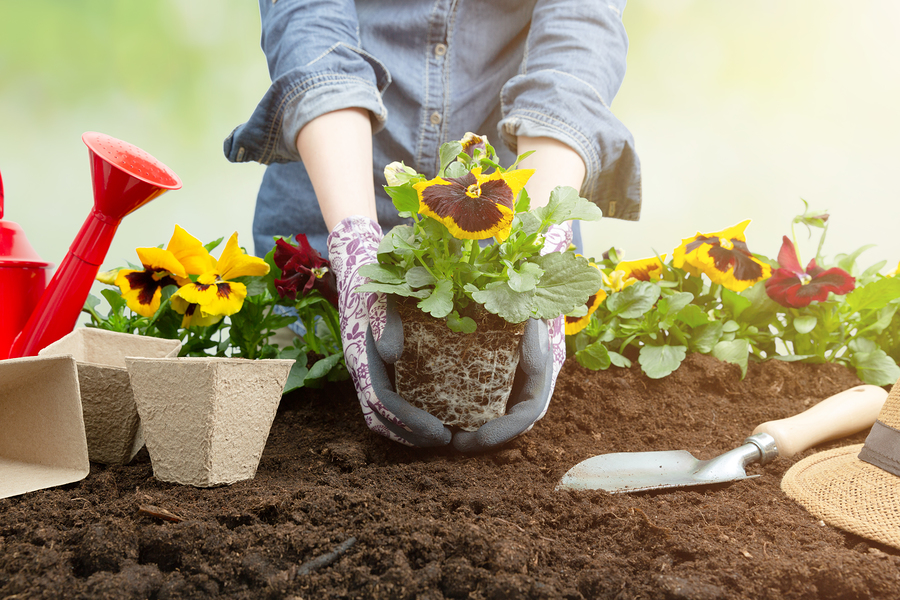 Flower gardening can help you cultivate beauty and joy in your life, home, and neighborhood. Every time you walk outside during their blooming seasons, you'll be able to stop and smell the roses—or the lilies, zinnias, hyacinth, pansies, snapdragons, gardenia, or whatever favorite varieties that are blossoming in your garden.
Since March 12 is Plant a Flower Day, what better time to learn how to start a flower garden? As an added perk, gardening boasts a variety of health benefits for seniors, including elevated mood, better overall fitness level, and lower risk of cognitive decline.
Here are a few tips on how to start a flower garden:
Decide between in-ground vs. raised beds
Choose flowers for your climate & tastes
Evaluate the best yard location
Prepare your soil
Get your flowers started indoors
Transplant after the last frost
Give your flowers some TLC
Below, we'll cover more information on how to start a flower garden.
Decide between in-ground vs. raised beds
Many flower gardens are planted straight in the earth, but there are some compelling reasons to consider raised beds instead. Their benefits include minimizing weeds and pests, having more control over the soil and water absorption, and being able to tend plants with less stooping and crouching. Whether you choose in-ground or raised beds, there are many different design ideas you can use to personalize the aesthetic of your flower garden.
Choose flowers for your tastes and climate
Buying seeds or seedlings is a fun part of flower gardening because you can let your inner artist's imagination go wild. What color scheme do you want? Perhaps pastels, bright flowers, or dark jewel tones strike you. What fragrances do you want to fill your home and yard? From sweet to musky in varying degrees of intensity, there are many scent options to choose from.
Before settling on your flower varieties, be sure to consider your climate. Some flowers can grow in any conditions, while others aren't as flexible. Enter your zip code in this interactive Growing Zone Finder to determine which flowers are best for your area. If you're new to gardening, some "can't-kill" beginner flowers will let you start turning that thumb green.
Evaluate the best yard location
The first factor in determining the location of your flower garden is sunlight. If you plant your garden right beneath a big shady tree or too close to your house that casts shadows, your flowers won't be happy! Most flowers grow best in full sunlight, meaning 6-8 hours per day. Other considerations include good drainage, air circulation, loose and rich soil, and a nearby source of water.
When determining the location of your flower garden, you may also want to consider where you'll enjoy it most. Do you want to see and smell your garden from your kitchen window? Or have bright flowers in your front yard to welcome guests and increase curb appeal? It's up to you!
Prepare your soil 
Soil prep is arguably the most important element in how to start a flower garden. For in-ground planting, you'll want to dig out any grass, till the soil, remove rocks, and enrich it with compost, peat moss, and shredded leaves or grass clippings. For raised beds, you can create a nutrient-rich soil mixture with bags of topsoil, compost, organic material, and peat moss. When you're at the local garden center picking up supplies, you can always consult an on-staff gardening professional for advice on the right soil mix for what you're planting.
Get your flowers started indoors
Starting your flowers indoors is an optional tip on how to start a flower garden, especially depending on your type of flower, but it does have its perks. Even if it's still chilly outside, you can start gardening right away and give your flowers a healthy start to life. Many flower gardeners use grow lights to start seed indoors, but you can also do it in a room with plenty of natural sunlight. Usually, a small seed tray will be enough to hold the flowers until it's time to take them outside.
Transplant after the last frost
Consulting a farmer's almanac can help you anticipate the year's first and last frost dates so you can plan any indoor to outdoor transplanting accordingly. Whether you've started growing your flowers indoors or you're going straight seed-to-earth, you'll want to plant your spring flowers once the threat of frost is past.
Give your flowers some TLC
Once you've started a flower garden, your gardening journey has just begun. When you go out to admire your plants, check whether their soil is moist or dry, follow a fertilizing regimen, inspect and address pests, and remove weeds. Check out this resource from the National Gardening Association on maintaining a perennial garden. With regular care, your garden will bloom and flourish!
We hope these tips on how to start a flower garden have inspired you to flex your green thumb this spring and summer. For more senior lifestyle and hobby content, head to our blog.