Find resources and support for using your new captioned hearing loss telephone.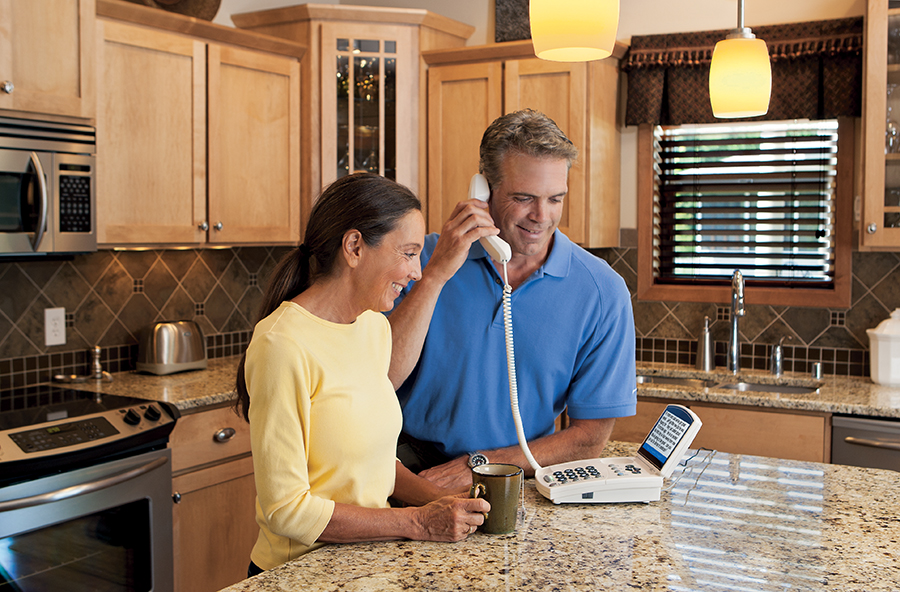 Are you interested in the CapTel 840i captioned phone for hearing loss? Let's go over some of the important things you need to know!
At any point, you can visit the CapTel 840i Help Center for more detailed instructions, videos, and illustrated setup and user guides on the CapTel 840i phone for hearing loss! In this article, we'll point you to some of the specific places where you can learn more about the various topics covered.
Setting up the CapTel 840i phone for hearing loss
To set up the CapTel 840i, you'll need your standard landline phone service and have a high-speed Internet connection. You can use either a wired Internet connection or a WiFi connection for this.
In the box, you'll receive:
CapTel 840i phone
Power adapter for an electrical outlet
Telephone cord
Ethernet cable for wired Internet
Setup guide and user manual
The CapTel 840i model has a display screen, which you'll control with the physical buttons (up, down, yes, no, etc.) on the phone. In the user manual starting on page 6, you'll find a diagram of all the buttons and their functions.
Start by plugging everything in:
The power adapter goes into the phone's power jack and an electrical wall outlet to power on the phone
The telephone cord goes into the CapTel 840i telephone jack and your home phone jack to connect your telephone service
If you have wired Internet, connect the ethernet cable to your Internet jack and to the phone
If you have wireless internet (WiFi), set the phone up near your WiFi router instead
When the screen lights up for the first time, you'll be directed through various setup steps like finalizing your Internet connection, selecting a language, and setting the date and time. For a visual guide through all these steps, visit the CapTel 840i Help Center and watch the videos titled "Plugging Everything In," "Connecting to the Internet: Wired," and "Connecting to the Internet: WiFi."
Making and receiving captioned calls
Now you'll be ready to experience your first call with captions!
Making calls with captions: To turn on captioning for a call, all you have to do is make sure the red light around the Captions button is lit up. Then, place your call as usual. The screen will let you know when you're connected and will start displaying captions.
Receiving captioned calls: When you receive a call, the screen will light up to let you know as it rings. Again, check the light around the Captions button. If it's not on, press the button to caption the call. Then answer the call as you normally would, by picking up the handset and saying hello!
Turning captions on and off mid-call: You can turn captions on or off at any time with this phone for hearing loss. It will take a moment to connect to the service, but you'll still be able to talk and listen to the other party while it connects.
Personalizing CapTel 840i phone for hearing loss
Since everyone's hearing loss is different, your phone is designed to keep up with you instead of the other way around. All CapTel phones for hearing loss offer several customizable abilities designed to fit your unique hearing levels.
Volume control: Control the volume with the up and down volume bar. This phone for hearing loss offers powerful amplification up to 40dB gain. The volume returns to a mid-range setting every time you hang up, but you can save a default volume setting for your calls.  See "Saving the Volume" in the user guide for instructions.
Tone control: Whether you hear high, medium, or low frequencies the best, the CapTel 840i can help. You can adjust which sounds are emphasized before or during a call simply by pressing the Tone button on the phone. If you're not sure, toggle through the settings while the other person speaks to see which setting makes their voice clearest.
Display settings: You can customize the font size, color, scroll style, and display screen brightness from Options > Settings > Display Settings. These processes are all explained within the "Viewing Captions" section of your user guide.
Other CapTel 840i features
This phone for hearing loss also has other great features to make your experience even better:
Answering machine: Play any answering machine messages with captions
Phone book: Add contacts directly to your phone and assign speed-dial numbers to those you call often
Ringer settings: Adjust the volume and pitch of the ringer so you won't miss a call
Saved conversations: Review captions after a call has ended by going to Options > Conversations and turning Save Conversations on.
Once you're familiar with the layout, this phone for hearing loss is just as easy to use as any other traditional phone. We hope this helped you get started! Head back to the CapTel 840i Help Center to watch videos and access other useful materials.
To learn more about our captioned phones for hearing loss, visit our website or call (800) 233-9130 today.