Find resources and support for using your new captioned hearing loss telephone.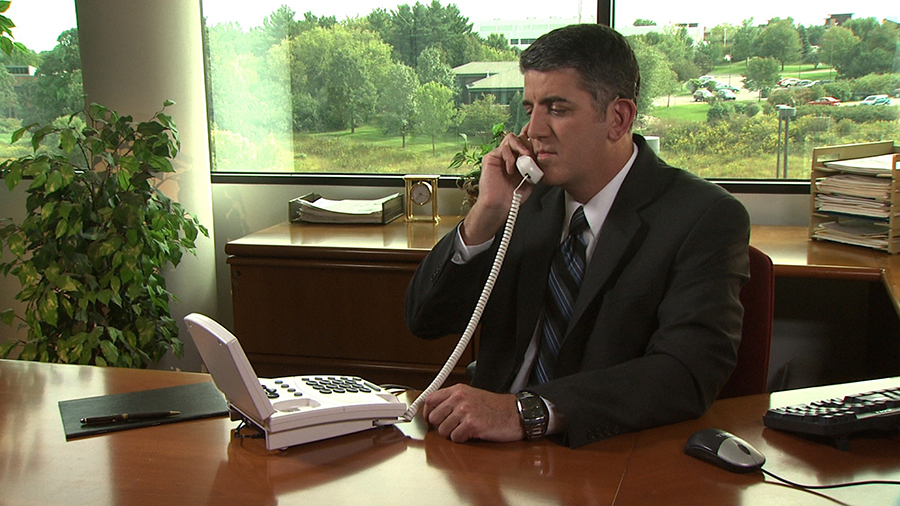 If you've recently received a CapTel 840 phone for hearing loss—or you're thinking about getting one—you can use this article as a quick way to get started.
For more comprehensive information, including illustrations and how-to videos, visit the links online at the CapTel 840 Help Center. This article points you toward resources where you can learn more about using the CapTel 840 model phone for hearing loss.
Setting up CapTel 840 phone for hearing loss
When your CapTel 840 phone for hearing loss arrives, the first step is getting everything unpacked, set up, and connected to your phone line. The CapTel 840 works with a standard analog phone line, no Internet connection needed.
In the box, you'll receive:
CapTel 840 captioned phone
Power adapter
Telephone cord
How-to guide, also available on the website
To get your phone plugged in and working, you'll plug the power adapter into any standard electrical outlet, and the other side into the phone's power jack.
When the phone is plugged in for the first time, the screen will prompt you to set the time and date as well. Use the keypad buttons to navigate the options on the screen and to enter the correct numbers.
Then, you'll use the phone cord to connect the CapTel 840's Line 1 telephone jack to your telephone wall outlet. This step will plug your phone into your existing telephone service, so you can begin making calls.
Watch the videos on this page titled "What's in the Box," "Plugging Everything In," and "Setting the Date & Time" to see these steps in action.
Making and receiving captioned calls
Making captioned calls: With the CapTel 840, you can choose to make phone calls with or without captions. If you'd like to make a captioned call, make sure the red light around the Captions button is on. If it isn't, press the button to turn it on. Then, dial the number of the person you'd like to call. The phone will automatically connect to the captioning service first, and begin displaying captions when the person you're calling answers their phone.
Receiving captioned calls: The process is a little different for receiving captioned calls. Your caller must first dial the toll-free captioning service number, which can be found on this page. Then, they will be prompted to enter your phone number so that the captioning service connects to your phone. When your phone rings, pick up the handset. Captioning will begin when your caller speaks.
2-Line CapTel: This optional feature uses two telephone service lines instead of one, and they will both connect to the same phone. If you have 2-Line CapTel, people can call your number directly instead of dialing the captioning service first. Learn more about 2-Line CapTel here.
Watch the videos on this page titled "Calling & Answering" and "2-Line Mode Overview" to learn more about the topics in this section.
Personalizing the CapTel 840 phone for hearing loss
Since everyone's ideal hearing level is unique, your phone for hearing loss is customizable to let you hear at the right volumes and tones for your specific hearing level.
Volume control: During a call, simply press the up or down side of the Volume bar to make the sound louder or softer. The colored lights will show you where the current volume level is. By default, the volume will start at a mid-range level for each call. If you'd like to save a new default volume, you can do that from Options > Settings > Phone Settings. Detailed instructions for this process are available under "Saving the Captions Volume" on page 93 in the user guide.
Tone control: You may hear certain tone frequencies better than others. For example, you may have difficulty hearing higher frequency sounds such as children or a woman's voice. Or, lower frequency sounds such as a man's deeper voice, may prove challenging. With the CapTel 840 phone for hearing loss, it's easy to enhance the range of tones that you hear best. Simply press the button labeled Tone to toggle between high, medium, and low frequency to find the setting that works best for you.
Font & brightness: With the CapTel 840 captioned phone for hearing loss, you can customize the screen so that it's easy for you to read along with the conversation. The font size, color, screen brightness, and caption scrolling can all be changed from Options > Settings > Display Settings. For more detailed steps, see "Changing the Caption Font Size" in the CapTel 840 user manual.
You can also watch the videos on this page titled "Adjusting the Sound" and "Changing Caption Font Size & Color" for a visual guide through these steps.
Other CapTel 840 features
CapTel 840 phone for hearing loss has a variety of useful features beyond what we've covered already. Let's briefly look at some of those extras:
Answering machine: The answering machine is built in and once it is set up, your answering machine messages will be captioned.
Phone book: You can save names and numbers of your contacts in the CapTel 840's built-in phone book. Visit "Using the Phone Book" in the user guide to learn how to add, edit, remove, and call contacts from your phone book.
Speed dial: You can program speed-dial numbers for people you call often. To learn how to save, edit, and delete speed dial numbers, see "Using Speed Dial Buttons" in the user guide.
Head back to the main CapTel 840 info page to watch the videos titled "Answering Machine Messages" and "Speed Dial," and to learn about even more features of the CapTel 840 phone for hearing loss.
To learn more about our captioned phones for hearing loss, visit the CapTel website or call (800) 233-9130 today.