Dive into all your favorite reads from your smartphone or tablet.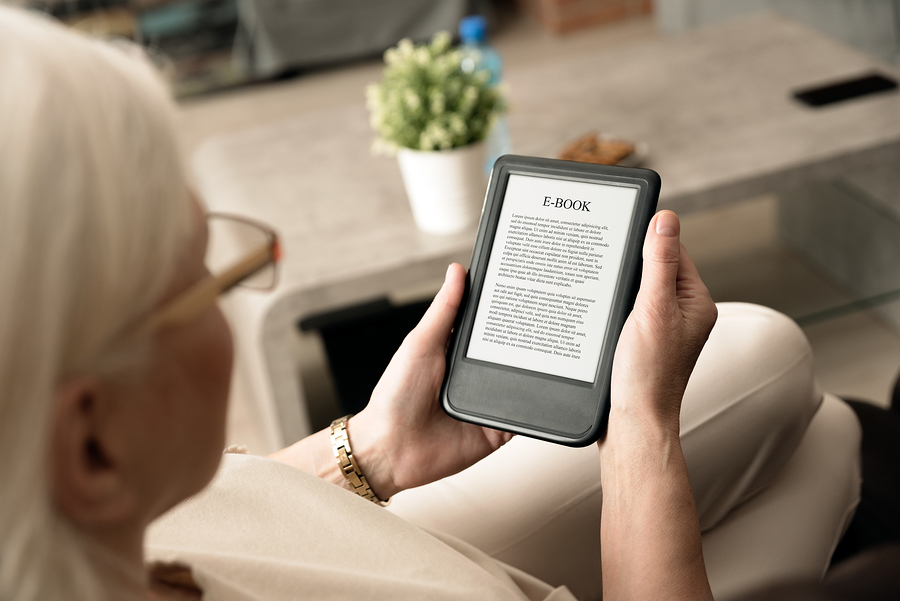 When you think about diving into a new book, there are a lot of perks to using e-reading technology as an alternative to the paper copy. When you download book and reading apps for seniors on your smartphone or tablet, you can often customize font sizes, colors, and other elements of the reading experience. You can also access thousands of books conveniently and inexpensively, wherever – and whenever – you want.
While we don't endorse any of these specifically, here are a few book and reading apps for seniors that you may be interested in exploring:
Libby
Kindle
Scribd
Kobo
Media365
Audible
Keep reading to learn more about the perks of these book and reading apps for seniors.
Libby
Libby is like your local library, but in app form. You'll need to enter your library card information to log in, and then you can choose from the selection of e-books they offer. Just like physical libraries, Libby allows you to borrow available books for certain periods of time, or place holds to get on a waiting list for popular novels, all for free. (And they're automatically returned, so no pesky late fees or trips to the library to worry about!) It's available on Android, iOS, and from web browsers, and you can change the font sizes from the Settings menu.
Kindle
One of the most popular e-book platforms out there is Kindle, an Amazon-developed brand. You can either get a special Kindle e-reader or download the app to your phone or tablet. Then, you can buy Kindle versions of books or browse ones available for free. One perk of Kindle for seniors is all the accessibility features, including font and spacing customization, screen brightness adjustment, VoiceView screen reading, and more.
Scribd
With a Scribd subscription, you have access to over a million books and audiobooks, plus select magazine and news articles. They offer a 30-day free trial so you can test out the subscription and see if you like it before you subscribe. Scribd team works to make sure their content is as accessible as possible for those who use various forms of assistive technology.
Kobo
The Kobo app, available on Android and iOS devices as well as computer desktops, features millions of e-books. Similar to Kindle, you can purchase a special Kobo e-reader device if you don't want to read on your phone or tablet. The e-readers have helpful features like large print mode and font and spacing customization.
Media365
As long as you have an internet connection and don't mind an ad from time to time, you can read any book on Media365 for free. This book and reading app for seniors gives you the chance to stumble across novels you might not have heard of anywhere else, as it supports self-publishing from indie authors in addition to more well-known titles. Easily change the font size by pinching on the screen and moving your fingers in or out.
Audible
Sometimes, it's more convenient to listen instead of read, like when you're on a road trip. The Audible app has a wide collection of narrated audiobooks. Seniors with hearing loss may consider getting Bluetooth-enabled listening devices to enjoy clearer sound.
Enjoy connecting with friends and family over the phone, while reading every word they say. Shop our selection of hearing loss phones here.