Learn about the different phones available to help make calls easier to hear.
To our readers: While the term "hearing impaired" is not a preferred reference in the hearing loss community or our company culture, you will find a few mentions in this article to help those using it in their online search access this information. We assure you that our limited usage in this piece does not reflect our values, views, or conduct. Respectfully, The CapTel Team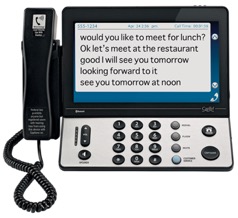 Even in our digital world, talking over the phone is still one of the most popular methods of communication. Telephones provide a convenient way to stay in touch with family and friends, but they may also present a challenge if you experience hearing loss. These four types of hearing impaired telephones, or hearing loss telephones as we prefer to call them, may help:
Captioned telephones
Amplified telephones
Text-to-voice teletype phones
Hearing aid compatible telephones
Keep reading to learn more about each of these different types of hearing loss telephones.
1. Captioned telephones
If you have ever used closed captioning for television or movies, then you may already be familiar with the technology behind a captioned phone. These hearing impaired telephones, or hearing loss telephones, work in the same way as a standard phone, with the added benefit of written captions of the conversation.
CapTel offers four models of captioned phones for hearing loss, including internet-based models that require access to high-speed Internet, as well as a model that works with a standard analog telephone line.
Find out more about the differences between these models and how to choose the right captioned telephone for you here.
2. Amplified telephones
Amplified phones have a built-in amplifier that allows you to turn up the volume of incoming sounds above the levels of a standard telephone. Some versions also offer customizable frequency settings, so that you can adjust the frequency of a caller's voice and make it easier to hear high-pitched sounds. Amplified phones come in landline models, mobile devices, and you can also find amplification capabilities in some captioned telephones.
3. Text-to-voice teletype phones
Text-to-voice teletype (also known as TTY) is another hearing impaired telephone option that uses similar technology to captioned telephones, but it works a bit differently. Instead of being able to talk, listen, and read captions on a captioned telephone, TTY helps you communicate using typed messages over the phone. As you type, the message is sent over the phone line. A TTY relay service converts this text to voice for your caller to hear and then converts their voice to text so that you can read their response on your TTY text display.
Today, TTY relay services can be reached by dialing 711 from a standard telephone or TTY device. While newer versions of relay services and other technologies are now available, TTY remains a tried-and-true way option for people who experience hearing loss.
4. Hearing aid compatible telephones
If you use hearing aids, you can get a telephone designed to be compatible with your device. The FCC requires that all workplace, public, emergency, and mobile phones must be hearing aid compatible (HAC), making it easier than ever to find a phone model that works for you.
When shopping for a HAC phone for hearing loss, you'll want to pay attention to both M and T rating. M rating ranges from 1 to 4, with 4 the best at eliminating distracting background noises and feedback. T rating refers to compatibility with the telecoil in your hearing aids, a feature that can improve the signal by directing sound to your hearing aid processor without using the microphone. T rating also ranges from 1 to 4, with most cell phones today rated T4.
These four types of hearing impaired telephones, or hearing loss telephones, outline some of the different options available. When determining the best option for you, consider your personal preferences and situation to help get the most out of your new phone.
If you or someone you know could benefit from a CapTel Captioned Telephone, call us today at (800) 233-9130 for assistance.