Learn how to master your cell phone with these hints.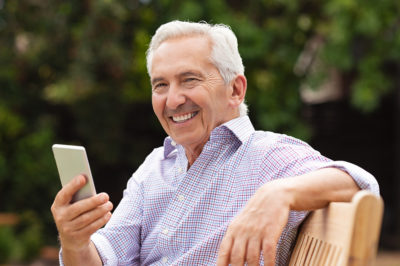 Over 75% of Americans own a smartphone, and in recent years adults over the age of 50 have been one of the fastest growing populations to begin using these mobile devices. Smartphones provide a convenient way to access the internet as well as connect with others on-the-go. If you are a new smartphone user or know someone who is, learn how to master it with these smartphone tips for seniors:
Start simple
Customize the settings
Keep password information securely stored
Set up home screen apps
Be aware of safety hazards
Read more about each of these cell phone hints below.
1. Start simple
Learning any new technology can be intimidating, but with time you may develop an appreciation for its convenience and ease. Starting simply with basics and then trying out advanced settings once you feel more comfortable can help make using a new smartphone easier. As you go along, be patient with yourself or someone you care about as they become familiar with their device and customize it for their own needs.
2. Customize the settings
Whether you are using an iPhone or Android device, there are several options available that allow you to customize settings such as font size, screen brightness, volume, and notification sounds. To navigate to these options, click on "Settings." No matter which device you use, a list of customizable options will appear so you can set your phone to look and operate in ways that are best for you. If you have hearing loss and like to stream videos on your phone, find out how to turn on captions on your smartphone from the Settings menu in this helpful infographic.
3. Keep password information securely stored
Another smartphone tip for everyone including seniors is to store password information safely. While some websites you visit or even certain apps on your phone may require passwords, your phone itself may also need a passcode to unlock it – more on this in smartphone tip #5. Consider writing down your passwords and securely storing them at home or use a cloud-based password manager like Keeper.
4. Set up home screen apps
The home screen is where you can give yourself easy access to the main apps and services you like to use on your phone like photos, camera, calendar, maps, a web browser, and a text messaging app. You may also want to download and keep these smartphone apps handy if you experience hearing loss. Reorganizing your apps on your home screen is easy – simply press and hold an app to drag it to another location or delete it if it is an app you no longer use. It may also be worthwhile to add direct call widgets to the home screen for family and friends you routinely call. Find out how to do this on Android and iPhone.
5. Be aware of safety concerns and scams
Just like using the internet on a computer, smartphones pose similar safety risks. Be wary of suspicious links, phone calls, or messages from people you don't know. Update your device whenever a new version is released to ensure you always have the latest security software installed. Lastly, consider setting up a passcode or using fingerprint scanning included in many of the latest smartphones to ensure that others can't easily access your device without your permission.
These smartphone tips for seniors can help you discover the joy in using new technology to help make your life easier – and more fun. For even more tech-savvy hints, check out our post on technology tips for seniors or browse our fast-growing library of other senior living and independence posts.
If you have hearing loss, find out how a CapTel captioned telephone at home can help you catch every word.