We're shining a light on stats and figures about hearing loss and device usage.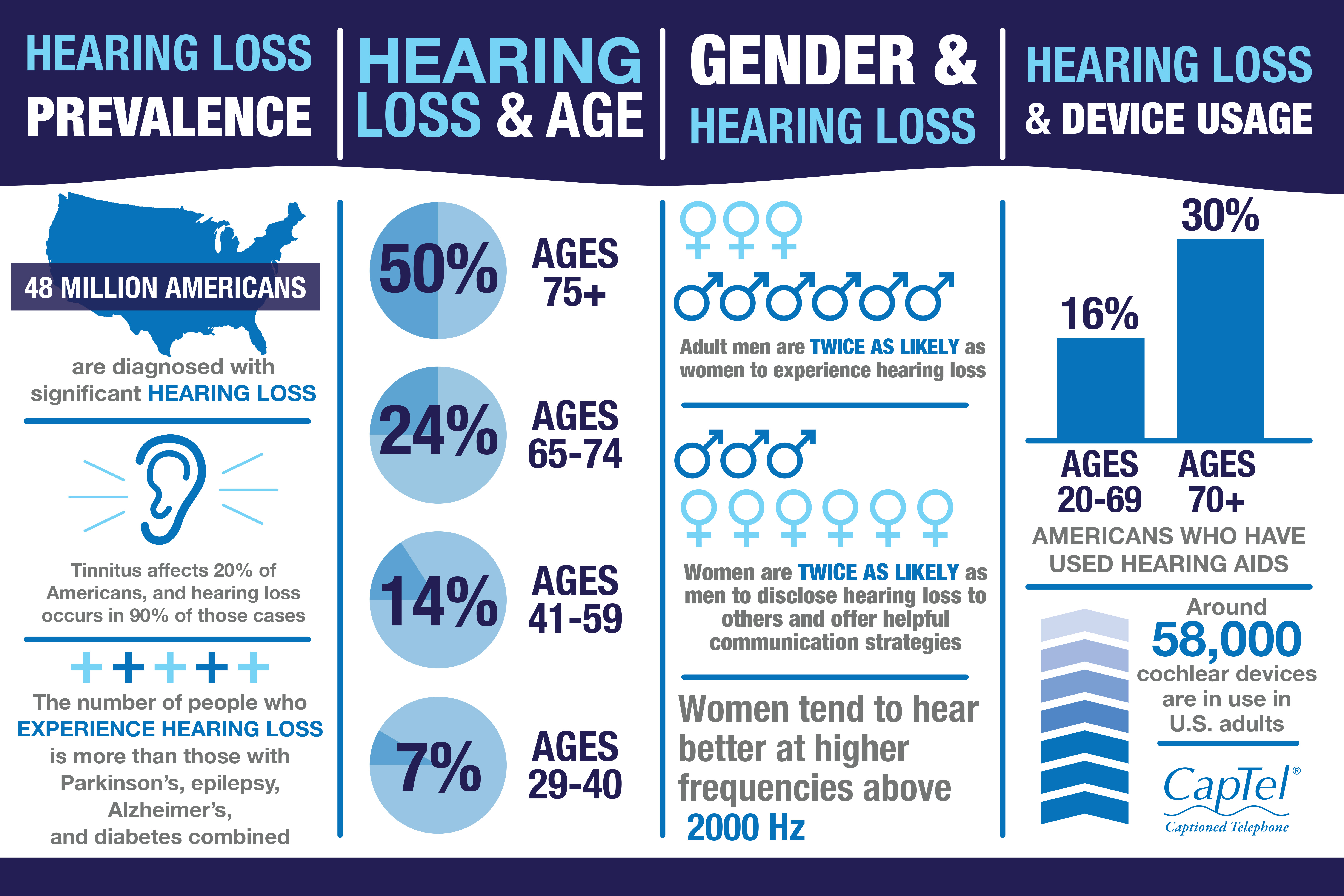 Hearing loss affects more than 48 million people in the US. It's so common that it has likely touched you or someone you know. If this fact about hearing loss surprised you, check out more interesting stats and figures below.
Hearing loss prevalence
Some people are born with hearing loss, or it can occur later in life as noise-induced hearing loss or as a natural part of aging. Following are a few interesting statistics about the prevalence of hearing loss:
48 million Americans are diagnosed with significant hearing loss
Tinnitus (ringing in the ear) affects 20% of Americans, and hearing loss occurs in 90% of those cases
The number of people who experience hearing loss is more than those with Parkinson's, epilepsy, Alzheimer's, and diabetes combined
Hearing loss and age
Contrary to common belief, hearing loss is not solely experienced by older adults. Hearing loss can occur at any age. Following are aged-related facts about hearing loss:
Hearing loss and gender
Although both men and women are affected by hearing loss, there are a few key differences between them, including:
Adult men are twice as likely as women to experience hearing loss, which may be due to their increased likelihood of having excessively noisy occupations, like manufacturing and construction, and are more likely to participate in loud recreational activities, such as using firearms and riding a motorcycle
Women are twice as likely as men to disclose hearing loss to others and offer helpful communication strategies
Women tend to hear better at higher frequencies above 2000 Hz, like birds chirping or a whistle, but have more difficulty than men hearing at lower frequencies, like thunder or a tuba
Hearing loss and device usage
Some people with hearing loss choose to use hearing aids or other assistive listening devices. Below are a few usage insights:
These basic hearing loss facts are intended to arm you with helpful information and help you feel more comfortable discussing it with others. Click to check out more useful resources for people with hearing loss.
For additional resources and articles, check out our hearing loss blog.