From June 22 through June 25, the Hearing Loss Association of America will hold its annual HLAA Convention in beautiful Salt Lake City, Utah. If you're planning on attending this year, the sessions and workshops will not be the only thing to do during your stay. The region offers a variety of activities that can be enjoyed by people of all ages and interests.
While in Salt Lake City, consider making time to experience these hearing loss-friendly activities:
1. Hogle Zoo
Utah's Hogle Zoo was established in 1931. The 42-acre park is home to more than 800 animals and hundreds of different types of species, from polar bears and African elephants to bald eagles and ball pythons. If you have time, try to attend the daily giraffe feedings, where twice a day guests can pay $5 to get up close with these long-necked animals and offer them food.
The Hogle Zoo is open from 9 a.m. to 6 p.m. daily. The zoo is dedicated to accessibility, and includes printed maps and information sheets for people with hearing loss to read at their own convenience.
2. Big Cottonwood Canyon
If you're an outdoor enthusiast, the Salt Lake City area offers numerous opportunities for exploration. One of the most popular places is Big Cottonwood Canyon. This scenic alpine area, located about 12 miles outside Salt Lake City proper, is a great place for picnicking, biking, fishing and other activities during fair weather.
Interested in enjoying the views without working up a sweat? The Visit Salt Lake tourism website reported that the 15-mile scenic byway is about a one-hour drive round-trip.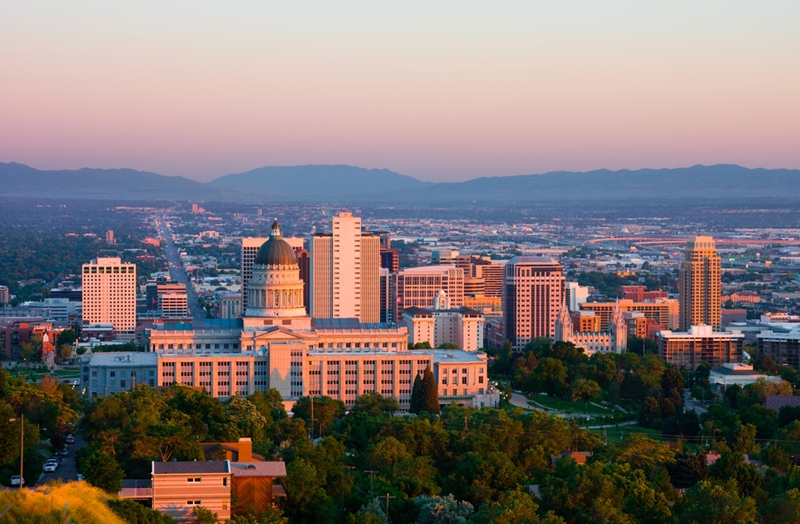 3. Natural History Museum of Utah
Located on the campus of the University of Utah, the Natural History Museum of Utah opened in 1969. Today, its collections have grown to include more than 1.5 million objects. The permanent exhibits explore topics such as the state's biological diversity, native peoples, physiographic regions and archeological record.
While you're at the museum, be sure to check out the special exhibit entitled Vikings: Beyond the Legend. The immersive experience includes videos, interactive displays and more than 500 artifacts, some of which have never before been viewed outside of Scandinavia.
The Natural History Museum of Utah opens daily at 10 a.m. and closes at 5 p.m., every day except Wednesday when hours are extended until 9 p.m.
To get the most of your museum experience, consider booking a Highlights Tour for a more immersive visit. Assistive devices are available for tour members with hearing loss.
4. Great Salt Lake
Salt Lake City's namesake body of water is one of the largest lakes in the U.S. While its size varies depending on factors such as rainfall, the Visit Salt Lake tourism website reported that in an average year the lake covers approximately 1,700 square miles. Because the lake is saltier – even more so than the ocean – you'll find that it's very easy to float in the water.
However, swimming is far from your only activity option at the Great Salt Lake. The Bonneville Shoreline trail provides an easy path for hiking or biking along the edge of the water. If the weather is nice, a bike ride, walk or hike in this beautiful area could be the perfect way to stretch your legs after a morning of HLAA sessions.
5. Clark Planetarium
The Clark Planetarium is made up of the Orbital ATK IMAX Theatres, the Hansen Dome and 10,000 square feet of exhibit space packed with hands-on, interactive displays about our solar system, black holes and more. The exhibits – as well as the accompanying gift store – are free to the public.
The IMAX Theatre offers a number of 3D shows on space and other natural topics, like "Amazon Adventure 3D" and "Extreme Weather 3D." A full schedule by day is available on the website. A limited number of closed-captioning, individual monitors are available for certain cc-enabled shows. Consider calling ahead to ensure that one for these devices will be available during your visit.
Clark Planetarium opens at 10:30 a.m. daily and closes at 7 p.m. on Sunday through Wednesday, 10 p.m. on Thursday and 11 p.m. on Saturday and Sunday.