New York City is one of the most diverse and cosmopolitan urban areas in the U.S. Spread out across five distinct boroughs, New York City is a leading global epicenter for art, entertainment, media and finance, and boasts the largest population of any other metropolis in the nation. Given the size and influence of the city, it should come as no surprise that there are countless things to see and do.
Living with hearing loss should in no way deter you from booking a trip to the bustling Big Apple: So many of the best attractions in this exciting city are hearing loss-friendly. Read on for a quick guide to some of the best hearing loss-friendly activities in New York City.
1. MoMA
The Museum of Modern Art is one of New York City's leading cultural venues and a must-visit destination for those with a passion for avant-garde and contemporary art. The MoMA boasts an array of captivating exhibitions, and the museum provides services that help those who are deaf or living with hearing loss. For example, the induction loops that play in certain areas of the building, such as in the classrooms and at the ticket desk, can be received via a hearing aid – the transmission is sent directly to the device. Additionally, the audio recordings for guided tours are available in script format upon request, and programs at the MoMA can be delivered with CART captioning or in American Sign Language.
2. Central Park
Stretching from Midtown to Harlem, Central Park is a sprawling green sanctuary in the midst of this action-packed global city, and an absolute must-visit destination for all visitors. Explore your surroundings by going for a leisurely stroll or laid-back bike ride. Or simply pack a picnic, sit on the grass and people-watch. Other great activities that Central Park has to offer are the Central Park Zoo, the Conservatory Garden, and, in the winter months, ice skating at the iconic Wollman Rink.
"Central Park is a sprawling green sanctuary."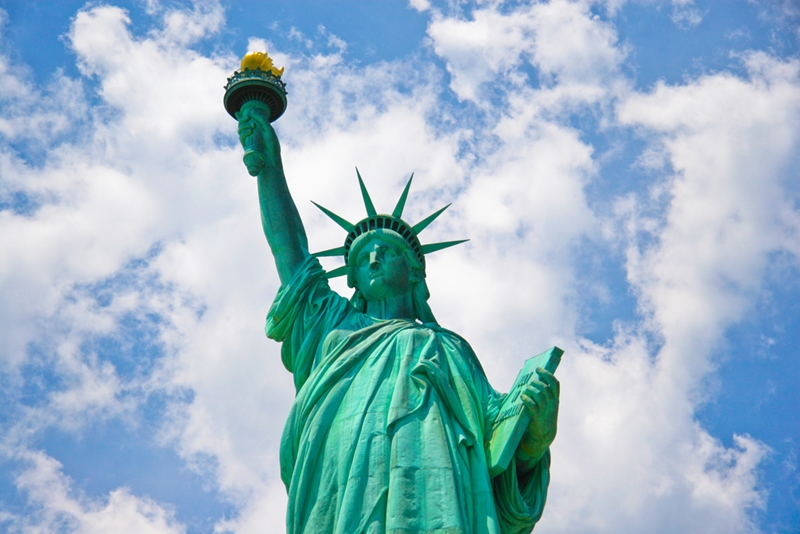 3. American Museum of Natural History
Dating back to 1869, the American Museum of Natural History is one of the most beloved attractions in the city, housing fascinating exhibitions on topics such as climate change, the universe, dinosaurs and the Arctic region. The American Museum of Natural History is also very accessible for individuals with hearing loss. Accommodations include sign language tours for those proficient with ASL, headsets available upon request and induction messages in galleries three and four that can be directly transmitted to hearing aids.
4. Liberty Island
If you're eager to get up close to one of the nation's most profound font symbols, the Statue of Liberty, take a ferry ride over to Liberty Island. According to their website, Liberty Island is overseen by the National Park Service and there are several exciting things to see and do, including visiting the Liberty Island Museum and the visitors center. If you book ahead of time it is also possible to climb to the very top of the statue and look out of the iconic crown. For those living with hearing loss, audio recordings and videos in the museum and other areas of the island can be synched with hearing aids and that video programming comes with captions.
5. The Empire State Building
For incredible views of the Manhattan skyline like no other, be sure to head to the world-famous Empire State Building's viewing deck. According to the official website, the observation area is situated on the 86th floor, and offers breathtaking views that span 360 degrees. On clear days you can see well into the bordering states of New Jersey and Connecticut, and at night the city lights dazzle, providing a spectacular show. The main deck is open every day of the year, and closes every night at 2 a.m. Check the forecast before you go – the deck will close during extreme adverse weather events.
6. Broadway
No trip to New York City is complete without catching a show in the famed Broadway district. And watching your famed performers is easy, as a number of venues offer theater lovers with hearing loss assistive listening devices so that they don't miss a minute of the action. For example, the must-see Disney classic "Aladdin", currently playing at the New Amsterdam Theatre, offers guests with hearing-loss infrared assistive listening devices. If you're lucky enough to score tickets to this year's hottest production, "Hamilton", you'll be able to hear the show either via an induction loop compatible with telecoils or headsets that can amplify sound.
7. 9/11 Memorial
A solemn yet meaningful attraction, the 9/11 Memorial is an important place to go and pay your respects to the many who lost their lives on that tragic day. In addition to the stunning memorial there is a museum with educational exhibits. There are a range of services to accommodate people with hearing loss. They include: Induction loops that can be paired with T-coil hearing aids, captioning and transcripts for audio features, guided monthly tours in ASL and assistance in ASL upon request.
8. New York Deaf Theatre
Bold and innovative, the New York Deaf Theatre is the city's only establishment that delivers productions entirely in American Sign Language.  According to the venue website, the New York Deaf Theatre was established in the late 1970s by a group of deaf thespians who were frustrated by the absence of ASL-based productions. But that doesn't mean that the theater caters solely to ASL speakers; In addition to ASL shows, the venue strives to host productions that are as inclusive as possible, welcoming those living with hearing loss who are unfamiliar with ASL. For example, one of the most recent productions to grace the New York Deaf Theatre stage was "Titus," an adaptation of Shakespeare delivered entirely in silence – the narrative was carried forward through action and movement.