CapTel 840: Clearing All Caller ID Entries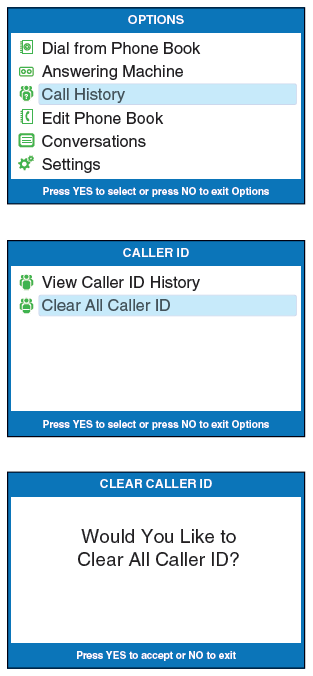 You can delete individual Caller ID entries as you review them (see page 46) or you can erase all Caller ID records at one time.
To clear (delete) all Caller ID entries:
1. With the handset hung up, press the YES button to see the Options menu.
2. Press the DOWN arrow button repeatedly until Call History is highlighted. Press the YES button to select.
3. Use the DOWN arrow button to highlight Clear All Caller ID Records. Press the YES button to select.
4. The display asks Would You Like to Clear All Caller ID? Press YES to erase all Caller ID listings.
5. Press the NO button repeatedly to exit out of the Options menu.