Add some variety to your walking routine with these exercises.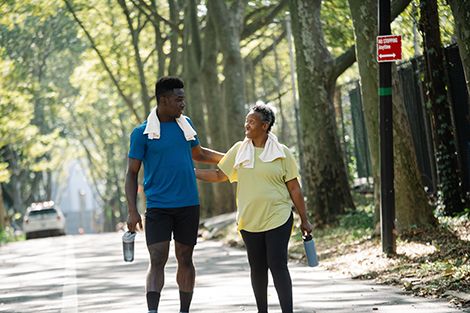 From stronger bones to a happier mood, the health benefits of walking make it well worth it to find a routine you enjoy. Walking for exercise can be as exciting or fun as you make it! By finding ways to mix up your routine, you can make getting movement and steps into your day easy and fun.
Start by trying out these fun walking exercises and simple tricks to fit in more steps:
Try Nordic walking
Play a game
Join a walking group
Make a playlist
Try a new route
Set personal goals
Gradually increase the pace
Add more stairs (or hills)
If you don't already have a walking routine, be sure to talk to your doctor before starting. Let's look at these eight fun walking exercises and additions to your routine!
Try Nordic walking
Nordic walking is a form of fitness walking that involves using specially designed walking poles. This way, you'll get a good cardio workout while also working your upper body and core muscles. If you don't necessarily want to invest in Nordic poles, light hand or leg weights are a great alternative.
Play a game
Whether you're walking solo, with someone else or with your pet, you can play little games to stay engaged. You can do things like trying to spot things that start with a certain letter or see how many different colors you can find in your surroundings, or identify different types of clouds. This is an especially fun activity if you're taking a walk with your kids, grandkids, or other children in your life!
Join a walking group
Joining a new walking group can help make your walks more enjoyable and motivating. Look for a group of people with similar interests and goals, so you can make new friends and look forward to meeting up. Check Meetup.com or local community centers to see if one exists near you, or start your own!
Make a playlist
Music is a surefire way to keep you pumped up during a walk. Take your time to create some fun and energizing playlists that you can listen to while walking. You can also look for podcasts, audiobooks, or other audio content to help keep you entertained while walking. Set a goal to walk to a certain number of songs, episodes, at least one chapter, etc. Just remember to keep the volume at a reasonable level for your hearing health and general safety.
Try a new route
If you find yourself getting bored with your current walking route, try something new! Exploring a new area is one of the quickest ways to make your walks more interesting. Plus, it's a great way to learn more about your area and discover some hidden gems. For instance, if you pass a cute coffee shop, pop in for your favorite beverage so you can sip it on the stroll back home. Or, find nature trails to admire the seasonal flora and fauna.
Set personal goals
Setting personal goals for yourself can help you stay motivated and make sure you're getting the most out of your walks. Whether it's a goal to walk a certain number of miles, reach a certain destination, or take a specific number of steps, you'll feel accomplished when you complete your mission. Fitness trackers and apps can help you keep track of and monitor your progress over time.
Gradually increase the pace
Want to make your walk more of a workout? This exercise is all about gradually pushing yourself to reach a new level of intensity. Start off your walk at an easy pace and gradually increase it as you go. Pick up the pace for a minute or two, then take a break to catch your breath and slow down again. You can repeat this process as many times as you'd like throughout your walk. Interval walking is great for people who want to challenge themselves and build up their endurance.
Add more stairs or hills
If your usual walking route doesn't have any stairs or inclines, why not add some? Find a walking route that isn't flat to get some extra cardio in and strengthen your muscles. Just make sure to take breaks when you need them, and don't push yourself too hard.
Once you've become a walking pro with these fun walking exercises, make sure you plan to join us on the next Walk4Hearing through HLAA! If you're new to it, here are five facts about the Walk4Hearing. Visit their website to find a walk near you.