Fire up the grill with these lighter, more nutritious burger options.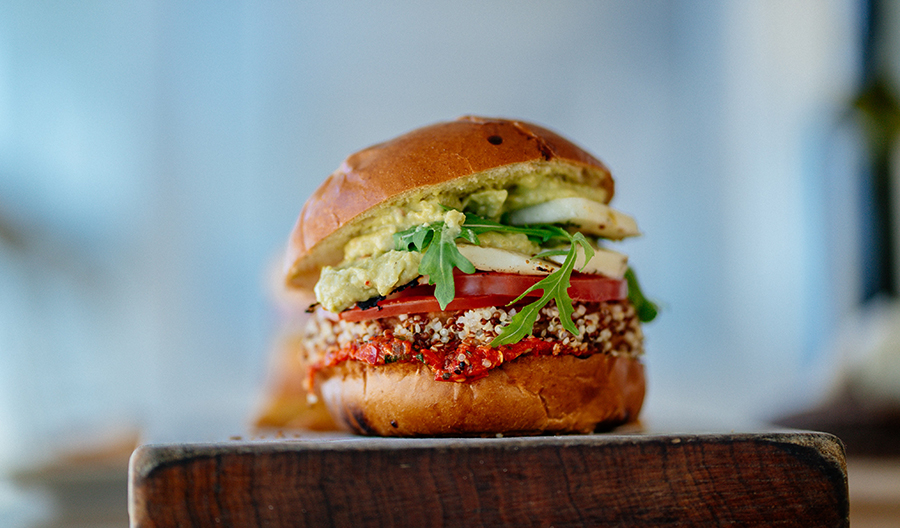 Grilling season is upon us again! This summer, mix up your backyard BBQs and picnics with some delicious healthy burger recipes, including some for vegetarians. In this article, we're sharing ideas to fit any taste and Memorial Day cookout menu.
Health burger recipes to try out this summer include:
Black bean burgers
Turkey burgers
Portobello mushroom burgers
Classic veggie burgers
Tuna burgers
Homemade burger buns
Links and more info about these healthy burger recipes below!
Black bean burgers
Black bean burgers are one of the most popular healthy burger alternatives out there. Instead of buying a frozen version, try this healthy recipe for delicious fresh flavors and a hint of spice. Black beans come with a whole host of health benefits, from helping control blood pressure to supporting healthy bones. They're also a great source of plant-based protein and fiber!
Turkey burgers
Poultry is generally agreed to be healthier than red meat, so a turkey burger could be an option for meat-eaters who'd like a lighter patty. Try this recipe, which mixes in shredded zucchini for an extra healthy touch. Turkey burgers contain much fewer calories and less fat than beef burgers and have a milder flavor, making them the perfect blank canvas for a variety of toppings.
Portobello mushroom burgers
This healthy burger recipe doesn't require much "recipe-ing" at all! Just whisk up the marinade, soak your portobello caps for 15 minutes, and you're ready to grill. The texture is deliciously firm and moist — along with the umami flavors, you won't miss the meat with this one. Mushrooms are low-calorie and full of healthy vitamins, minerals, and antioxidants.
Classic veggie burgers
What could be a more fun way to eat your veggies than in burger form? The beauty of this veggie burger guide is that it lets you customize your healthy burger recipe however you want it (or based on whatever you need to use up in your fridge). You'll choose one to three soft veggies (e.g., sweet potatoes, carrots, spinach, zucchini, etc.), a cooked grain (e.g., rice or quinoa), a legume (e.g., beans, lentils, or chickpeas), a dry ingredient like oats or bread crumbs, and then bonus ingredients like herbs, spices, and seeds. With this guide, you can make your veggie burgers unique every time!
Tuna burgers
For an easy pescatarian burger option, try these tuna burgers. They're easy to make with canned tuna, and the flavor comes from a combination of herbs, spices, and garlic. Tuna is a good source of healthy omega-3 fatty acids. However, it's best to limit your tuna intake to no more than once per week since mercury contamination can be a concern with many types of fish.
Homemade burger buns
No matter what healthy burger recipes you choose for the patties themselves, you also need something to put them on! Instead of choosing white bread buns without much nutrition, try baking your own. This burger bun recipe uses half whole-wheat flour for extra fiber and protein and half all-purpose flour to still keep them light and fluffy. You could also use a whole-grain bun from the store, an English muffin, or a lettuce wrap for your burger to keep them extra nutritious.
Are you choosing any of these healthy burger recipes for your next summer picnic? Check out more of our picnic tips here!