Give your next movie night a flavor boost with these fun ideas!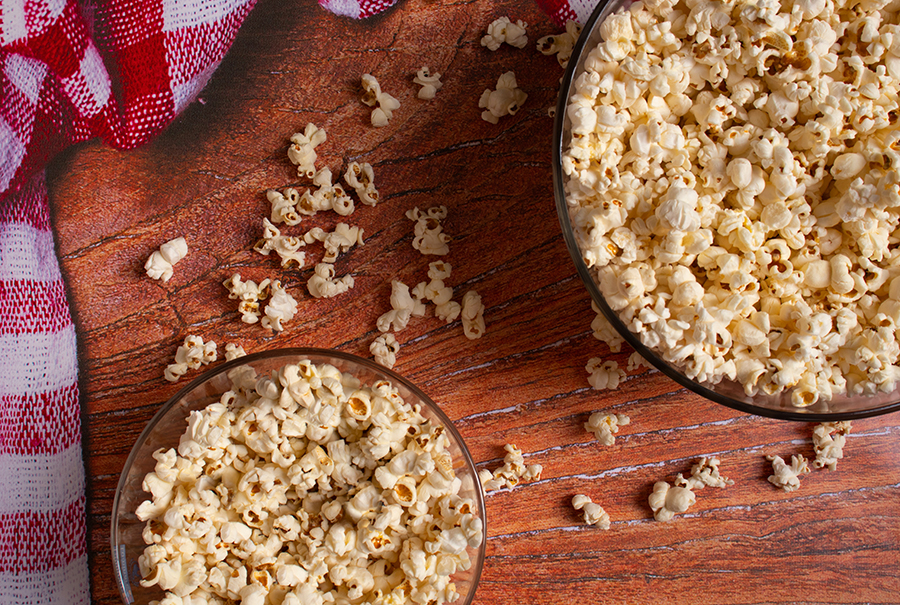 Popcorn is a perfect snack that you can make as simple or as fancy as you like! From a low-key movie night to a gourmet holiday gift, there are popcorn recipes for every occasion.
And you don't have to shell out lots of money to get popcorn tins from a candy shop — you can make easy, delicious, and (if you want) healthy popcorn recipes from the comfort of home!
Here are eight popcorn recipes to try:
Classic stovetop popcorn
Kettle corn
Garlic herb popcorn
Veggie popcorn
Pizza popcorn
Everything bagel popcorn
Sushi popcorn
Cajun Popcorn
A quick note for safety's sake: if you have a history of dental problems, check with your dentist before choosing popcorn as your everyday snack. Biting unpopped kernels can hurt teeth, and hulls can get stuck in your teeth and irritate your gums. But with careful eating and a pack of floss, most people are A-okay to start sampling these popcorn recipes!
Let's get popping!
Classic stovetop popcorn
You don't need a fancy popcorn maker to make delicious fresh popcorn. Follow this perfect stovetop popcorn recipe to learn how to make simple popcorn in a pot on your stove. All you need is an oil of your choice (coconut oil or extra virgin olive are preferred), salt, and optionally butter or margarine if you'd like extra flavor. Once you've mastered this simple-yet-perfect popcorn, it'll be easier to move on to the other recipes!
Kettle corn
Salty and sweet is such a classic flavor combination, and homemade kettle corn is the perfect way to treat your taste buds! The addition of sugar may not make this the healthiest popcorn, but at only ¼ cup, it's a relatively low-sugar way to satisfy a sweet tooth.
Garlic herb popcorn
The trick to ultra-flavorful garlic herb popcorn? Gently sauté the garlic in your olive oil or butter, so the garlicky flavor gets infused into the fresh oil. Then, add your kernels just like you would for regular stovetop popcorn, and finish it off with your herbs of choice!
Veggie popcorn 
To make healthy veggie popcorn recipes, you can buy small bags of dehydrated vegetables or create your own veggie chips from scratch and process them in a food processor until they're powdered. Follow the standard stovetop popcorn recipe and finish off by tossing the popcorn in the veggie powder — no one will know that the delicious seasoning comes from vegetables!
Pizza popcorn
Craving the tomatoey, herby flavors of pizza in a crunchy snack? Try your hand at pizza popcorn! Sundried tomatoes join cheesy-tasting nutritional yeast seasoning, plus onion, garlic, and Italian herbs. Make the popcorn on the stovetop or in a paper bag in the microwave (the recipe has instructions for this method).
Everything bagel popcorn
Breakfast lovers everywhere rejoiced when jars of everything bagel seasoning hit the spice aisle! With sesame seeds, salt, poppy seeds, and flaked onion and garlic, it's a savory party in your mouth. To make everything bagel popcorn, you can start with garlic oil popcorn and just use the everything seasoning instead of the herbs!
Sushi popcorn
Anyone who loves Japanese flavors will be thrilled to hear that sushi popcorn recipes exist. This is another blend of sweet, salty, and savory, with seaweed flakes, black sesame seeds, salt, and sugar joining the oil.
Cajun popcorn
Bring the famous flavors of the American South to your movie night with spicy Cajun popcorn! You'll definitely be feeling the heat with this popcorn recipe, thanks to the hot sauce and red pepper as they blend with the other savory spices.
Keep reading the CapTel blog for more fun and healthy recipes!