Celebrate the holidays with these lightened-up versions of classic favorites.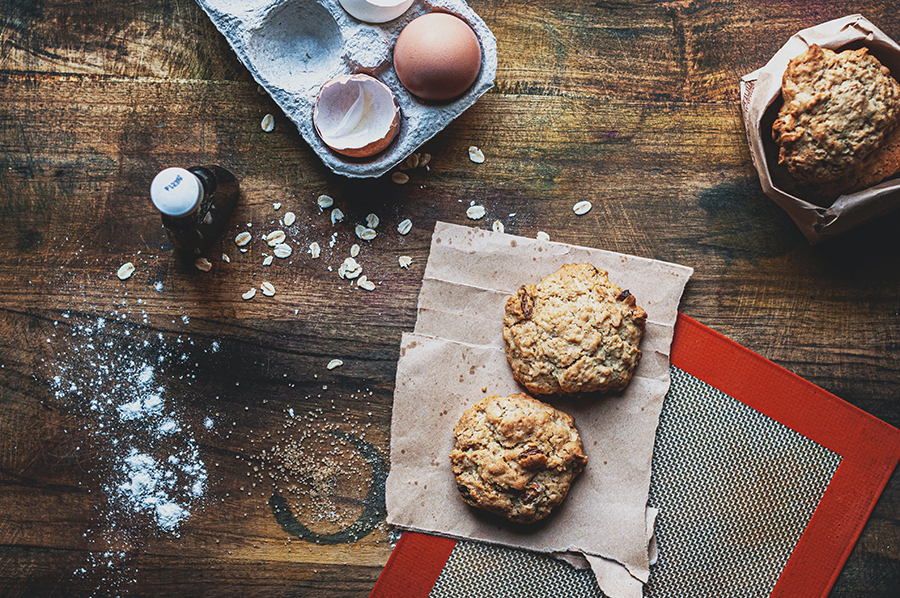 "Healthy" and "holiday cookie recipes" don't often end up in the same sentence! Typical holiday cookie recipes rely on sugar, oil, and white flour for their classic flavors — and while you can certainly eat these things in moderation, it's never a bad idea to choose a healthier option!
For those looking to eat a little lighter during the holiday season, we have a great collection of healthy holiday cookie recipes.
Add these eight healthy holiday cookie recipes to your winter baking repertoire!
Kitchen sink cookies
Oatmeal cookies
Raspberry bars
Healthy chocolate chip cookies
Nut butter tagalongs
Low-cal snickerdoodles
Coconut macaroons
3-ingredient pumpkin cookies
Find links (and health benefits) of these healthy holiday cookie recipes below! There are several gluten-free and dairy-free options to choose from too.
Kitchen sink cookies
Don't worry; kitchen sink cookies taste better than they sound! They're sweet and salty cookies made with your favorite pantry mix-ins, like dried fruits, nuts, pretzels, and chocolate. This healthy holiday cookie recipe uses whole-wheat pastry flour and oats for the dough and swaps applesauce in place of some of the oil and butter.
Oatmeal cookies
You can't go wrong with the traditional oatmeal cookie since oats have plenty of health benefits for the heart, digestive system, skin, and more. This healthy holiday cookie recipe is full of warm, comforting spices like cinnamon and nutmeg. Instead of refined sugar, it uses a combination of natural coconut sugar and maple syrup!
Raspberry bars
Not all these healthy holiday cookie recipes will contain oats, but go ahead and pull them out of the cupboard again for these raspberry oat bars! Almond flour and almond butter add a nutty flavor to the bars, while maple syrup provides the sweetness. Using fresh raspberries instead of sugary raspberry jam gives you the power of heart-healthy antioxidants, brain-boosting nutrients, and more.
Healthy chocolate chip cookies
Chocolate chip cookies are typically the first kind people picture when they hear "cookie," so of course, we had to find a healthy version! Whole-wheat flour adds more fiber and nutrients than refined white flour, flaxseed acts as a healthy binder with omega-3 fats and protein, and the optional walnuts are great for your brain, gut, and heart.
Nut butter tagalongs
Missing those delicious peanut-buttery Girl Scout cookies? Make your own healthy version to share for the holidays! Almond flour forms the cookie's base, then you'll top it with nut butter of your choice (peanut butter and almond butter are the most common!), and finish off by melting chocolate over the cookie. Think about using dark chocolate for its health benefits!
Low-cal snickerdoodles
These snickerdoodles do use white flour (or you can use whole-wheat pastry flour or a gluten-free option) and regular sugar, but at under 50 calories a cookie, they shouldn't set your holiday nutrition goals back! Pillowy soft and full of cinnamon flavor, snickerdoodles are a must-make holiday cookie.
Coconut macaroons
Coconut contains a lot of antioxidants and minerals, so as long as you don't drench your shredded coconut in sugar, it's a perfect base for a healthy holiday cookie! With only six ingredients, they're super easy to whip up to satisfy that dessert craving. You'll sweeten the macaroons with your choice of agave, maple syrup, or honey.
3-ingredient pumpkin cookies
If you thought six ingredients was easy, this last healthy holiday cookie recipe is going to blow you away! Rolled oats, pumpkin puree, and maple syrup or agave are all you need (plus optional chocolate chips). Check out our article on the health benefits of pumpkin!
Looking for more baking inspiration beyond cookies? Check out seven more healthy dessert recipe ideas!