These meatless recipes are sure to please vegetarians, carnivores, and everyone in between.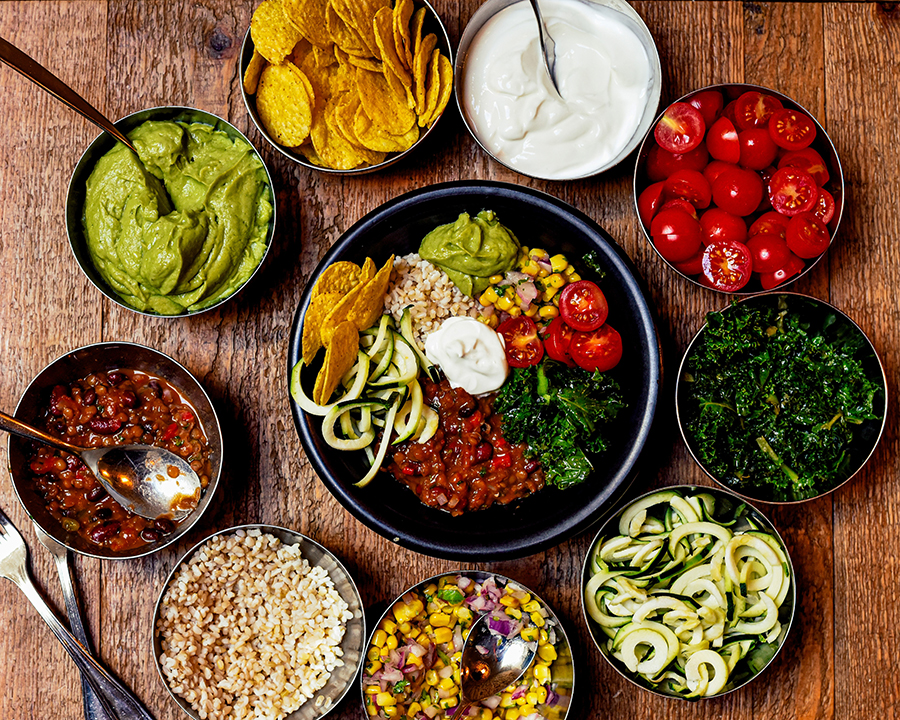 There are a lot of benefits of adding more meatless recipes to your routine. Plant-based eating is good for your heart and helps you increase your intake of essential vitamins, fibers, and phytonutrients. Plus, the planet will appreciate it too, since meat-free meals tend to be more environmentally friendly! And it's always fun to switch it up and try new things.
Even if you'd describe yourself as a dedicated carnivore, some of these meatless recipes are sure to excite your tastebuds:
Burrito bowls
Veggie burgers
Asian stir-fries
Soups and stews
Tofu scramble
Mushroom stroganoff
Curries
Let's dive into these delicious, easy meatless recipes!
Burrito bowls
Mexican cuisine is one of the easiest, veggie-friendly kinds out there! All you have to do is load up on the beans, rice, veggies, salsa, guacamole, and optionally some plant-based proteins like seitan or a store brand like Impossible beef. You can customize burrito bowls however you like, but check out online recipes like this one for ideas of what to add!
Veggie burgers
When it comes to meatless recipes, you can't get much easier than veggie burgers. They're another idea that is super customizable depending on your tastes! There are so many types of veggie burgers, both store-bought and homemade, that you're bound to find some you like. Options include portobello mushroom burgers, black bean burgers, falafel burgers, plant-based meats like Beyond, classic veggie patties, and more. Once you pick your favorite, the only question left will be who's hosting the BBQ!?
Asian stir-fries
Stir-fries are another simple way to pack a bunch of veggies into your meal, simmered with delicious sauces and served over noodles or rice. Try a tofu stir-fry like this one (if you think you don't like tofu, this recipe will have you thinking again!) Vegetables that go well in stir-fries include peppers, onions, broccoli, cauliflower, mushrooms, water chestnuts, baby corn, snap peas, bean sprouts, and more.
Soups and stews
Yet another ultra-flexible veggie-friendly meal idea, soups and stews are perfect for cozy meatless recipes in the colder months. Legume-based soups are a great way to fit in a lot of healthy plant protein and fiber!
Try some of these recipes:
We have even more ideas in our healthy homemade soups article!
Tofu scramble
How do you turn a block of tofu into a flavorful, high-protein breakfast? Tofu scrambles! All you have to do is crumble up a block of tofu in a pan with some veggies and seasonings, and you've got it made. Try this Southwest-inspired recipe for a bit of morning zing!
Mushroom stroganoff
It's like beef stroganoff, but meatless, thanks to the power of mushrooms! Mushroom stroganoff is savory and creamy, with the same satisfying, hearty, umami flavor. If you want to level up your cooking game even more, try making the pasta from scratch!
Curries
Here's another example of international cuisine that makes meatless days a pleasure! Indian and Thai curries can be savory, spicy, and relatively easy meals you can stuff full of veggies and legumes.
Try one of these:
This is just scratching the surface of thousands of tasty meatless recipes out there for you to explore. Get out there with your plant-based chef hat on and enjoy!
For more recipe ideas and ways to eat healthily, keep reading the CapTel blog!