Freshen up your favorite dishes with leafy greens.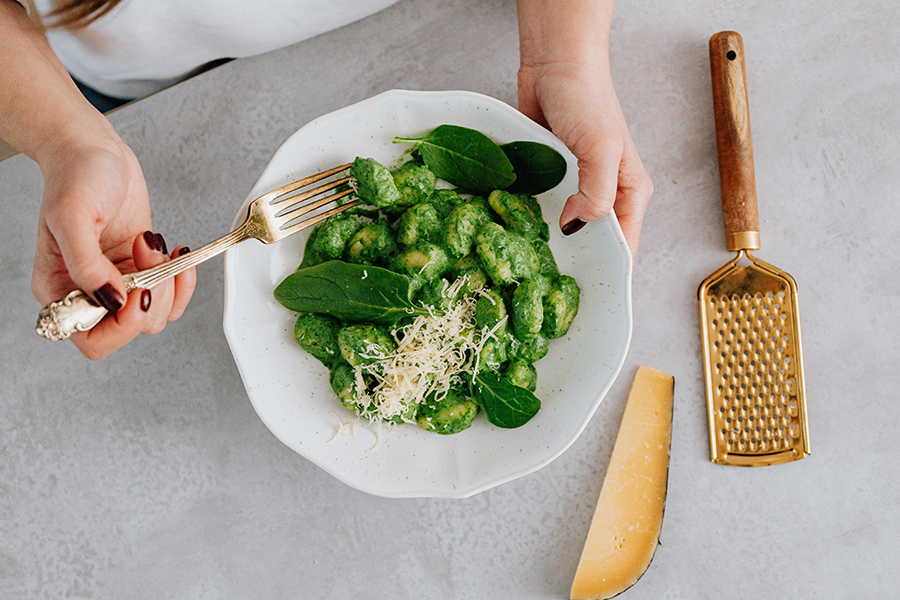 Leafy green vegetables are some of the healthiest foods you can add to your diet. They're rich in vitamins, minerals, fiber, antioxidants, and phytonutrients and are associated with lowering the risk of cancer and heart disease.
But some days, you might not feel like a standard salad or sauteed greens. If you want to enjoy the health benefits of leafy greens without making mealtime feel like a chore, it's worth brainstorming some new ways to add more greens into your diet.
Or, let us do the brainstorming for you! Here are eight ways to incorporate more greens into your diet:
Make a green smoothie
Add them to a frittata
Roast some kale chips
Stir them into soups
Puree them into pesto
Stuff them into sandwiches/wraps
Include them in your favorite pasta dishes
Try lettuce wraps
Let's learn more about these ways to incorporate more greens into your diet!
Make a green smoothie
A little fruit, a little plant milk or juice, and a handful of spinach or kale are all you need to make a refreshing, healthy frozen treat! Get inspired by these nine green smoothie recipes.
Add them to a frittata
To give your breakfast a green boost, try making a frittata full of spinach, chard, or other leafy green of choice. People who prefer plant-based foods can join in the fun, too, with a tofu frittata!
Roast some kale chips
Like potato chips, you can't just eat one of these crispy kale chips. Season them however you like — try shaking on some garlic powder, onion powder, turmeric, dried herbs, or whatever else you want to try!
Stir them into soups
Another magical way to make greens "disappear" is to chop them up and toss them into your favorite soups. Try a white bean and kale soup, spinach and chickpea soup, or winter vegetable soup!
Puree them into pesto
Pesto is a fresh, herbaceous way to fit in some extra greens. A handful of spinach, some basil leaves (or parsley if you aren't a basil fan), garlic, olive oil, lemon juice, salt — toss it all in a blender or food processor, and you're set!
Stuff them into sandwiches/wraps
Leafy greens can fit into almost any type of wrap or sandwich (except maybe the classic PB&J). A hummus wrap, chickpea avocado sandwich, or standard breakfast egg sandwich are all great choices to add lettuce or spinach to.
Include them in your favorite pasta dishes
Pasta and leafy greens go together so well! Try a "Super Greens" pasta, or chop up any leafy green and toss it in your favorite recipe, from baked ziti to pasta primavera.
Try lettuce wraps
Save yourself carbs and fit in a green by swapping your tortilla for a big lettuce leaf! You can make lettuce wrap tacos, crispy tofu lettuce wraps, lettuce falafel wraps, or whatever else your creative mind comes up with.
Want to take a crack at growing some of these leafy greens yourself? Check out our articles on healthy spring veggies to plant and gardening tips for beginners.