Make a splash in your summer fitness routine with swimming.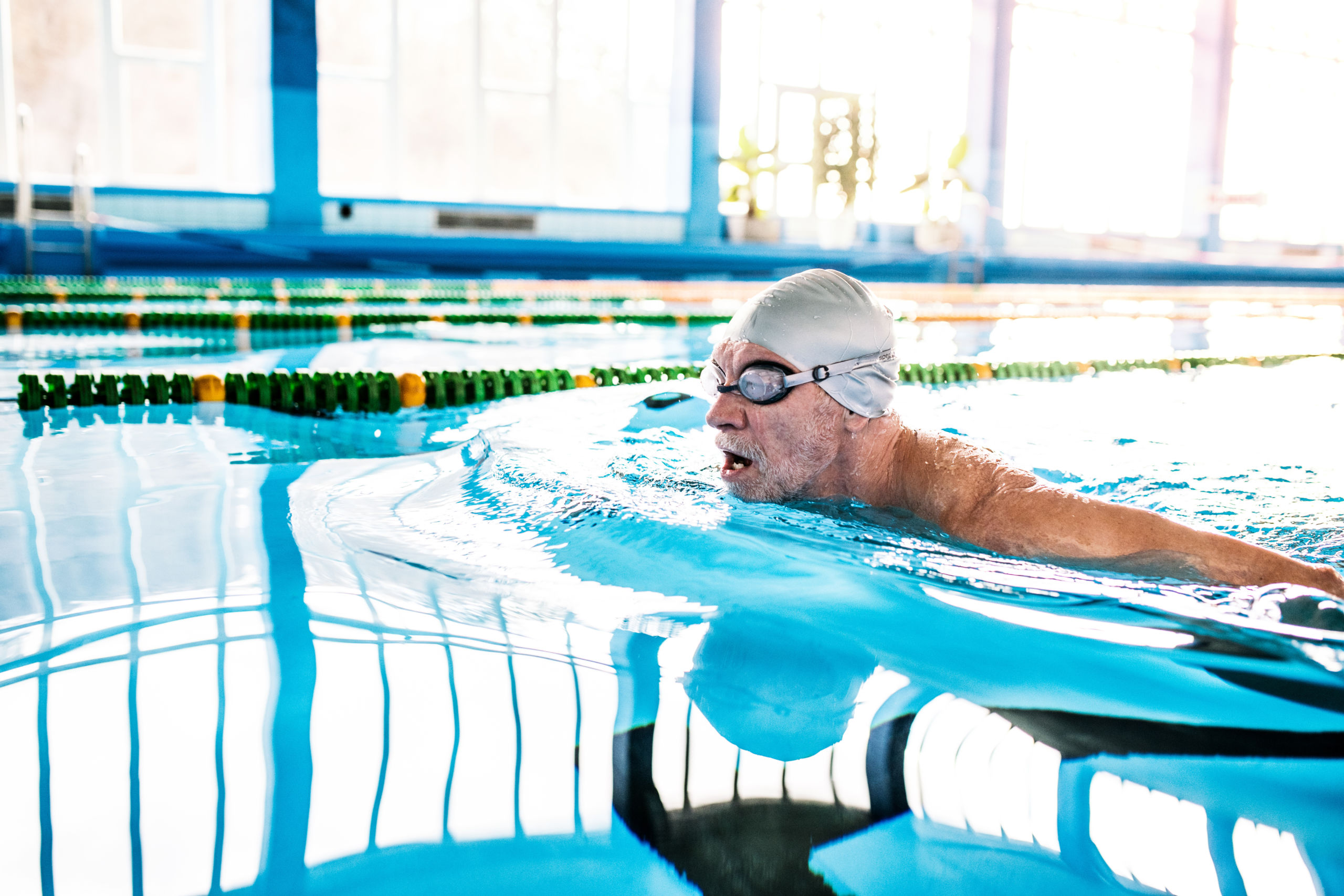 Although most people have taken a refreshing dip in a pool or waded in a lake for pleasure, swimming for exercise can be a completely different experience. It's an excellent way to improve your strength, endurance, and cardiovascular function, in addition to other health benefits.
Check out these swimming exercise tips to get yourself started!
Sign up for a group class
Get gear you feel comfy in
Try equipment like kickboards
Experiment with different strokes
Take breaks between laps
Set realistic goals and track progress
If swimming isn't already part of your exercise routine, be sure to check with your doctor before you get started. Once you are ready, keep reading to learn how to implement these swimming exercise tips!
Sign up for a group class
It's easier to stay motivated, have fun, and learn new things when you're doing them with friends (old or new!). Signing up for a water aerobics class can be a fantastic way to get your heart rate up, get yourself used to moving in the water, and meet other people. You can also look into an adult swimming group, take private lessons with an instructor to learn proper techniques, or just hit the lanes with a friend.
Get gear you feel comfy in
If you don't want to feel like a fish out of water, you'll want gear that makes you feel as comfy as a fish in the water! Some things to take to your first adult swimming exercise session include comfortable, close-fitting swimwear, goggles to protect your eyes from the chlorine, ear plugs to prevent water from getting into your ears, and a swimming cap if you have long hair (it can help protect your ears too!). It's also a good idea to pack water, snacks, and of course a towel.
Try equipment like kickboards
While you're getting used to swimming laps down a lane, it can be helpful to use a kickboard or pull buoy to assist with flotation while you swim or do water exercises. Swimming devices get you used to moving in the water, and if you get tired, you can use them to rest.
Experiment with different strokes
The four main swimming strokes are the front crawl (aka freestyle), breaststroke, butterfly, and backstroke. The butterfly stroke is the more difficult of these, but the other three are great for beginners to learn! If you don't have a personal instructor or a friend to show you the techniques, try looking up some instructional videos to watch online.
Take breaks between laps
Swimming may look effortless, but your body might disagree! When you're new to swimming for exercise, you're still training your lungs and muscles to cooperate and get stronger. Pushing yourself too hard can lead to dangerous situations if you tire yourself out in the deep end. Instead, take breaks as often as you need to! Just floating at the wall for a minute to catch your breath after a lap can make a big difference.
Set realistic goals
"Swim every single day" is an example of an unrealistic beginner goal, but "swim twice a week" is a more viable target to keep you motivated and on track! You can set goals like how many laps to swim, how many strokes to learn, beating your personal time records, etc. Don't forget to track your progress and celebrate wins! There are some free swimming apps you can use to track your sessions and improve your form.
Worried that your new hobby could lead to a case of swimmer's ear? Check out these tips for protecting your ears in the water!