Stay on top of your health and wellness goals with these helpful smartphone apps.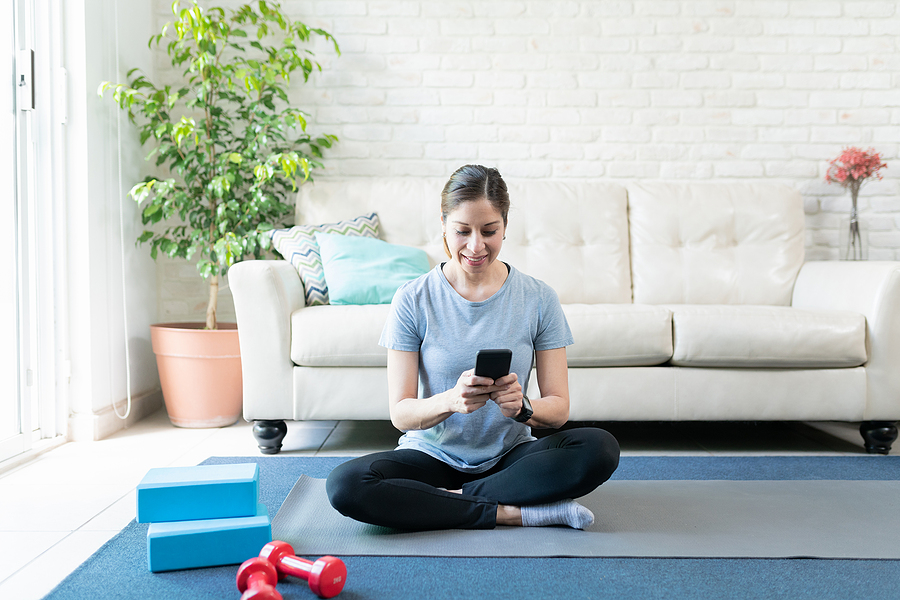 Smartphones make it easy to manage so many parts of our lives, from answering emails and shopping to managing your finances and schedules. Taking care of your health can be on that list too! You can download health and wellness apps for anything from diet to fitness to stress relief and more.
While we don't specifically endorse any apps, you can start building your collection of health and wellness apps these popular choices:
MyFitnessPal
Fooducate
Sworkit
Waterlogged
Skincare Routine
Headspace
SleepScore
Learn more about these health and wellness apps below.
MyFitnessPal
MyFitnessPal is a catch-all for managing your diet and fitness. It allows you to record the foods you eat and the exercises you do throughout the day. The app uses factors like your age, gender, height, current weight, and weight goals to generate a calorie goal and list of macronutrients (protein, fats, and carbohydrates) for you to consume. It updates as you log new foods or activities, so you know how to plan the rest of your day.
Fooducate
Fooducate specializes in helping you evaluate how nutritious your diet is. It gives foods a grade of A-F based on the quality of calories, not just the quantity like many fitness apps. The app looks for things like added sugars, trans fats, food additives, and more. You can also personalize the app based on your health conditions, dietary or weight goals, allergens, activity levels, and other factors.
Sworkit
Do you want to work out more, but aren't sure where to start? The Sworkit fitness app makes it easy, providing personalized video workouts for cardio, strength training, and flexibility. If you want to DIY a fitness routine, another option is using the YouTube app to look up the kind of workout you want to follow, e.g., "15-minute cardio workout" or "beginner workout with dumbbells." As always, check with your health care provider before starting any new exercise routine.
Waterlogged
Being adequately hydrated is essential for feeling energetic, mentally sharp, and healthy. However, some people forget to drink throughout the day and can end up with a dehydration-related headache. If this describes you, you need Waterlogged! It personalizes a daily water goal for you, sends you reminders to drink water or lets you set your own alarms, and tracks your intake by filling up a bottle graphic on the home screen. It's only available on iOS, but Android users can download Water Reminder to accomplish the same thing. (Check out our tips for staying hydrated here.)
Skincare Routine
Finding the right skincare routine can be frustrating. Everyone's skin reacts differently to products, so your best friend's favorite moisturizer might clog your pores, and your favorite vitamin C serum might give her a rash! Instead of relying on guesswork and memory, Skincare Routine lets you track the products you're using and how your skin looks. It also recommends what order to apply the products in and when you should avoid using two products simultaneously (e.g., if they share an ingredient that would be too much for your skin).
Headspace 
Your mental health is just as important as your physical health. Headspace was designed to combat anxiety, depression, and stress by guiding you through clinically approved meditation and mindfulness exercises. It's easy to use and goes through different meditation elements like guided breathing exercises, visualization, reflection, and focus.
SleepScore
When it comes to sleep, quality and quantity are both important. There are many health benefits of consistent sleep, including more energy, a better immune system, and a healthier heart. The SleepScore app lets you track your sleep and doesn't require any wearables to do it! Just place your smartphone on the side of the bed where you sleep. When you're ready to turn in, click to start a sleep session in the app. From there, the app uses your phone's microphone and sonar technology to measure your breathing and body movement and record how long you're in each sleep stage. When you wake up, the app helps you interpret this information and modify your sleep habits if needed.
Ready to reach your health goals with these top health and wellness apps? Having an accountability buddy can also help, so you can stay focused and work toward your health goals together. Shop CapTel captioned telephones so you can easily keep in touch!