Watch tutorials to learn more about our captioned phone models and how to use them.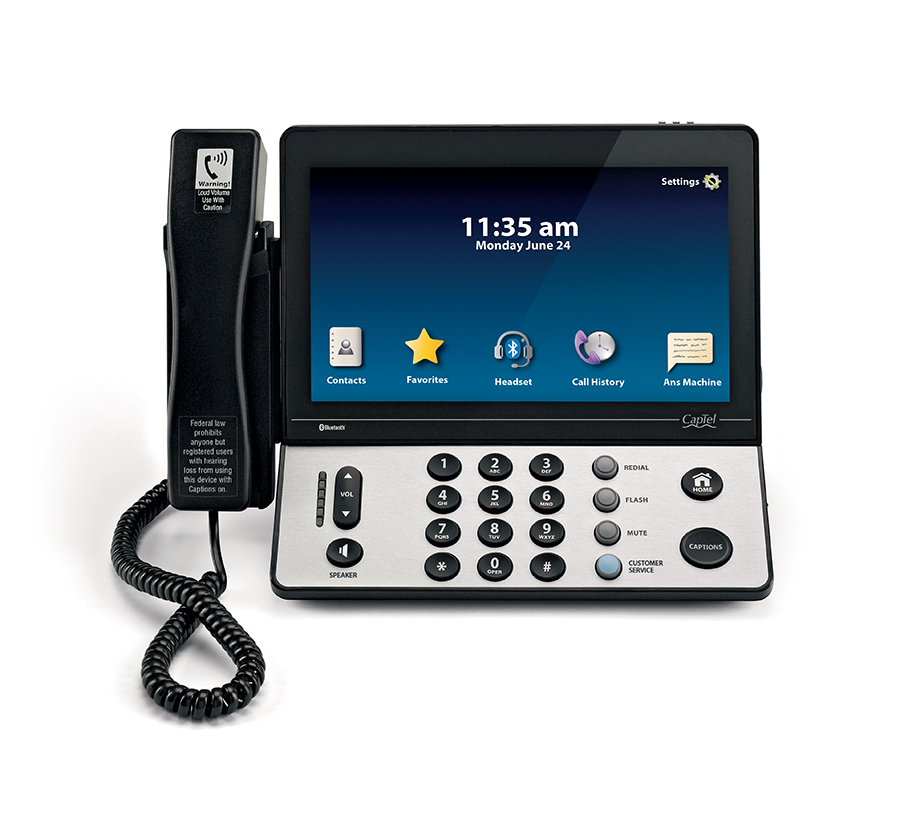 If you've recently received a CapTel captioned telephone, you may be ready to get started using your new phone right away. In this guide, we'll share tutorial videos that can help you learn more about your new captioned phone and everything it has to offer. From setup to viewing captions and more, get ready for a crash course on each of our four hearing loss telephones!
CapTel 2400i
Getting Started
This overview video highlights some of the key features and settings available in the CapTel 2400i Captioned Telephone model. We think you'll love the large touch-screen display, powerful amplification, and Bluetooth® wireless technology.
Setup Guide
This video covers plugging everything in and connecting to the Internet, whether you are wired-in or using WiFi. For additional technical assistance, refer to our 2400i Set-Up Guide, available as a PDF.
Registration
FCC Regulations require all Internet-based CapTel users to register their phone in order to use the phone with captions on. You can easily register right from your new device by following these simple instructions. You can also register online, by calling our registration number, or by downloading and mailing in a registration form.
Placing or Answering a Call with Captions
Using captions on your CapTel 2400i hearing loss telephone is incredibly easy! Simply make sure the "captions" button is set to "on" to both receive and place calls on your new phone. You can watch helpful tutorial videos on placing a call or answering a call to learn more.
Setting Up Answering Machine
Your answering machine is an exciting built-in feature of your new 2400i phone. Recorded messages can be played back with captions so that you have the same benefit of listening and reading along to what your caller says, even if you missed the call! Find out how to set up your answering machine, play messages, erase messages, delete all messages, and turn your answering machine on/off in these helpful video guides.
Adjusting Your Settings
The 2400i captioned phone is fully customizable to suit your needs and preferences. Discover how you can change your captioning font sizes and font colors, adjust the volume, adjust the tone, adjust the screen brightness, and add a photo in these video guides.
CapTel 840i
Getting Started
Featuring a large display screen but with the same style of a traditional telephone, the CapTel 840i may be the ideal phone for you. In this overview video, you can learn what to expect from this hearing loss telephone.
Setup Guide
Need some help setting up your new phone? Watch these videos to discover what's in the box, how to plug everything in, and how to connect to the Internet, depending on if you are wired-in or using WiFi.
Placing or Answering a Call with Captions
Find out how to access captions on your new device in this guide to calling and answering. Hint: it's as simple as the push of a button!
Adjusting Your Settings
If you'd like to customize your new hearing loss telephone to suit your preferences, these videos can help you learn how. Find out how to adjust the sound and change your captioning font size and color.
CapTel 840
Getting Started
The CapTel 840 is an analog hearing loss telephone model for people who don't have Internet access. Featuring a traditional phone display with a built-in answering machine, you're sure to love this simple and easy-to-use phone. Learn more about this model in our overview video.
Placing or Answering a Call with Captions
As an analog model, getting captions on your calls with the CapTel 840 works slightly differently than with other CapTel models. Refer to this video guide for helpful guidance on how to place and answer a call with your new CapTel 840 phone.
Adjusting Your Settings
CapTel 840 also offers customization options. Find out how you can modify the font size and colors of your captions as well as adjust the sound in these guides.
CapTel 880i
Setup Guide
Designed specifically for people with low vision, the CapTel 880i Captioned Phone for hearing loss comes with extra-large font sizes and display options. In this downloadable setup guide, you can learn more about this model and how to get started. The guide is large print for easier reading.
How-to Guide
The video tutorials for the CapTel 840i are also applicable to the CapTel 880i. You can also refer to our downloadable How-to Guide for in-depth instructions on everything from registering your new phone to viewing captions and more.
These CapTel hearing loss telephones how-to videos can help you get started with your new phone. To learn more about the captioned phones for hearing loss mentioned in this post, refer to the individual resource guides on the CapTel 840i, 2400i, 880i, and 840 models.