Find resources and support for using your new captioned hearing loss telephone.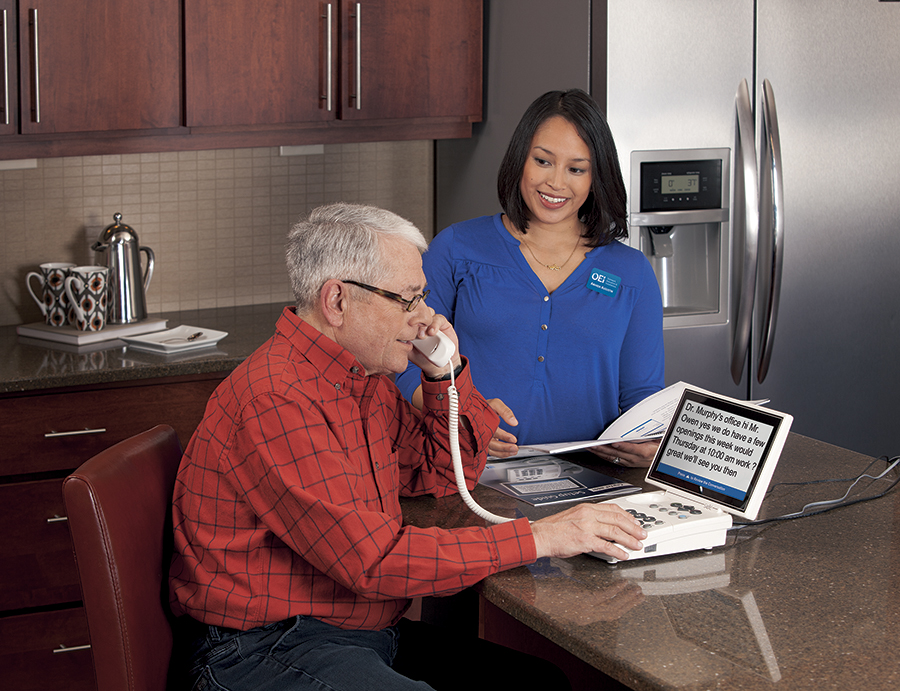 Are you interested in learning how to use the CapTel 880i captioned phone for hearing loss? This article will cover the basic set up and features, and point you to our various resources where you can learn more about each topic. Explore the CapTel 880i Help Center to find a full illustrated user guide, setup guide, and more.
Setting up the CapTel 880i phone for hearing loss
Since the CapTel 880i is an Internet-based captioned phone for hearing loss, you will need a high-speed wired Internet connection or WiFi in addition to your regular landline phone service.
In the box, you'll receive:
CapTel 880i phone
Power adapter for a wall outlet
Telephone cord
Ethernet cable for wired Internet
Setup guide and user manual
Use the console buttons and dial pad keys to navigate through the options and set up for your CapTel 880i. There is a handy reference guide overview on page 6 of the user manual to help get familiar with all the buttons and their functions.
To set up your phone, you'll need to use the included cords to connect a few things:
Plug the power adapter into the phone's power jack and into an electrical wall outlet
Plug the telephone cord into the 880i telephone jack and into your phone jack at home
Connect the Ethernet cable to the phone and to your Internet jack if you have wired Internet
If you have WiFi, just set the phone up close to your router
When the screen lights up for the first time, you'll be prompted with setup steps including selecting a language, finalizing your Internet connection, and setting the date and time.
Making and receiving calls with captions:
Making calls: When captions are turned on before or during a call, the red light around the Captions button will light up. If the light is not on, just press the Captions button. Then, make your call as usual by picking up the handset and dialing the number. When the person you are calling answers, you'll begin to see captions of everything he / she says.
Receiving calls: Beyond checking that the red Captions button light is on again, you don't have to do anything special to receive a call with captions. When someone calls you, the phone will ring, and the screen will light up as a visual cue. Simply pick up the handset to answer the call. Captions will appear on the CapTel 880i screen while your caller talks. Visit page 90 of the user guide to learn how to adjust the ringer volume and pitch to help you hear when someone's calling.
Turning captions on or off: During a call, you can turn captions on or off at any time by pressing the Captions button. There will be a brief delay while the service connects, but it won't interrupt your conversation. This feature makes it easy to turn on captions whenever you need them, even in the middle of a call.
Personalizing CapTel880i phone for hearing loss
Display settings: The CapTel 880i was specifically designed for people with low vision, so it has an extra-large display screen and font sizes for captions. You can also adjust the font color and style, screen brightness, and how captions scroll on the screen. More information about how to customize the captions to your individual preferences is found under "Viewing Captions" in the CapTel 880i user manual.
Volume control: Because this is a phone for hearing loss, the CapTel 880i offers powerful volume amplification up to 40dB gain. Simply press the up and down sides of the Volume bar to make the sounds louder or softer. Once you find a volume setting you like, you can save it to use for every call.  See "Saving the Volume" in your user guide to learn how to save a default volume.
Tone control: Many people with hearing loss find it easier to hear sounds in certain frequency ranges. For example, they may find it difficult to hear high frequency sounds such as a child's or a woman's voice. The Tone button lets you enhance the sound to the frequency range you hear best. At any time, including during a call, you can press the Tone button on your phone to emphasize high, medium, or low sound frequencies.
Other CapTel 880i features
Enjoy additional features of this phone for hearing loss, including:
Answering machine: In addition to captions during calls, you can read captions of your phone messages too. Review the "Using the Answering Machine" section of the user manual for instructions on playing answering machine messages with captions, recording a personal greeting, accessing your messages remotely, and more.
Phone book: Add contacts to your phone and program speed-dial numbers to call people easily. Detailed instructions can be found under the "Using the Phone Book" chapter of your user manual, which covers adding, editing, calling, and deleting contacts, while the chapter on "Using Speed Dial Buttons" explains how to add numbers and quickly dial using your speed dial.
Saved conversations: You can save captioned conversations on your phone if you'd like to review them after the call. See "Saving Conversations" in the user manual to learn how to turn on conversation saving.
The full how-to guide is available as a PDF here, and you'll also receive a hard copy with your phone. Check our website FAQ page for answers to common questions. We hope you enjoy this phone for hearing loss!
To learn more about our captioned phones for hearing loss, visit our website or call (800) 233-9130 today.