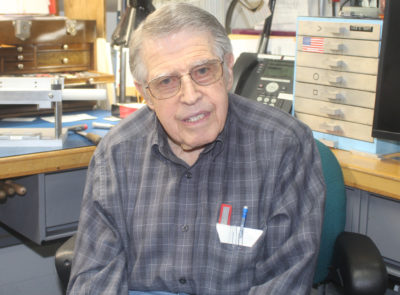 Lyle Marty has been at his job with Ultratec for 25 years. While that's not unusual for the Madison-based company, which has several long-tenured employees, Lyle's situation is a little different. He started working for Ultratec when he was 71 years old.
"I was happily retired for about a year," Lyle explains, "then out of the blue I got a call asking if I'd be willing to help in Ultratec's machine shop. I wasn't looking to work again. It sounded like fun."
Now at age 97, Lyle continues to be an integral part of the Ultratec team. "I enjoy what I do," he explains.
Previously, Lyle had a full career creating optical instruments, some used on telescopes, and other items for the Astronomy Department at the University of Wisconsin, Madison. "I had the best job on campus," Lyle states, "located on the sixth floor of Sterling Hall, with all these windows to look out over the school." In 1970, the building was bombed during campus unrest over the Vietnam War. "The Math & Computer Science department was located one floor down, on the fifth floor," Lyle recalls. "The bombing was in response to research they were doing related to the war in Vietnam." Lyle's tool box still has scratches on it from the shattered glass caused by the bombing.
Lyle was with the Astronomy Department for 27 years. "I retired at age 70," Lyle explains, "because I thought that was the thing to do. But it was a hard place to leave."
At the time, Ultratec, which develops captioned telephone devices for people with hearing loss, was setting up a new machine shop in its manufacturing facility. "We needed someone with experience who could help mentor our team and teach us how things are done," explains Kevin Colwell, Vice President of Engineering. Through a friend in the Astronomy Department, Kevin learned that Lyle had recently retired. He called Lyle to invite him to be part of the Ultratec team. That was 25 years ago.
"The machine shop is the place to make things that the company needs for manufacturing, shaping metal to whatever the required specifications are," Lyle explains. Lyle is part of a three-person team developing forms and working components needed to create Ultratec's products.
"If I ever do retire from here and Kevin calls me, I'm not going to answer the phone," Lyle jokes.
Lyle credits Ultratec founders Rob & Sue Engelke for creating a positive work environment. "Sue said to me once, we really appreciate your accuracy," Lyle recalls. "It is the best complement, really, because it encompasses all the work that you do, not just a good job on one thing or just on one project. I'll never forget that. To have your work appreciated gives a person a wonderful feeling."
Growing up, Lyle's father was the blacksmith in Mount Vernon, Wisconsin. From an early age, Lyle was allowed to be in his father's shop and create whatever he could. Lyle served in the Navy Air Corps in the South Pacific during World War 2. He recalls flying back from the Philippines in a B24 bomber. He went on to get a private pilot's license.  These days, in his free time, Lyle enjoys reading.
Lyle brings those experiences and sense of humor to the office every day. What does he enjoy about his work? "I enjoy the challenge of creating things. I feel like I can really help people with the work that I do," Lyle says. "I get great satisfaction from creating something that ends up helping Ultratec. Ultratec and all the employees have treated me very, very good."
"I can't imagine being stuck in a job that you hated. I told my wife, if I had to do it all over again, I'd start with a job that I really hated. That would make time go slower," Lyle jokes. "My 97 years have gone by much too fast."