Get help selecting a phone that works with your assistive listening devices.
If you use hearing aids, you may find that a hearing aid compatible (HAC) phone makes it easier to stay connected with others. Different types of phones for people with hearing aids feature a microphone mode and a telecoil mode, as signified by M and T ratings from 1-4. The FCC requires that workplace, public, and emergency phones are HAC, but what about your landline phone or cell phone? In this article, we'll cover the types of phones for people with hearing aids that you can use at home or on the go.
Home phones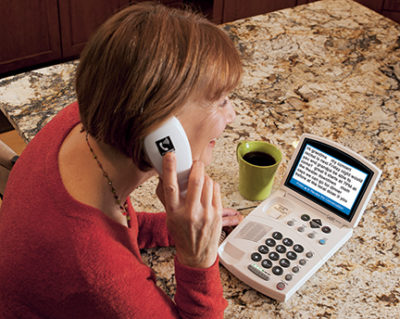 Some landline phones, including cordless models, are hearing aid compatible. To find out if yours makes the cut, check to see if it's marked HAC, and look at the M and T ratings. The higher the M rating, the more the phone can help to eliminate distracting background noises and feedback. The higher the T rating, the more compatibility it has with the telecoil in your hearing aid to help direct sound into your hearing aid processor without the microphone. You may also choose to look for a home phone with some of these useful features for people with hearing loss, including:
Captioning technology – read captions of everything your caller says!
Amplification – turn up the volume higher than a traditional phone
Additional sound adjustments – set the ringer volume, tone, and frequency
Head to our website to learn more about how a CapTel captioned telephone works and discover what others say about it.
Not sure whether a captioned telephone is right for you? Read our blog article on the four signs that you're likely to benefit from this type of phone for people with hearing loss.
Cell phones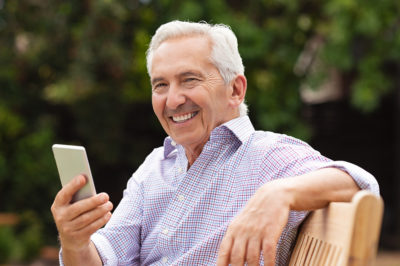 Thanks to requirements set by the FCC, all cell phone makers and service providers must develop hearing aid compatible phones. However, not all mobile phones for people with hearing aids have the same level of compatibility. Look once again to the M and T ratings on your phone to determine whether it will work for you. The FCC considers a cell phone to be hearing aid compatible if it rates at least a 3 for microphone mode or a 3 for telecoil mode. They deem cell phones with a combined score of 6 as excellent for people with hearing loss.
A few additional hearing loss-friendly features to look for on mobile devices include:
Volume control – locate the buttons on the side of your phone to adjust the volume when you're on a call
Adjustable ringer tone and volume – choose from a variety of ring tones and set the volume and tone that are best for you
Vibrating alerts – set your phone to vibrate when a call or message comes in; some cell phones even allow you to customize the vibration frequency
Flashing light alerts – enable your phone's camera flashlight as another hearing loss-friendly notification feature
Speech-to-text – services like Google Voice help translate voice mail messages and conversations into text
Text messaging – send and receive written text messages from your device
Refer to your cell phone's user manual to learn more about how to enable these features on your device.
To make even more use of your mobile device, you may also be interested in downloading these smartphone apps for people with hearing loss. From reading captions of your phone conversations to tinnitus relief, countless apps can enhance your experience when connecting with others over the phone.
Thanks to the FCC, there are many phones for people with hearing aids to choose from. Whether you're looking for a landline phone for home or cell phone for when you're on the go, use the tips and tricks in this article to select the best option for you.
To learn more about how CapTel captioned telephones can help you catch every word over the phone, call 800.233.9130 or visit our website today.