Use these easy setup ideas to personalize your call experience.
To our readers: While the term "hearing impaired" is not a preferred reference in the hearing loss community or our company culture, you will find a few mentions in this article to help those using it in their online search access this information. We assure you that our limited usage in this piece does not reflect our values, views, or conduct. Respectfully, The CapTel Team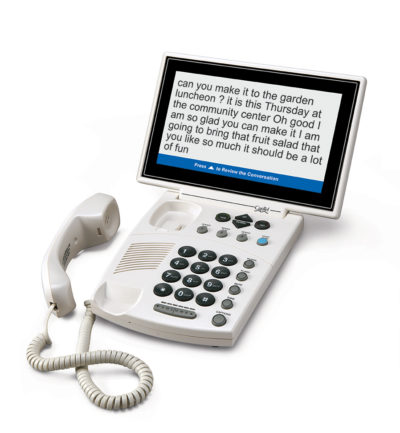 A captioned phone for the hearing impaired offers a world of flexible and customizable features to help personalize your call experience as you connect with friends and family. Once you have your new phone in-hand, look to these hints to help you set it up just the way you like it:
Choose your font style and color
Adjust the sound settings
Set up voicemail
Add phone numbers
Connect your hearing aids
Keep reading to explore more about these features you can customize on your captioned phone for the hearing impaired.
Choose your font style and color
One of the first items to personalize on your new captioned phone for the hearing impaired is the font size of the conversation captions. Whether you prefer these captions larger or smaller, pick a size that feels the most natural to you. You can use these instructions for changing the size of the captions. For example, if you are using a CapTel 840/840i or 880i, be sure to make any font size adjustments before your call, as this feature is not available while you're on a live captioned call. If you are using a CapTel 2400i you can change the font size during the call using the "+" or "-" on the display screen. You can even change the color of the captions to a style that is easiest for you to read, so it's best to refer to your owner's manual to learn about the individual features of your specific captioned telephone. Find your CapTel model here.
Adjust the sound settings
Another feature you can customize on your captioned telephone is the sound level. Select the volume that helps you hear the other party clearly and without strain. In addition to adjusting volume, you can also set the sound quality and tone to a frequency setting that you hear best.  For example, if high frequency sounds are difficult to hear, you can customize the sound setting to match your ideal hearing level.  Experiment with your CapTel caption call telephone to select the most comfortable sound settings for your individual hearing. These tools on your new phone for the hearing impaired will help deliver the highest possible sound quality to help you better connect with important people.
Set up voicemail
Next, set up your answering machine or voicemail box on your hearing-impaired telephone to help direct callers to leave messages for you while you're away. It may be helpful to say something like "Hello, this is (name). I can't answer the phone right now. Please leave a message and speak slowly and clearly. Please repeat your name and number twice." Upon your return, you can listen to – and read captions of – any voice messages you may have missed.
Add phone numbers
CapTel captioned phones for the hearing impaired are equipped with a built-in phonebook so that your favorite contacts are easily accessible. If your phone has this feature, refer to your user manual for instructions on inputting important numbers. In addition to those for friends and family, consider also adding your doctor's office, veterinarian, bank, or any other parties you call frequently.
Connect hearing aids
If you use hearing aids, check if your CapTel caption call telephone has Hearing Aid Compatibility (HAC) included. These hearing impaired phones will have an induction loop in the handset that can connect to a hearing aid when you turn it to its T-coil (telecoil) setting. Once connected, the output from the phone transmits directly to your hearing aids. The amplification and volume will then come through your hearing aids, rather than the phone itself.
Click here to download manuals and support materials for your particular model to get even more acquainted with these and other features of your captioned phone for the hearing impaired. You can also watch these helpful how-to and product videos that cover subjects ranging from placing and answering calls to setting up your answering machine and adjusting other settings.
If you have other questions about CapTel captioned telephones, please contact our product support department at 888-269-7477 or reach out online today.