This room-by-room spring cleaning guide is like a breath of fresh air.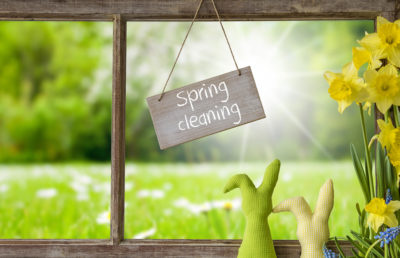 The end of winter is in sight, turning our thoughts to warmer temperatures, chirping birds…and spring allergies. While pollen is one of the well-known springtime culprits, there are also allergens that can make you sneeze. As you tackle your spring cleaning this season, use these tips for reducing allergens in each room of your house to help you enjoy the fresh springtime air.
Entryway
We carry a lot of allergens into our home on our clothes and shoes. An easy way to help reduce allergens is to look for doormats sold in packs of two. Place one on either side of your door – one inside and one outside. Encourage your guests to wipe their shoes on the rug before entering or leave their shoes near the door to keep potential contaminants confined to one area.
Living Room
Your main living space is a place to relax, unwind, and spend time with family and friends. Here are a few things you can do to help reduce allergens in your living or great room:
Choose easily cleanable furniture made of materials such as leather, wood, or metal
Frequently clean and vacuum your furniture
Consider hardwood or linoleum instead of carpet
If you prefer carpet, choose a low-pile carpet or easily cleanable area rugs
Vacuum carpets and rugs at least once a week, ideally with a HEPA (High-Efficiency Particulate Air) filter
Kitchen
Keeping your kitchen clean is not only important for food safety, it can help reduce allergens in this area as well! Here a few ways to keep your kitchen sparkling:
Wipe stove and countertops immediately after cooking
Regularly sweep and mop the floors
Empty your trash can daily
Regularly check damp places like the refrigerator, dishwasher, and under the sink for leaks or moisture that may require repair
Use a fan when you're cooking to prevent steam and moisture from condensing
Remove dust that may have gathered on light fixtures using a damp cloth
Bathroom
The bathroom is one of the most-used rooms in your home. Here are a few tips for reducing allergens in there:
Basement
If you have a lower level in your home, consider these tips for reducing allergens when you're tidying this space:
Make sure to identify any leaks in piping or the foundation
Remove or tightly seal items that can traditionally harbor allergens, like old papers, bedding, and clothing
Consider using a dehumidifier with a HEPA filter and set levels to 35-45%
Bedroom
While you may already know washing your linens helps keep them allergen free, you may not know that you can use special covers on your mattress, pillows, and box spring. These items help create a barrier to help reduce allergy symptoms. Other ways to reduce allergens in this area of your home include:
Vacuum carpet or rugs regularly
Consider a vacuum with a HEPA filter and double bag
Wipe windows and glass to remove moisture and allergens
Cover windows with roller shades or washable curtains
Avoid storing items under your bed unless they are in a tightly sealed container
If you have a ceiling fan, remove dust from the blades using an old pillow case before you turn it on to prevent the dust from spreading
In addition to these tips for reducing allergens, using green cleaning products throughout your home is another way you can welcome springtime like a breath of fresh air. For more health and wellness tips, keep reading our blog.
The above information is provided for the education and enjoyment of our readers and is not intended as medical advice. Please check with your doctor if you have any questions or concerns about reducing allergens in your environment.