Wholesome reasons to steep a hot and steamy cup right now.
Believed to have originated in China in the 2nd century BC, hot tea was originally used for medicinal purposes. News of its flavorful and restorative properties later spread to vast regions, including Portugal, Greece, India, and the United Kingdom. Today, people around the world embrace the sweet whistle of a hot tea kettle not only because it tastes good, but also because it's good for you.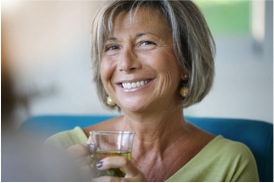 In honor of National Hot Tea Month, we've compiled these eight health benefits of drinking hot tea:
Enhances your eye health
Reduces your risk of stroke
Sharpens your memory
Prevents tooth decay
Improves your digestion
Reduces your blood pressure
Strengthens your immune system
Curbs your stress and anxiety
Discover more about how you can start reaping the benefits from this time-honored hot drink below.
These health benefits of drinking hot tea can help you feel your best – from the inside out. Try taking time out each day to enjoy this naturally delicious and beneficial hot beverage. For more ways to live a healthy lifestyle, check out our health and wellness blog articles here.