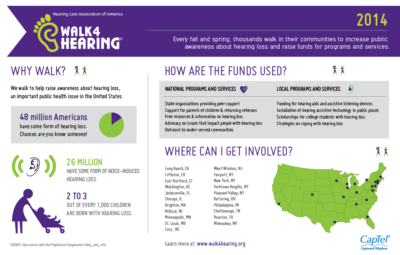 Every year during the spring and fall marks another rendition of the Hearing Loss Association of America's Walk4Hearing. This 5K walk-a-thon helps raise funds for programs and services for people with hearing loss, as well as overall auditory impairment awareness.
Right now there are more than 48 million Americans who are currently experiencing some variation of hearing loss, while 2 to 3 children born out of every 1,000 are also affected by this condition. By walking a mere 3.1 miles, you are helping these people get the support, resources and education necessary to not only benefit themselves, but to broaden their communities as well.
Since its inception in 2006, Walk4Hearing has raised more than $7.7 million dollars for programs and services dedicated to improving conditions for those with hearing loss. Entirely all of the funds go toward establishing a number of outreach organizations for those with auditory damage, including:
Peer support for returning veterans
Free resources and information for people living with hearing loss
Scholarships for auditory impaired college students
Spreading advocacy on hearing loss-related issues
Installing hearing assistive technology in public locations
There are more than 20 different cities spread throughout the nation that are holding participating Walk4Hearing races this year, so there has never been a better time to get involved and make a difference in someone's life. Supporters walk for a number of reasons that range from supporting a loved one or friend who is auditory impaired or even wants to spread awareness about their own hearing loss. The easiest part about signing up for Walk4Hearing is that there is no registration fee and is completely free for walkers.
So come on and walk it out for hearing loss this year! For more information, check out www.walk4hearing.org.