Do you see this notice on your CapTel 800i display screen?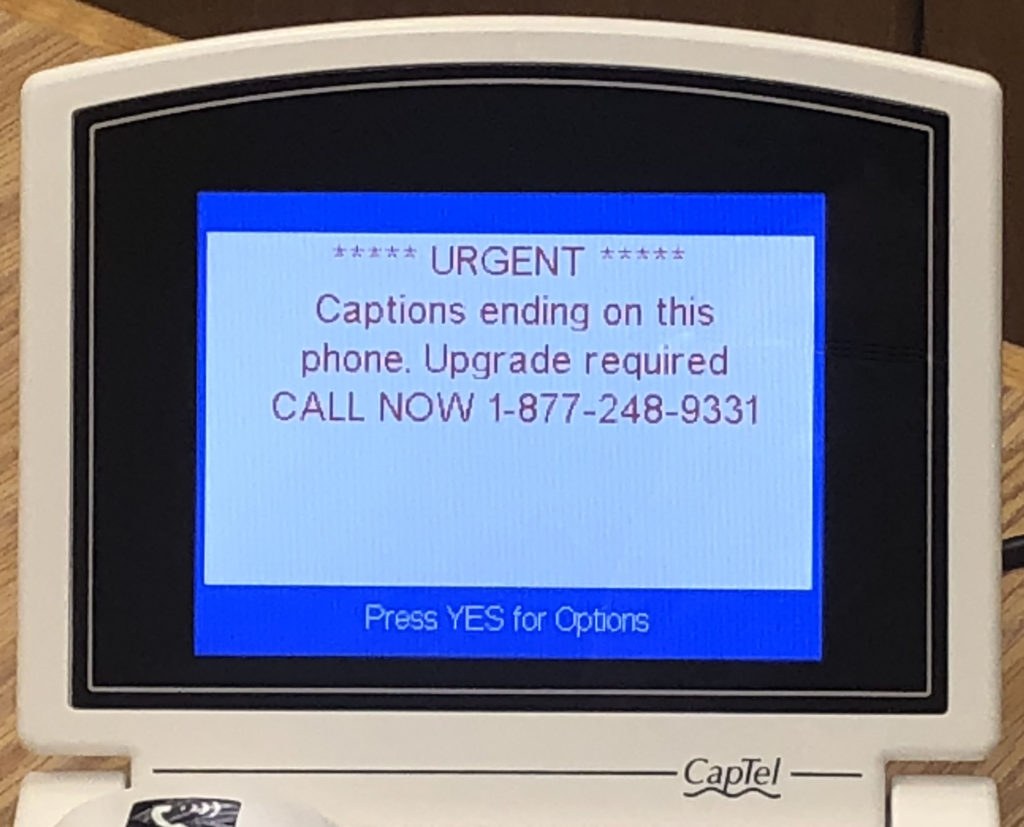 This means that, due to a recent change in FCC regulations, an update is required for your CapTel 800i phone. We will exchange – at no cost – your current CapTel 800i with an updated replacement model CapTel 840i.
Why is a Replacement Phone Required?
The Federal Communications Commission (FCC) recently issued new regulations for all IP-based Captioned Telephone Service (IP-CTS) telephones.  The new regulations require a software update for all Internet-based CapTel phones, including the CapTel 800i model. Unfortunately, CapTel 800i software is not able to be updated to meet the new FCC requirements.
Therefore, CapTel will exchange – at no cost – your CapTel 800i model with a replacement updated CapTel 840i model.
Why the CapTel 840i?
The CapTel 840i provides the same reliable Captioning Service for all your calls, plus some enhanced features such as a larger display screen, a built-in answering machine with captions of your messages, and WiFi compatibility.
Exchange Process
When you see the message on your display, call 1-877-248-9331 to request your replacement phone. We will ship a new (or like-new refurbished) CapTel 840i directly to you, along with a shipping label that enables you to return your old CapTel 800i at no cost.  Just place your old CapTel 800i in the same box that the new model was delivered in, and then drop the box off at any FedEx shipping location.
Deadline – New Phone Required by December 7, 2018
The FCC has set a deadline of December 7, 2018.  The Captioning Service will be discontinued to all CapTel 800i phones on December 7, 2018.  After that date, you will no longer be able to get captions on your CapTel 800i. Captioning Service will be available on the CapTel 840i model, which is why we are happy to help send you a replacement phone.
How do I get rid of the notice on my CapTel 800i display screen?
Call 1-877-248-9331 to arrange for a replacement updated CapTel 840i model. You can still make and receive calls while the message is on your CapTel 800i display.  The new CapTel 840i you receive will not have a notice on the display screen.