Help Restore Their Confidence over the Phone …. provide your patients with a no-cost CapTel captioned telephone with your signed certification
CapTel Captioned Telephones show word-for-word captions of everything a caller says over the phone. It's like closed captions on TV for phone calls.
Each CapTel phone offers exceptional sound quality, high-level amplification, and customizable tone & frequency control to best meet your patients' hearing needs. The word-for-word captions help reinforce / confirm what your patients hear –giving them the confidence to enjoy talking on the phone again, knowing they'll catch every word.
How Patients Qualify for a No-Cost CapTel Phone
If a patient has difficulty hearing over the phone, they may be an ideal candidate for a no-cost CapTel phone. There is no set decibel level requirement. Simply complete and sign the Certification Form verifying their hearing loss.
To complete a Certification Form on an individual's behalf:
Hassle-Free for Your Office
CapTel outreach representatives make it easy– we take care of everything!
CapTel representatives deliver the phone directly, no inventory for you to stock.
We help identify which model matches patient's comfort level: traditional phone, touch screen, or large visual display
Free in-home or over-the-phone installation help and training provided
One-touch patient access to Help Line (available 24/7)
No contracts or service fees
No cost to you or your patients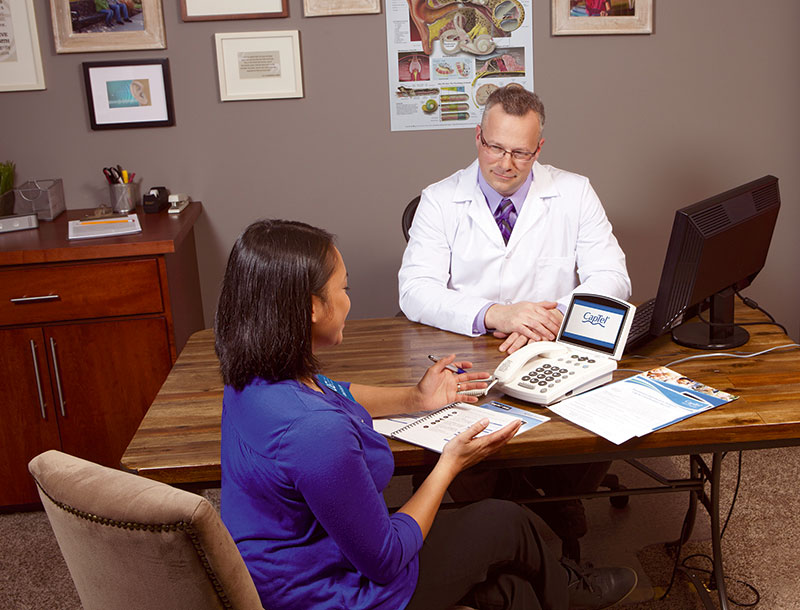 CapTel Outreach
The CapTel outreach team helps educate Audiologists and Hearing Health Professionals nationwide. To contact a representative in your area:

CapTel captioning service is provided as part of a federally-funded program, regulated by the FCC, that is designed specifically to help individuals with hearing loss access the telephone.
FEDERAL LAW PROHIBITS ANYONE BUT REGISTERED USERS WITH HEARING LOSS FROM USING INTERNET PROTOCOL (IP) CAPTIONED TELEPHONES WITH THE CAPTIONS TURNED ON. IP Captioned Telephone Service may use a live operator. The operator generates captions of what the other party to the call says. These captions are then sent to your phone. There is a cost for each minute of captions generated, paid from a federally administered fund. No cost is passed on to the CapTel user for using the service.
(v5.4 7-18)